By Deborah Byrd
Earth Sky Communications
Thursday June 25, 2009
Here is the beautiful waxing crescent moon. Last night, a thinner crescent moon was in front of the faint constellation Cancer the Crab, and to the left of the Gemini stars Castor and Pollux. And the night before that, a whisker-thin lunar crescent shone in the front of the constellation Gemini, below the stars Castor and Pollux. The moon will continue to stay within Leo's borders for the next few nights.
In the mythology of the night sky, Leo represents a Lion. Why? Perhaps the sun plays a role. The sun doesn't move in front of Leo's stars nowadays until August 10, but the sun once lay in front of these stars during late July and early August. It's possible the heat of the fierce, golden-haired lions. Or these stars might have been associated with the lions who once migrated to the banks of the Nile, to find relief from the summer heat.
We don't know exactly what prompted the early stargazers to assign certain names and identities to patterns in the night sky. We only know that many of these ancient names have survived until today. I suspect these names carried much more meaning for early people than they do for us! Still – for some deep, yet inexplicable reason — there's a profound satisfaction in trying to project the figure of a Lion onto this pattern of stars near the moon in tonight's sky.
News Image: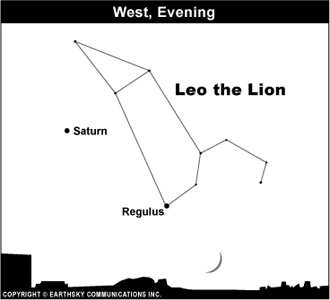 Print This Post