By Jamie Folsom
Berthoud Recorder
With over 900 working satellites and ten of thousands of miscellaneous debris — defunct satellites, rocket parts and one very infamous lost tool bag — Earth's atmosphere is a workplace. And, according to Suzanne Metlay of the privately funded nonprofit Secure World Foundation, that means we all have a vested interest in keeping that "job site" safe and productive.
Metlay's presentation, "Bad behaviors in space: Why we need rules of the road for satellites and a code of conduct for space farers," was met with high interest and many questions from the two dozen attendees at the Little Thompson Observatory Friday. Using a Google Earth program add-on that shows satellites and debris in their orbit patterns, Metlay put the last 50 years of near-space exploration into perspective — from street level Berthoud all the way out to a beehive-like image of Earth with a swarm of objects surrounding it.
She noted not only do we rely on satellite technology for a myriad of services including communications, search and rescue, navigation and military operations, but we also need to consider how those technologies are managed in space and by whom. SWF's answer to this growing concern starts with economic common sense.

"The best way to avoid warfare is trade," Metlay said, explaining countries that have invested in technology and projects have common ground. Trade partners are less likely to engage in warfare. So, not only is cooperation key to keeping that peace, but communication is vital.
But three questions remain: What are the rules? Which authorities are recognized? Who makes or enforces the laws?
"Right now anything goes in space," Metlay said. And without a clear answer to those big questions, she notes when and if anything major happens — collision, communication mishap or physical damage — "All treaties, everything else is pfft! Who knows?"
So what can be done to promote international cooperation in establishing some "rules of the road?" Metlay explained there are existing codes of conduct that many countries voluntarily adhere to regarding weapons testing, data sharing and safety precautions. Developing those agreements and fostering communication among agencies is one of the SWF's major goals.
Metlay adds that plans should not only focus on avoiding disasters, but also on building upon the economic infrastructure already in place. She says space technologies are a growing and powerful industry that encompass every level of job skill and education.

And, the public and policy makers need an understanding both the scope of the issues and potential for the future. Part of Metlay's job is sharing information with the public so that they can see the possibilities, and her enthusiasm goes a long way towards gaining interest.

"It's humbling; it's wonderful; it's exciting… to see the Earth, step back and get perspective."
---
Tracking satellites online:
www.NASA.gov/multimedia/NASATV.index.html
Live videos from the International Space Station, information on launches and more.
http://SpaceWeather.com
Sunspot watch, satellite flybys, astrophotography and regular Spaceweather alerts.
http://Heavens-Above.com
More technical site for International Space Station updates, astronomical events, information on planets and an FAQ.
More info:
www.SecureWorldFoundation.org
Category:
News – Community
News Image: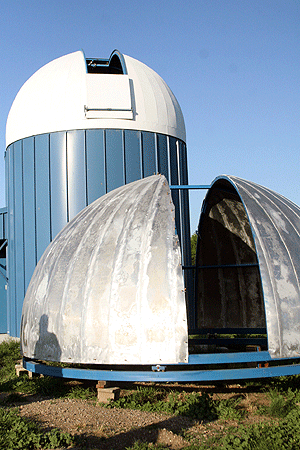 Long Description:
<p>Preparations are almost complete in anticipation of the new 24-inch telescope coming to the Little Thompson Observatory in the next few weeks.The observatory presents public star nights every third Friday. Moreinformation online: www.StarKids.org.</p>

Print This Post