By Megan Reece Thomas
Berthoud Recorder
Click here for Fit & Fun: Ragnarok: The Unconventional 'Worc' Out
For the last week, I wasn't Megan Reece. I was Baast, orc of Mordor, Battle Lord at Ragnarok. My battle companions included Mikar, Nameless, Wei Sawd, Koubac and Zagar. Together we fought against the forces of good in the sight of Lord Sauron. Perhaps I should explain …
Ragnarok is an event that is essentially the Mecca for Dagohir ("Battle Lords" in J.R.R. Tolkien's elvish). Dagohir are people who practice fighting, dressing and living in medieval style. Think Tolkien's "Lord of the Rings." There are elves, Romans, orcs, Templars and many other groups of participants. Each of these realms resides roughly in the same part of the country. Colorado equals Mordor in this case.
Ragnarok is a weeklong camping trip. By day, thousands of people come to a field in Cambridge, Ohio and do battle with foam weapons. There are spears, swords, shields, flails and bows and arrows. Often, "good" is pitted against "evil." Because the weapons are foam, there is minimal danger, but with hundreds of people fighting, there is a lot going on.
For example, during the great battle of Osgiliath, I — Baast — took control of a left flank from the edge of a "river" (lines painted on the ground.). "Shields to backs, boys!" I roared as I shot arrow after arrow into my enemies. The crowd surged forward across the bridge as I shot a crusader in the head.
By night, everyone is accepted in any camp of any realm. Bonfires burn and creative drinks flow freely. There is dancing, celebrating and recounting of the battles of the day. Official — and unofficial — games of "capture the flag" pit camps against one another in friendly duels.
You might think this sounds strange, but Dagohir use the fighting — and nightly partying — as a way to escape from mundane life, visit with friends, have fun and meet new people. This club accepts anyone willing to put on some period clothing and get involved in the fantasy world.
For the entire event, your character is your life. No one calls you by your real name because no one knows your real name. You live, act and breathe your persona. It's like Halloween for a week, which is probably a great part of the appeal.
I met inspiring, interesting and incredibly funny people. I stayed up too late every night. I waited in long shower lines. I even posed for a "Girls of Dagohir" calendar. Because I fought by day, I felt involved in the event and with the crowd. Sure, I came back with a few bruises, but I also came back with a load of self-confidence and a large handful of new friends.
Though my friends, my husband and I were ready to leave our campground by Friday, we weren't quite ready to leave the "Dag" life behind. We drove to a hotel in Columbus to spend our last night. After we had showered and eaten a real meal, we retreated to the parking lot in our everyday street clothes for another hour of foam weapon duels.
News Image: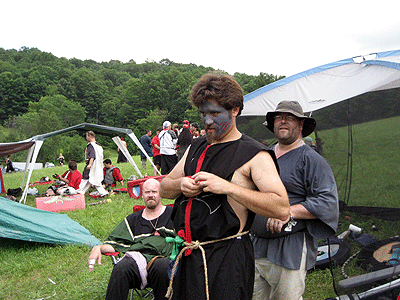 Long Description:
<p>Mordorians dress for battle at Ragnarok in Cambridge, Ohio. The Giants Battle required armies to control a castle gate, a river and to defend a city.</p>
Category Lead:
Category Primary Featured Story

Print This Post