By Dani White
Berthoud Recorder
"Public Enemies" is the intriguing story of the notorious 1930s criminal mastermind, John Dillinger (Johnny Depp). The film is a considerably accurate depiction of the collectively revered public enemy number one.
Johnny Depp is a natural when it comes to sympathizing and glorifying villains. He captures the chivalrous, charismatic and criminal behavior of the intrepid and infamous gangster. Depp reminds us why the public rooted for Dillinger as the authorities hunted him. In his time, John Dillinger robbed enough banks across the Midwest, while eluding state police, to warrant the creation of a special force within the fledgling FBI, dedicated solely to his capture. Dillinger's celebrity sparked from his style, manner and the fact that he robbed from the rich during a time when the working class was suffering economic repercussions of the Depression.
The mise-en-scène in "Public Enemies" is remarkably realistic and pays tribute to the era and the legendary outlaw it represents. The director and co-writer, Michael Mann ("Heat," 1995), uses color, texture, costumes, settings, scenery, lighting, sound and casting to create a historic environment.
The composition and content of the film is stylish, glamorous, dark, dangerous and intense. This brooding sensation drives the drama with an undertone of suspense. "Public Enemies" is a film noir for a modern day audience. Instead of a private eye, special FBI agent Melvin Purvis (Christian Bale) is in hot pursuit of Dillinger through rural and urban backdrops. There is also the lovely lady in red, Billie Frechette (Marion Cotillard) who becomes the love of Dillinger's scandalous life. Although Billie has no intention to harm Dillinger, in the end she inadvertently leads to his demise, whereas, a good female friend actually betrays him to the FBI. The two women together make a whole femme fatale.
"Public Enemies" is like an elegant western brimming with bank robberies, jailbreaks, gunfights and getaways. Dillinger's popularity with the public makes this story of his formative years like a tale of Jesse James meets Robin Hood. Johnny Depp naturally depicts brazen bravado of a paradoxically compassionate criminal, blurring the line between antagonist and protagonist. "Public Enemies" is a smart and engaging adult film worthy of admission prices; audiences won't leave feeling cheated.
---
"Public Enemies"
Directed by: Michael Mann
Starring: Johnny Depp, Christian Bale, Marion Cotillard and Billy Crudup
MPAA: R
Runtime: 2 hours, 20 minutes
Reviewer rating: 3.5 out of 5 stars
Category:
Variety – Price of Admission
News Image: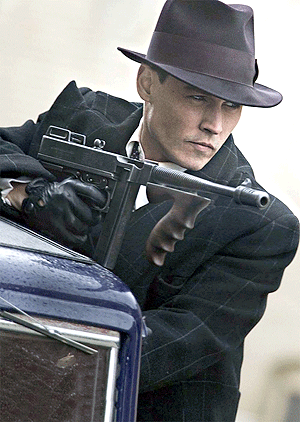 Category Lead:
Category Primary Featured Story

Print This Post