By Dani White
Berthoud Recorder
Bastille Day, the French national holiday also called La Fête Nationale (National Celebration) on July 14 is celebrated with fireworks and festivities to signify national independence. The president watches on with the general public as a military parade marches along the Champs-Élysées on the anniversary of the storming of the Bastille.
While our Independence Day traditions may parallel those of France's Bastille Day, the purpose and meaning stems from unique origins. At the time of our independence, a distant monarchy governed America, while the French people's lives were dictated by the deeply entrenched, absolute regime of the king, Louis XVI. July 14 is recognized as the major historical turning point in the birth of the French Republic.
Fête Nationale commemorates the people of Paris taking over the Bastille on July 14, 1789, signifying the commencement of the French Revolution. The Bastille was a royal fortress-prison, and a symbolic representation of the monarchy's fixed control of power. By overtaking the Bastille, the French people demonstrated that the king's reign was not supreme, and a national authority limited by a separation of powers was necessary. The Bastille's capture was a historic and symbolic marker of liberation and the struggle against oppression for all French citizens. The tricolor French flag, still used today, was created in the wake of this revolutionary era. The three colors of the flag embody the republic's ideals of liberty, equality and fraternity, and the equal division of power.
Soon after the celebrated raid, feudalism was abolished, and the Declaration of the Rights of Man and of the Citizen was asserted. In the summer of 1880, the recognition of July 14 as the national holiday was made official and remains emblematic of the liberty and unity of France. Many cities in the U.S. also hold Bastille Day celebrations, including San Francisco, Minneapolis and Baltimore.
News Image: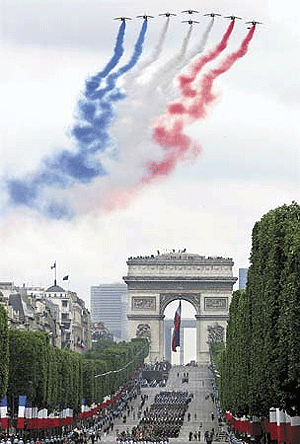 Long Description:
<p>Bastille Day is July 14</p>
Category Lead:
Category Lead Story