By Jamie Folsom
Berthoud Recorder
Berthoud Fire personnel discovered bat bugs in Fire Station 1 on July 7 and evacuated operations and administrative offices to temporary facilities in their parking lot. Despite the fact that bats had recently been removed from the building's attic, the presence of the parasitic bat bugs (genus Cimex) means the bats have returned in greater numbers.
In fall 2008, the BFPD took advantage of a re-roofing project to cover some openings the bats used to access the attic and nest. An estimated $90,000 was spent on the overall project, and all other leakage concerns were taken care of at that time. The return of the bats through very small holes under the eaves was unexpected, however.
"Bats are tenacious because this is their home," Berthoud Fire Chief Steve Charles said Tuesday. He explained the department went through three different processes to deal with the current infestation. First, the bats that had entered the building's attic were removed and, because they are protected by law, relocated.

The entire BFPD and Berthoud Area Community Center was then closed for fumigation that took place over the weekend to Tuesday morning, when staff was allowed to move back into the building. Administrative staff operated out of the Mobile Command Post, which the department purchased last year, and firefighters were housed in an extra rented RV in the parking lot.
Additionally, all trucks and emergency equipment had to stay out in the parking lot, and extra security personnel were hired "24/7 to make sure nothing was tampered with," Charles said.

Charles also noted, "It was important to keep firefighters housed at Station 1 because if they had been at Station 2, it would have doubled our response time."

The next step comes later this week as special sealant is placed over the tiny holes between the flashing and the brick so the bats cannot enter the attic or even nest on the outside of the building. According to Charles' estimates, the cost for the mitigation and prevention are likely to top $10,000.

In addition to the fire department inconveniences, meetings scheduled at the community center had to be moved to other locations with short notice. "I want to extend an apology to those who had events scheduled at the community center," Charles said. "Some things were beyond our control."
News Image: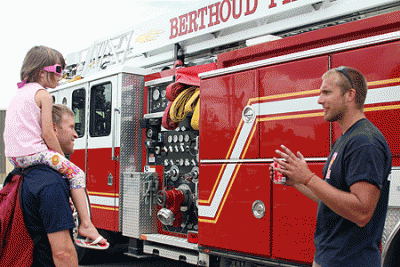 Long Description:
<p>Wildland Firefighter Levi Pike gives an impromptu firetruck tour to Ellie Knode (4) and her father, Ross. Pike was called to Station 1 to help cover for staff and provide extra security. during the fumigation for bat bugs.</p>

Print This Post