By Jamie Folsom
Berthoud Recorder
A familiar talent showed up on stage at Taste of Fort Collins June 14 — pop musician Jason Vigil graced the audience with his smooth lyrics and ready smile. He's made his own mark since graduating from Berthoud High School in 1999, when he played guitar and sang lead in the rock band Sandalwood with classmates Tyson Heilbrun, Cale Hand and Ian Davis.
"Now my sound is more acoustic, lighter," Vigil said, leaning forward to be heard over the rising wind backstage at Fort Collins' Civic Center Park.
"I felt like I was in a couple of bands, and everything had to pass through a lot of hands," Vigil said of his move to a solo career. "I wanted to take the reins and see how that would work out."

It took some years of playing in clubs and experimenting with his own sound, and in 2006, Vigil, who is now based in Denver, released his freshman album "Heart Gone Sober." The songs are a bittersweet and moody journey through heartbreak and hesitancy, but artistically, they are anything but timid – rhythmic and romantic, to say the least.
With that effort under his belt, Vigil started concentrating on touring a little further out of Colorado, taking that momentum back into the studio for his second CD, "Sometimes Always," released last year. Vigil brings a more joyful sound to his fans, and his maturing sound reflects the core of his writing aspirations.
"My songs are about life and experiences. What I wanted to do, what I have NOT wanted to do. And mostly emotions," he said. "But I always want to expand my writing." And it's that process that hooked him on music to begin with. "I fell in love with music — what a song is and how to write it."
He's already putting together his next album, while on the road more than ever, hitting Texas, California, the Midwest and Nashville. "I'm going to keep moving. It takes a lot of energy."
Vigil left the "day job" scene years ago when he decided music was the career for him. "If you have two really different things, you can't really do it," he said. "It takes a lot of sacrifice, but if you spend a lot of time and energy on it, you do get rewarded."
His reward is the powerful connection between him and the audience. "You tell your story, sharing who you are and who you have been," Vigil said, sorting through his recollections of performances. "And the best part is melting people. You grab on and hold on, and you smile, and that's awesome. And if you cry that's OK."
---
Jason Vigil
Alternative Pop Rock
Nominated Denver's Westword Best Singer/Songwriter
Influences: Jeff Buckley, Matchbox 20, U2, Weezer, Stone Temple Pilots, Everclear, Led Zeppelin
Web: www.JasonVigil.com, www.MySpace.com/JasonVigil
News Image: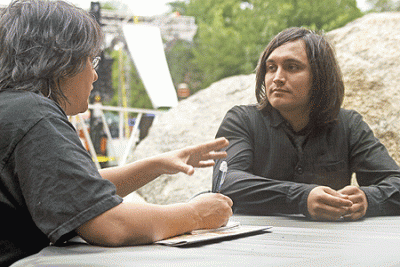 Long Description:
<p>Reporter Jamie Folsom talks with Jason Vigil at the Taste of Fort Collins after Vigil&rsquo;s opening performance for headliners the Gin Blossoms.</p>
Category Lead:
Category Secondary Featured Story

Print This Post