By Dani White
Berthoud Recorder
"Away We Go" is the long-distance expedition of an unconventional couple searching for a place to call home. This bittersweet film stars two poplar television talents, Maya Rudolph ("Saturday Night Live") as Verona, and John Krasinski ("The Office") as Bert. The pair provides the appropriate amounts of comic relief to ease the more serious tone of the film.

When 34-year-old Verona becomes pregnant, she and Bert realize they want to find the perfect place to plant some roots. The couple sets off visiting friends and family trying to make a decision. Everywhere they go, nothing is what it seems. The film draws attention to the human condition with an honest look at life. No matter how perfect appearances are kept there will always be flaws and the unpredictable. The lesson learned is that a true, open love is what matters most.
"Away We Go" is equal parts touching and humorous in a very eccentric way. The film rings of "Juno" in spirit, especially in the way everyday characters and locations are represented. The audience is left feeling hopeful despite the bumpy journey. Although this film was released last month and the closest showing is at the quirky Lyric Cinema Café in Fort Collins, it is worth the trek if you are in the mood for something sincere.
---
"Away We Go"
Director: Sam Mendes
Starring: John Krasinski and Maya Rudolph
Runtime: 98 min.
MPAA rating: R
Reviewer rating: 3 out of 5 stars

Category:
Variety – Price of Admission
News Image: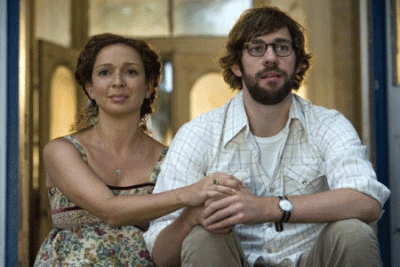 Long Description:
<p>Maya Rudolph and John Krasinski portray an idiosyncratic thirty-something couple trying to find their place in the world in &ldquo;Away We Go.&rdquo;&nbsp;</p>
Category Lead:
Category Secondary Featured Story

Print This Post