From Cooking to Publishing, Berthoud's Marilyn Magee Keeps it Simple

Story and photos by Jamie Folsom
Berthoud Recorder
Whether you are looking for ways to save on buying back-to-school supplies, wondering which house plants are fool-proof, or maybe just seeking out time-tested wisdom from someone who's "been there, done that," chances are you'll find it under the name Marilyn Magee.
Magee brings her years of raising a family of five kids and her spirit of "patch it up, wear it out, make do or do without" to a worldwide readership on Examiner.com as their Frugal Living columnist. What comes across loud and clear in her articles is a sense that appreciation is just as important as cost cutting in creating a frugal life. Even now that her kids are grown, her home is still a testament to that outlook on life.
As we meander across the hillside, dodging witch hazel and prickly pears, Magee pauses to take in the amazing scenery surrounding her home, which sits atop a ridgeback in the west county lake district. "Did you know you can see 16 lakes from here?" she asked. That's a lot of vista, and Magee is well aware that she is blessed with such abundance.
Everything from her custom blend of tea and homemade soup broth, to the photos that adorn her walls, her home speaks of careful handwork and an elegant eye for a bargain. She has also been a doula, assisting with home births; a sculptor; photographer; massage therapist; and in addition to her Examiner columns, has recently begun writing and self-publishing books.
She finds a lot of inspiration in her home life and from the Bible. Her favorite verses speak volumes about Magee. Isaiah 48:17-18 "I, Jehovah, am your God, the One teaching you to benefit [yourself], the One causing you to tread in the way in which you should walk. O if only you would actually pay attention to my commandments! Then your peace would become just like a river, and your righteousness like the waves of the sea."
Even though she lives far from the ocean, Magee seems to have found a certain peace in living simply and sharing that peace with others. She comments, "That verse says we gotta' pay attention and really hear the message."
---
Calling All Cowboys
Marilyn Magee is currently working on a new project and is looking for your help. Much-beloved Colorado cowboy Dale Simms shares his stories of the cowboy and rodeo life, and Magee is looking for any photos, rodeo programs and newspaper articles about Simms. His PRCA gold card number (pro rodeo ID) is #1315. Contact Magee by e-mail at MareMagee@gmail.com.
---
Marilyn Magee is a Denver native currently living west of Berthoud. Mother of five, grandmother of four, she is a writer, sculptor, photographer and homemaker. "Becky and the Bunnies" is her first published book.
News Image: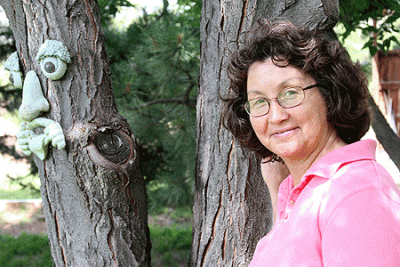 News Image: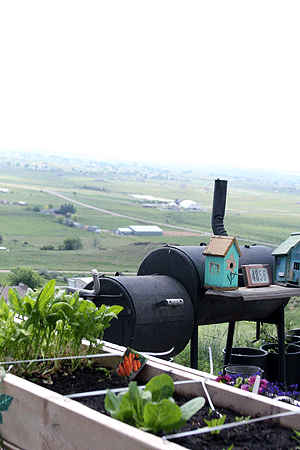 Long Description:
<p><span style="font-size: small;"><span style="font-family: arial,helvetica,sans-serif;">Marilyn Magee in her &ldquo;real retreat&rdquo; area near her west Berthoud home. This shady grove has seen hammocks, irises and an occasional coyote, and Magee says she finds a lot of peace and inspiration just spending a few moments here.<br /> </span></span></p>
Long Description:
<p><span style="font-size: small;"><span style="font-family: arial,helvetica,sans-serif;"> Having never built anything before in her life, Magee got a sudden urge to have a box garden for her herbs, and headed to the garage for wood scraps. She grows a lot of her own herbs and greens, which saves her time and money.</span></span></p>
Category Lead:
Category Primary Featured Story

Print This Post