By Michael Hicks
Berthoud Recorder

John Barron, Berthoud's assistant boys soccer coach for the past four seasons, was named the team's head coach by new school athletic director Mark Avery on Tuesday. The 43-year-old replaces Jeff Benjamin, who left for a similar position at Mountain View High School last month.
Barron was one of a half-dozen applicants for the position — all of whom came from outside the school district, including parent interest — but he was the only one with previous high school coaching experience.
"He's got a great knowledge of the game and a knowledge of the players," Avery said.
Barron, who has been a head coach at the club level but never at the high school ranks, is looking forward to this new adventure. "I'm really excited. I'm looking forward to working with the kids who are coming back and the new kids coming in," Barron said. "I'd like to be able to improve on last year's state showing and make it further along in the playoffs."
The Spartans went 7-5-2 in 2008 in their first year in 3A, including a first-round state playoff appearance at Holy Family. This after winning just five games the previous three seasons combined, which included a 30-game winless streak.
With Barron moving up to take over as head coach, he and Avery will collaborate in searching for an assistant coach to take over his old position.
"He has some ideas and I have some ideas," Avery said.
"I think for that it's going to be based on who has the availability and time commitment," Barron said. "I'll put out some more serious feelers to see who is interested in working in that capacity and go from there."
Berthoud opens practice Aug. 17 — the first day of school — and the regular season is scheduled to begin Sept. 3 with a home match against Elizabeth High School.
News Image: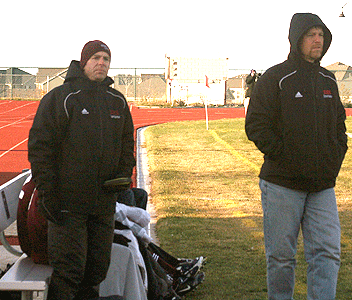 Long Description:
<p>John Barron, right, Berthoud's assistant boys soccer coach for the past four years, was named Tuesday to replace Jeff Benjamin as the team's head coach this season. Benjamin left BHS last month for a similiar position at Mountain View High School in Loveland.</p>
Category Lead:
Category Primary Featured Story