By Michael Hicks
Berthoud Recorder
LOVELAND — Emily Pfankuch made it a habit not to look at the W-League soccer standings. But even the Colorado Force forward probably had to take a peek going into Friday's regular-season finale with Vancouver at Loveland Sports Park.
The Force, coming off consecutive wins in Los Angeles earlier in the week, sat tied with Seattle at 15 points, one ahead of the visiting Whitecaps, as play started in the league's final weekend. All three teams were in the hunt for the Western Conference's final spot in the 12-team playoffs. But couple that with the fact that Colorado had never beaten Vancouver in 17 previous meetings and that Seattle had an extra game left and the odds definitely weren't in the Force's favor.
By weekend's end, though, that didn't matter.
Pfankuch scored two goals and Emily Marshall opened the scoring as the Force (4-2-6, 18 points) won its third straight to close out the season, 3-0 over Vancouver. The win coupled with consecutive losses by Seattle (3-3-6, 15 points) to Los Angeles and Pali on Friday and Saturday night pushed Colorado into this weekend's W-League playoffs. The Force has first-round match with defending league champion Pali (9-0-3, 30 points).
"This is huge for us. We've been tying all season and I think we dominated most of our matches. Today was just a huge win for us," said Marshall, who nearly scored in the game's second minute but the ball ricocheted off the crossbar.
Marshall finally broke through 16 minutes later after stealing a pass and breaking in one-on-one with Vancouver goalkeeper Sian Bagshawe. Marshall's initial shot hit the far post, but she recovered the rebound before Bagshawe could get back in goal and pushed across the game's first tally.
"Nikki Marshall must have the 'Guinness Book of Records' for the most post hits and crossbars hit in a season. In every game she has hit the post or crossbar. It just hasn't been working for her," Force head coach Craig Deacon said. "When she gets in behind you you're not going to catch her. The only thing that's going to stop her is the post."
Five minutes later, Sarah Campbell's header found Pfankuch in front of the goal for a 2-0 lead. Pfankuch added another goal in the 75th minute for a 3-0 advantage over the Whitecaps (3-3-5, 14 points), who won the W-League title in 2004 and '06.
"This is so cool for the whole franchise, for Cayla, for everybody," Pfankuch said. Cayla would be Cayla Deacon, the team's general manager, veteran player and wife of Craig Deacon, who was sidelined for the season last month due to a blood clot in her leg.
The victory and subsequent playoff spot was just as sweet for the players.
"It's nice for them to get a result they've deserved for a long, long time. We've played teams, we've outplayed teams and we've beaten better teams and we tied," Coach Deacon said.
But after Friday's win and Seattle's losses, the Force didn't have to settle for a tie in the league standings — a tie that would've cost them the postseason because Seattle had the head-to-head tiebreaker. No, instead, the Force is headed to the playoffs.
---
COLORADO 3, VANCOUVER 0
VANCOUVER 0 0— 0
COLORADO 2 1— 3
C — Nikki Marshall, 18th minute
C — Emily Pfankuch (Sarah Campbell), 23rd minute
C — Pfankuch (Monica Dolinsky), 75th minute
SHOTS ON GOAL: Vancouver 5; Colorado 8
FOULS: Vancouver 7; Colorado 17
OFFSIDES: Vancouver 3; Colorado 8
CORNER KICKS: Vancouver 2; Colorado 2
SAVES: Vancouver — Sian Bagshawe 2; Colorado — Maria Del Guercio 3
Attendance: 856
News Image: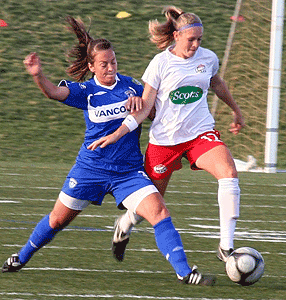 Long Description:
<p><span style="font-size: small;"><span style="font-family: arial,helvetica,sans-serif;">Last Friday, Emily Pfankuch scored two goals and Emily Marshall opened the scoring as the Force (4-2-6, 18 points) won its third straight to close out the season, 3-0 over Vancouver.</span></span></p>
Category Lead:
Category Lead Story

Print This Post