By Dani White
Berthoud Recorder
The stadium and the surrounding fields that normally constitute Dick's Sporting Goods Park were transformed into a festival setting with a variety of massive tents and magnificent, equipment-laden stages for this year's second annual Mile High Music Festival 2009. There was a buzz of excitement and anticipation as concertgoers wandered the grounds with wistfulness. The sun was out in full force, shedding crisp light on the western view of the Rocky Mountain range and the silhouette of the Denver skyline. The setting was ideal albeit immense, but traversing the vast site was a small price to pay for the enjoyment of the killer line-up of artists for the special two-day event.
Colorado's homegrown music festival recognizes local talents, including the centennial state's The Northern Way. The breakthrough, locally rooted band is comprised of four young men with a mighty passion for creating music. The band originally known as Set Forth with a flux of musicians, found the right fit within the last two years and has emerged confidently as their new avatar. They are happy with the name change as a nod to Colorado and their identity as an area band.
The band members, Steve Melton (lead vocals), Ryan Buller (guitar), Jeff Bostic (Bass) and Marc Teets (Drums,) collaborate to produce new music that is wholly affected by their environment and everyday life. The band originally formed in Greeley, largely through the efforts of Melton, but is now based in Fort Collins.
Melton was influenced to form a band after winning the UNC Idol competition in 2004. He has transitioned from student to singer/songwriter and uses his experiences in his lyrics. "Every time a girl breaks my heart, I can write a song about it," he confessed. He brings his writing to the band to transform the verse into song. The heart and effort that goes into the creative process of their music is tangible.
TNW's hit song "Crazy" has been buoyantly cycling the local airwaves. The emergent Colorado music scene is definitely a great motivator to this burgeoning band, being both competitive and supportive. Guitarist Buller comments on the impact of big bands paving the way in the Colorado music scene. "We can look up to their work ethic, they set the bar for what local bands can achieve." TNW certainly follows suit with constant practice to create individual style and identity in this music mecca.
Currently popular state-based bands, including The Fray, 3OH!3, DeVotchKa, and Paper Bird also showed their native stripes at the music festival. The epic weekend-long music exhibition makes fans from far and wide remember the reason they truly love the rugged to rhythmic mishmash of talent Colorado cultivates and attracts.
---
Upcoming Events for The Northern Way
Saturday, Aug. 1: Larimer County Fair, Budweiser Events Center at 7 p.m.
Tuesday, Aug. 14: Louisville Street Fair at 6 p.m.
Thursday, Aug. 16: Bohemian Nights at New West Fest, Fort Collins
More info: www.MySpace.com/TheNorthernWay
News Image: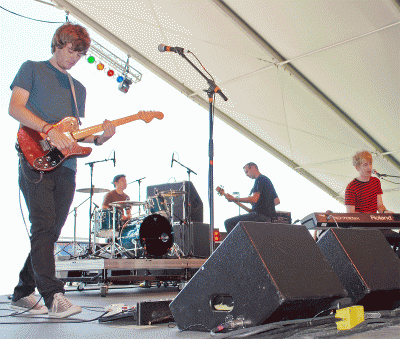 News Image: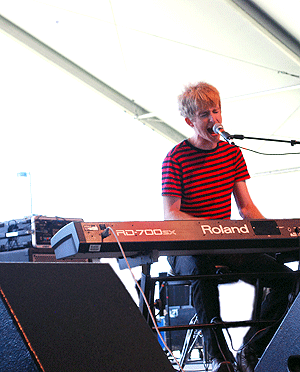 Long Description:
<p><span style="font-size: small;"><span style="font-family: arial,helvetica,sans-serif;">Members of The Northern Way perform at Dick's Sporting Goods Park. Band members are Steve Melton (lead vocals), Ryan Buller (guitar), Jeff Bostic (Bass) and Marc Teets (Drums).</span></span></p>
Long Description:
<p>The Northern Way plays at the Larimer County Fair Aug. 1.</p>
Category Lead:
Category Lead Story

Print This Post