By Megan Reece Thomas
Berthoud Recorder
There are not a whole lot of places left in the country where you can still see regularly used hitching posts outside of the general store. In southern Iowa, the town of Kalona and surrounding areas is in the heart of Amish and country. The Amish in this area live without very many conveniences of modern-day life. The women sew their own dresses and bonnets and cook every meal from scratch. Horse-drawn buggies are as common on the roads as cars and many Amish-run businesses cater to tourists who want to experience a piece of life they don't often get to see.
In Stringtown Grocery for example, you can comb through the narrow aisles full of bulk foods, spices, candies, sauces and vegetables. Young Amish girls carry large boxes of blueberries out of the store on their heads and Amish men wait outside of the store with their horses.
This is a grocery store where you can buy moldy cheese for "26 percent off!" and (oh thank you, thank you!) 3-pound bags of marshmallow cereal bits minus the annoying crunchy oat pieces. The six aisles in the store are packed with bulk-size bags of all types of candies you can imagine. At a quarter of the usual price, you won't be able to leave the store without an armful of your favorite gummy candies or chocolates.
At the Kalona Cheese Twin County Dairy, Inc, you can watch cheese curds being made from behind a layer of plexi-glass coated in condensation. You can select from dozens of unique cheeses and summer sausages. Most delightfully, you can sample cheese curds so fresh they squeak against your teeth.
In the heart of Kalona, you will see modern life mixed with Amish life. The hardware store's hitching post was crowded with horses and buggies on an early Friday afternoon. Local restaurants employ Amish women who work alongside other women. Their bonnets and modest dresses and aprons are amazing to see. The clothes are pleated perfectly and you can be sure that everything they wear is handmade.
Kalona, Iowa is worth seeing for its fantastic mix of 2009 and the 1800s. The Amish choose to live with as few conveniences as possible, and so stepping into this town is a lesson on the determination of the human spirit. Because this way of life is of utmost important to them, the Iowan Amish choose to continue living a simple life and they fund this life by sharing it with others. You most definitely do not have to be Amish — or even religious, for that matter — to enjoy the pleasures of Kalona, Iowa. Enjoy handmade foods, sights you will not likely see again in your life and the gigantic bag of marshmallow-only cereal you bring home to remind you of your trip.
News Image: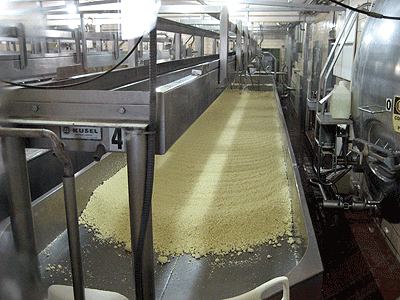 News Image: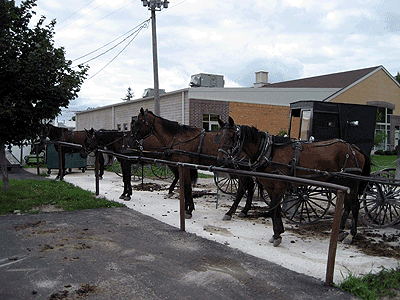 Long Description:
<p>At Kalona Cheese Twin County Dairy, Inc, cheese curds are mixed to be bagged up and sold immediately to shoppers in the store.</p>
Long Description:
<p>A row of horses waits for their drivers in downtown Kalona, Iowa.</p>
Category Lead:
Category Secondary Featured Story