By Sandy Barnes
Berthoud Recorder
Weekends are a good time to have a hearty breakfast that keeps you going well into the afternoon. Here are three recipes that are delicious and provide essential proteins and other nutritious ingredients. The bran muffins go well with the omelet, and the pancakes can be a meal in themselves. If there is time on busy weekday mornings, these recipes also can be used to start the day off right.
It's a good idea to use organic dairy products, which are free of growth hormones found in most conventional ones. Organic eggs from cage-free hens are also a preferred choice.
Parmesan Herb Egg Omelet
Ingredients
6 eggs

¼ cup milk or creamer

½ teaspoon dried Italian herb blend

2 tablespoons grated parmesan cheese

2 tablespoons olive oil
Whip eggs in bowl and add milk or creamer and herbs. Heat large sauté pan over medium heat and add oil. Pour in egg mixture, sprinkle in parmesan cheese and gently cook until done. 3-4 servings.
---
Bran Muffins
Ingredients
1¼ cups oat bran

1¼ cups whole wheat pastry flour

1 tablespoon baking powder

½ teaspoon salt

1¼ cups milk

¼ cup molasses

2 tablespoons olive oil

2 eggs

½

cup raisins

¼ cup finely chopped walnuts
Combine dry ingredients and add milk, eggs and oil. Blend until lumps disappear and place in 12 greased muffin cups. Bake at 425 degrees for 15-17 minutes.
---
Whole Wheat Yogurt Pancakes with Fruit
Ingredients
1

¼

cups whole wheat pastry flour*

1 teaspoon salt

1 teaspoon baking powder

1 teaspoon baking soda

½ teaspoon salt

4 tablespoons honey

3 large eggs

2 cups plain low fat yogurt

1 tablespoon olive oil

One cup berries, fresh or frozen berries
Wash berries or thaw berries, place in bowl and mix in two tablespoons honey. Combine dry ingredients in another large bowl. Add remaining ingredients, except for fruit and honey mixture, blending well. Let mixture sit five minutes and then cook pancakes over medium heat in greased frying pan or griddle. Place pancakes on plates and serve with fruit mixture on top. 3-4 servings.
*Use more flour for thicker pancakes
News Image: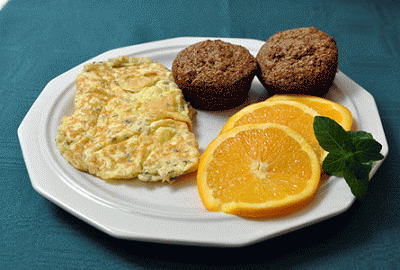 Long Description:
<p><span style="font-size: small;"><span style="font-family: arial,helvetica,sans-serif;">An omelet with parmesan cheese and herbs, bran muffins and fresh sliced oranges make a wonderful and nutritious breakfast that stays with you.</span></span></p>
Category Lead:
Category Primary Featured Story

Print This Post