By Shari Phiel
Berthoud Recorder
Chosen as this year's One Book, One Denver title, the American classic "To Kill a Mockingbird" is also the only non-Shakespeare related undertaking in the Colorado Shakespeare Festival's 2009 season. It also opened on Saturday, July 18 to an exuberant and nearly standing-room-only audience.
Based on the 1960 Pulitzer Prize-winning novel by Harper Lee, and adapted for the stage by Christopher Sergel, "To Kill a Mockingbird" is both a simple and complex look at life during the 1930s in the rural south. Seen through the eyes of Jeremy "Jem" and his younger sister Jean Louise "Scout" Finch, "Mockingbird" captures both the charm and courage of the fictional town of Maycomb, Ala., residents. It also captures the violence, racism and inequality of that time equally well.
While the play's two central characters are young children, this by no means suggests it is suitable for young children. Much of the story relates Jem and Scout's father, Atticus Finch, difficult and courageous choice to defend Tom Robinson, a black man against the charge of raping a white woman at a time when such charges often resulted in lynch mobs, burning crosses and hooded robes. There are very frank portrayals of rape, bigotry and loss of innocence.
Despite being set in the 1930s and in the Deep South, "To Kill a Mockingbird" is as relevant today as it was when it was released during the turbulent, racially-charged era of the 1960s.
"We are living in a time of great change: a time of challenges and of opportunities. Looking at "To Kill a Mockingbird" from today's cultural and political perspective, after we have elected our first African-American president we can say "Look how far we have come since the times of Tom Robinson." And then we ask ourselves, "Would we be willing to take on the challenge that Atticus Finch takes up heroically in this story?" said Jane Page in her director's notes.
It is difficult not to compare the stage production to the 1962 film adaptation. For many people, including me, there is no other Atticus Finch than actor Gregory Peck. A sentiment shared by many of my fellow audience members. However, I was surprised to find a number of individuals in the audience, all over the age of 35, who had never seen the movie nor read the book. But such a comparison would be unfair to both Lee's novel and the CSF production's actors, director and crew. Page's direction along with Andrea Bechert's scenic design and Kevin Brainerd's costumes made the tiny town of Maycomb come to life.
While all of the cast members delivered wonderful performances, there are several exceptionally notable standouts. Tammy Meneghini as the adult Scout and Ellie Schwartz as the 9-year-old Scout gave their characters the warmth, charm and innocence I remember from both the novel and the movie, Doug Bynum captured both the sincerity and despair of Tom Robinson and Sam Gregory encompassed the integrity, humor and strength that is vital to the role of Atticus Finch. Judging by the standing ovation the performance received, I would say the audience would agree.
If you are going to go, and I recommend you do, keep in mind that although "To Kill a Mockingbird" runs through early August, it is a limited run with just seven shows. For details on ticket prices and performance dates, visit the CSF Web site at www.ColoradoShakes.org.
News Image: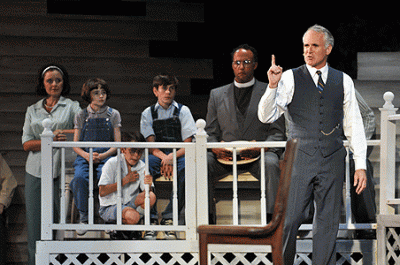 Long Description:
<p>Cast members, from left, Tammy Meneghini as adult Jean Louise Finch (Scout), Ellie Schwartz as young Scout, Alex Rosenthal as Dill, Connor Shearrer as Jem, Bradley Spann as Reverend Sykes and Sam Gregory as Atticus Finch.</p>
Category Lead:
Category Primary Featured Story

Print This Post