Role Players: Mil Santos
Sixth in a 10-part series
They are husbands, fathers, wives and mothers. They also either have been, are or will still be actively involved in the sports scene in Berthoud. They are 10 people who've made an impact in molding athletics in this Northern Colorado town. Through Aug. 20, the Berthoud Recorder will take a look at them and their impact on athletics.
---
By Michael Hicks
Berthoud Recorder
It doesn't take much to know how important Mil Santos has been to the success of Berthoud High School's volleyball program. All one has to do is look at what the 44 year old accomplished in both his stints as head coach.
Yes, both.
The Colorado State graduate was an assistant coach at Highland High School in Ault when he heard that Berthoud was looking for an assistant volleyball coach who would also serve as the junior varsity head coach. The situation seemed perfect.
"I wanted to move up at the time so I left Ault and Highland High School and came over here as a JV coach back in 1995," Santos said.
Unfortunately, or fortunately, depending on how you look at it, his career as a junior varsity coach was short-lived. That's because the head coaching position at Berthoud came open a week before the season started. The school was in a bind and Santos was the only person who could help out on such short notice.
"I don't know who the head coach was at the time. Right away, I got hired on as the JV coach to the varsity coach," Santos said.
He had no time to prepare. Any preparation for the season was more tailored toward grooming his 1996 squad. Santos had little choice.
"I was already aspiring to be a head coach sometime down the line. I didn't think it'd be that soon," Santos said. "Yeah, I got thrown into the fire. Basically I had to prepare on the run. I did the best I could."
That first year was, in his words, "a learning experience." The end result was three wins. But the seeds were planted for what was to come next.
The Lady Spartans went .500 in his second season, qualifying for the state tournament for the first time in five years. But the juniors who were now seniors were graduating and Santos had to reload from scratch in 1997. He did that in time for 1999, in what turned out to be start of the best two-year run in Berthoud volleyball history.
Behind Amy Cordor, Kelsey Wurth, Sara Hartman, Katie Huxford and Katie Elmore, Berthoud reached the state semifinals in 1999 before coming back a year later to score the school's only 4A state volleyball championship. It was the bitterness of that '99 state semifinal loss that catapulted BHS to its success in 2000.
"I think we were star-struck. We weren't prepared to see that competition, the limelight or the hoopla. I too was star-struck," Santos said. "We were extremely excited to be there, but we didn't know what was ahead of us.
"To play as well as we did I have to give them credit," Santos added.
But just as quickly as Berthoud celebrated that state title it had to deal with Santos' defection. He left after that 2000 championship for his alma mater, Aurora Central High School. Aurora Central's program was like Berthoud's. Its volleyball success was all but non-existent. In his first season, in 2001, he led the school to five wins. But what came next didn't correspond with his coaching plans.
Aurora Central was going through extensive administrative turnover and a full-time teaching position wasn't available for Santos. Taking the advice of his fellow colleagues, Santos went searching for another job.
Fortunately for him, Berthoud had a math opening in 2002. However, the volleyball position was filled and he was out of that loop, but only temporarily. Just like in 1995, BHS' volleyball coach decided not to return in 2003 and the team was in need of a coach. Guess who got the call?
The team went .500 and made it to the regional finals. And like before, the team graduated its seniors and reverted back to rebuilding mode for two years before 2006 when Berthoud qualified for district play. In 2007, behind the play of Skye Duncan and Kelley Arnold, a pair of transfers, Berthoud went undefeated and qualified for state. Last year, with Arnold leading the charge, the Spartans won a district and regional title before finishing one game shy of the state semifinals.
Once again, Santos had rebuilt Berthoud's volleyball tradition. Now with the cupboards filled again and other agendas on his plate, Santos stepped down as volleyball coach earlier this year.
With a desire to concentrate more on his math teaching career and a daughter at home, Santos left the Spartans program in the capable hands of assistant coach Daisha Agho, a three-sport star at Thompson Valley High School and an assistant coach with Santos on the school's track and field team.
He left with no regrets.
"First and foremost is my family, and of course, my career here," Santos said. "I'd like to be around when my little girl starts playing around and being a little more available for her in school as well as other activities she wants to be in."
That's not to say the move wasn't hard. Come fall he knows he'll miss the competition, but he also knows he'll be the team's biggest fan. He'll still coach track in the spring, and who knows, should 5-year-old Samara decide she wants to play volleyball when she is older maybe he'll be back.
"I haven't thought about that," Santos said. "I guess I'm never going to completely shut the door."
Especially if Samara has anything to say about it.
---
Name: Mil Santos
Age/Birth date: 44, Nov. 9, 1964
Education: Bachelor of Science, Colorado State
Career: Math teacher, Berthoud High School; Assistant track and field coach
Family: Married, Jennifer; Children, Samara, 5
Quotable: "I was already aspiring to be a head coach sometime down the line. I didn't think it'd be that soon. Yeah, I got thrown into the fire. Basically I had to prepare on the run. I did the best I could."
News Image: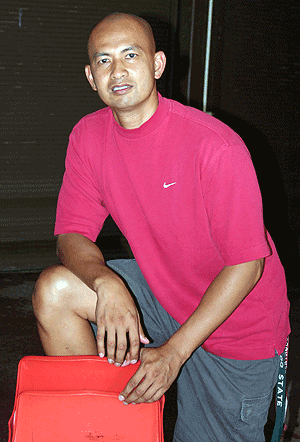 Long Description:
<p>Mil Santos rebuilt the BHS volleyball tradition.</p>
Category Lead:
Category Lead Story

Print This Post