By Dani White
Berthoud Recorder
The theater production "Bad Dates" is a one-woman show unto itself that makes for a very amusing evening out with the girls.
The play, written by Theresa Rebeck, is a sassy, lively account of a single woman raising a preteen daughter while running a restaurant business and trying to get back into the dating game.
The production is very personal and draws in the audience immediately with the opening line "Do you like these shoes?" An audience member actually answered "Not with that outfit." The humor was off to a staggering start.

The entire show takes place in the lead character's shoe-lined bedroom as she goes about recapping her life and her recent dating misfortunes. The concept of a show carried by one woman is fun and refreshing. The story has some interesting twists and maintains a surprising amount of intrigue. There are charming, applicable qualities to this style of one-sided comedy.

The show would not run smoothly without the dramatic efforts, aptitude and personal experiences of the leading lady, Gina Schuh-Turner. The play has a degree of quirky twists and humorous everyday veracity that men and women can appreciate and perhaps even relate to. The actress speaks of the main parallel of this show and her real life being "the woman experience." She also remarks on the uniqueness of " the thoughts that we, as women, have versus the thoughts men have with regard to dating, relationships, work and even being a parent."
This play is more than a well-dressed comedy. As Schuh-Turner explains, "The more I work with it, the more I like it and appreciate the many layers of the character and the story."
This is an intimate show and the quaint jewel-box Nonesuch Theater provides the perfect environment and acting talent for "Bad Dates" success.
The play runs through Sept. 13 at the Nonesuch Theater in Fort Collins. For more information, go to www.NoneSuchTheater.com.
News Image: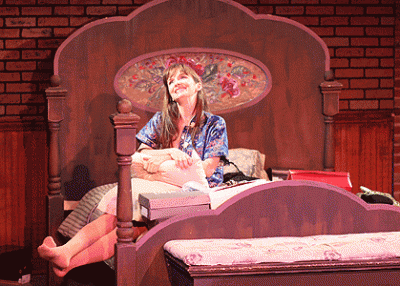 Long Description:
<p><span style="font-size: small;"><span style="font-family: arial,helvetica,sans-serif;">Gina Schuh-Turner enlivens the audience for the crisp and entertaining two-hour comedy &ldquo;Bad Dates.&rdquo; <br /></span></span></p>
Category Lead:
Category Lead Story
Home Lead:
Home Page Primary Featured Story

Print This Post