He Said/She Said
Seems Fake to Me

By Kyle Lee
Berthoud Recorder

"The Ugly Truth" wants to be an edgy, R-rated romantic comedy in the vein of "Knocked Up" (which also starred Katherine Heigl). But it tries so hard to be like those movies it seems fake. As opposed to Judd Apatow's comedies that have come out over past few years, "Truth" doesn't contain improvisation that makes interactions feel realistic. They are firmly scripted, and it felt like they said to themselves, "How many curse words do we have to say until we get an R rating?" But it was funny at times.
And as a male how did I feel about how my gender was portrayed? Moving past the fact that the two main characters are broad-stroke stereotypes that aren't very layered, I was most frustrated to see that in this movie's perception of reality men only care about good looks, don't listen to a word you say, and only want a long line of conquests under their belts. But then it's no surprise that this was written by three women who must think they have men figured out. The "truth" is they don't. It was worth the price of admission, but I probably won't watch it again.
Kyle Lee is an unabashed nerd who has loved movies for a very long time.
---
Not Pretty
By Dani White
Berthoud Recorder
The recent battle-of-the-sexes comedy "The Ugly Truth" is a perfect example of how a bad script makes good-looking actors ugly. The film is raunchy, exaggerated and utterly formulaic.
A successful news producer, played by Katherine Heigl, is also a walking dating disaster. This is a sad stereotype perpetuated in film right now. It only reinforces the concept that a woman can't be successful unless she is also a control-freak, romantically incompetent, who however confident in her career, lapses into diffident fits of "spastic" girliness.
The only chance Heigl's character has to get her dream guy is to slut it up and dumb it down according to the lessons of a crass, vulgar, "guy's guy" co-worker. This same Howard Sternesque shock-jock (Gerard Butler) automatically assumes that a woman who has half a mind for independent thought is ugly by default. Of course they fall for each other, no surprise there, because in Hollywood hate always turns to love.
It is difficult to clarify the female perspective in this film because everything about it is so far from realistic. There are moments of humor, but they are mostly overwhelmed by the horrible over-the-top antics. I don't recommend wasting time or money on this one.
Dani White has a B.A. in mass media studies with an emphasis in film and fine arts studies. She is a constant and quintessential film fanatic.
---
"The Ugly Truth"
Director: Robert Luketic
Cast: Gerard Butler, Katherine Heigl and Cheryl Hines
Runtime: 1 hour, 37 minutes
MPAA rating: R
He Said: 3.5 out of 5 stars
She Said: 1 out of 5 stars
Category:
Variety – Price of Admission
News Image: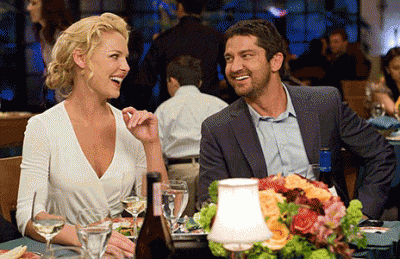 Category Lead:
Category Primary Featured Story

Print This Post