By Deborah Byrd
EarthSky Communications
Friday, July 31, 2009
We're still looking in the direction of the constellation Scorpius. Can you pick out the reddish star Antares at the Heart of the Scorpion? It's the brightest star near the moon tonight.
If you can see Antares and the moon — and if your shy is unobstructed in the direction towards the southern horizon — you should be able to pick out a graceful looping stream of stars. These stars represent the Scorpion's curved tail. They're the reason Scorpius has been identified as a Scorpion by stargazers.

Now notice two stars in the Scorpion's Tail, Shaula and Lesath. Together, these two represent the Scorpion's Stinger. These two stars, so close together on our sky's dome, give the impression of being physically bound. But they're not. They lie at different distances from Earth, with Shaula some 350 light-years away and Lesath about 500 light-years away.
News Image: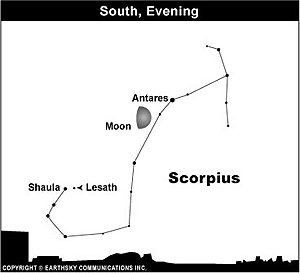 Category Lead:
Category Primary Featured Story

Print This Post