By Michael Hicks
Berthoud Recorder
Walking through the front door at Bennett's Karate Dojo, one absorbs the awards and history that represent not just the facilities owner, Richard Bennett, but the Okinawan karate fighting style he teaches.
In one corner sits a handful of awards. On the walls are the accolades his father, Allen, has achieved. Then there's the image of Shinyu Gushi, a ninth-degree black belt and living legend in the art. Bennett eats, sleeps and breathes this stuff. It's been a big part of his life since he was four, when he started studying it. By the time he was 12 he was a junior black belt, and four years later, he had his first full black belt. But it wasn't always that way.
"When I was a kid, I was like a lot of the kids I have here," Bennett said. "At first it's cool and fun. Then I had to do it three hours a day everyday with my dad because he had his own club then. It got really boring."
The monotony was too much. After his parents divorced, Bennett spent four years away from the sport. It was during that time that he realized what he was missing.
"Without having it, that's when I realized I needed it," said the now-26-year-old. "Right before I turned 16 I ended up getting back into it."
He earned that full black belt, and he's kept chugging along ever since, earning his second-degree black belt when he was 18, his third at 21 and a fourth last year.
Under the guidance of his mentor, James Thompson, in Kalamazoo, Mich., while attending Western Michigan University, Bennett, as he says, was "really getting into it."
He continued with that focus after he moved in 2003 to finish his studies at the University of Colorado. It was then, while trying to raise money to stay afloat in school, that he opened up karate classes all over. In Erie, it started at the community center, where his stepmother, Amanda, is an instructor. Then there're the classes at Frederick's Carbon Valley Rec Center, and in Berthoud since the summer of 2007 at the Wildfire Arts Community Center. In all, 12 of his estimated 100 students attend the twice-a-week classes in Berthoud on Tuesdays and Saturdays.
And he's not in it alone.
His father was the one who initially taught the sport to him, his brothers Ethan and Miles and his stepmother. Both brothers are third-degree black belts, his stepmother is a fifth-degree, and dad is a seventh-degree. And they all either have, or still are, teaching classes.
When he's not teaching in Berthoud or at the new Briggs Street facility in Erie, Bennett is adding to his trophy case. Most recently was his second-place finish in the middleweight division in the 18- to 34-age group at the Uechi Ryu World Cup in Clearwater, Fla., last month. The tournament, held every few years, was the first for Bennett. Competitors from as far away as Argentina, Bermuda, France, Colombia and Okinawa, Japan, came to fight.
"I fought a lot when I was a kid. Most of my trophies are from when I was a kid," the Lafayette resident said. "When you're a kid you have to be controlled. You don't hit in the head. When I got to be an adult and my first tournament it was kind of shocker. They hit in the head. They really want to beat the crap out of the guy.
"This tournament compared to those ones. I hadn't fought in two years. The judging has changed. When I was younger there was more flying, kicking, acrobatic stuff. Now it's more like the Olympic style. They're copying how tae kwon do does it."
The winning and losing was just part of the experience, however. It was meeting the likes of Grandmaster Kiyohide Shinjo that made the trip that much more memorable. It is those occasions why Bennett is looking forward to his next venture — the All-Okinawan World tournament on Aug. 9-16. Yes, he's going to compete in the weapons competition, but he's also headed there for the tournament-ending seminars in hopes to bringing back some knowledge for him and his students.
"My dad and my teacher might teach in a certain way and I learn it from them. But I don't know how it was taught originally," Bennett said. "By going there and learning how they're teaching it, I can understand it and come back and teach it, too."
Just the thought of that was a foreign concept for Bennett. But since developing his own business, he has found a niche crowd, and he wants to share his knowledge.
"I always told my dad that I'd never be a teacher I always wanted to be a student. But the thing about karate is teaching is inevitable. You tend to, over time, you teach more and more. I've come to a point where I prefer teaching," Bennett said.
---
THE RICHARD BENNETT FILE
Name: Richard Bennett
Age: 26
Family: Dad, Allen; stepmother, Amanda; brothers, Ethan and Miles.
Residence: Lafayette
Occupation: Karate instructor
Accolades: First place, Uechi Ryu National championship, 1992, Antioch, Calif.; first place, Uechi Ryu Regional championship, Kalamazoo, Mich., 1994; first place, Uechi Ryu National, Kalamazoo, Mich., 1994; first place, Uechi Ryu National, Kalamazoo, Mich., 2002; first place, Grand Master Regional, Kalamazoo, Mich., 2003; second place, Uechi Ryu World Cup in Clearwater, Fla., 2009.
For more information: Go to www.BennettsKarate.com or take in a class at Berthoud's Wildfire Arts Community Center at 425 Massachusetts Ave., on Tuesday or Saturday.
News Image: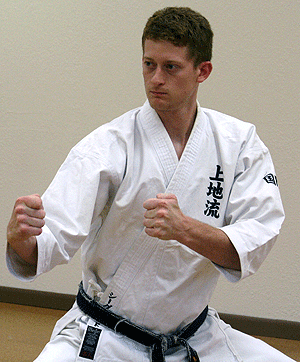 Category Lead:
Category Primary Featured Story

Print This Post