Role Players: Kim Wikre
By Michael Hicks
Berthoud Recorder
For eight years, Kim Wikre has spent her Friday nights at Berthoud High School football games. First with her oldest son, Trevor, playing and then with younger son Jared. But Trevor is now at Colorado State and Jared is embarking on his own college career at Mesa State. So where will Kim Wikre be come Sept. 11 for the Spartans' home opener with Fort Lupton?
"It's going to depend if I'm here on Friday night or headed to Grand Junction or if we want to travel and watch CSU," Wikre said. "I don't know if I can sit in the stands right away. I'd probably be working in the concession stand or doing something."
That wouldn't be a surprise considering the giving nature of the 49-year-old mother of three — her daughter, Danielle, is a rising junior at BHS this fall. The Minnesota native has a passion for helping others, be it through athletics or church.
"My passion is going out and helping people in need and just making it a better place for them," Wikre said. "It's so easy nowadays in this world to turn your head and go the other way."
And it's not only her own children, but Berthoud's other student-athletes that have come to appreciate Wikre's generosity. It was she and a handful of other parents who started serving meals to the football team on Thursday nights — the day before that week's game. It may not seem like much, but seven years later the tradition has continued, even when it looked like it might not.
"I remember a few years ago I was talking to somebody and I told them I don't know if I can do this again and he said you have to do it again because we look forward to that," Wikre said.
That somebody was a student-athlete. That short pep talk got her through the next school year, but it wasn't the only time she was reminded of how far reaching her generosity ran.
When Trevor graduated from Berthoud High another student expressed his appreciation.
"A boy came up to me and said I can't thank you enough for putting on those meals because that was the only hot meal I had all week," Wikre recalled.
Those meals for the football team have now spread to the softball team, girls basketball program and boys team. It is that sense of accomplishment that drives Wikre's passion. It's the mother in her to give that attention to the kids, not just her own, in hopes of making a difference.
"I'm not a coach. Not anything like that. I'm definitely not a coach, not a teacher," Wikre said. "Simple thing is that a mom, a parent or a single person can get out there and do something. Nine times out of 10 you can make a difference."
Wikre's been doing that since her family moved to Berthoud in 1993. The small-town feel made it feel like her hometown of Winnebago, Minn. Then seven years ago, she took her caring nature and put it to work with the Berthoud High School Boosters Club. In 1992, she started with the club and a year later she was named its president.
"There were a whole new group of parents coming in. I said I'd be willing to give it a shot. I enjoy that kind of work," Wikre said.
From golf tournaments to reverse raffles and door-to-door sponsorships, Wikre and other volunteers helped to sell school apparel, concessions and whatever they could to help raise funds for BHS. By year's end, under Wikre's leadership, the boosters club had turned around a program that was barely raising $1,000 for uniforms to raising $30,000 a year. The boosters club even helped other programs, be it the band boosters or another group, by splitting a percentage of the funds raised in concession sales 50-50. Everybody was a winner.
In June, however, Wikre stepped down as president. The monotonous feeling she had coupled with the belief that the club, whose new president is Sharon Duncan, needed some new blood led to that decision. It's one she still hasn't come to full terms with.
"I haven't had time to think about the consequences of not being president because it's been a crazy summer. But I do know that when school start it's going to hit me hard because I love doing what I did," Wikre said. "It will be difficult for me, but I know there's something else out there."
By the way, Mesa State will be playing at New Mexico Highlands that mid-September weekend and CSU plays host to Weber State the next day. So, that said, there's a good chance Wikre will be doing what she loves right there at Max Marr Field for the home opener.
The question should be where will she be once Danielle graduates? Maybe she'll still be helping out at BHS sporting events.
"I would hope that I am," Wikre said.
---
Name: Kim Wikre
Age: 49
Education: Undergraduate studies, Mankato State;
Career: Church worker, community outreach
Family: Married, Jeff; Children, Trevor 22; Jared 18; Danielle 16
Quotable: "My passion is going out and helping people in need and just making it a better place for them. It's so easy nowadays in this world to turn your head and go the other way."
News Image: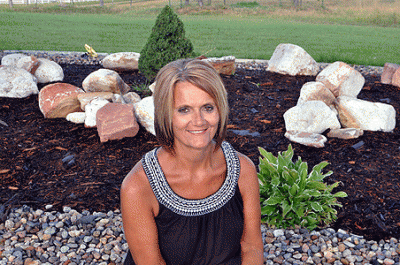 Long Description:
<p>Kim Wikre</p>
Category Lead:
Category Lead Story