By Laurie Hindman
Berthoud Recorder
Berthoud High School's back-to-school night is just around the corner. For new students the evening can feel a little overwhelming as BHS Commons is usually packed with excited students, confused parents and tables piled with pamphlets, club information, BHS swag and, of course, forms to be completed. Fortunately, volunteers are on hand to make the evening smooth, informative and, above all, welcoming.
The organizer of this year's back-to-school night is a veteran volunteer who has been greeting returning students, working with teachers and staff and offering a friendly smile to the incoming freshmen for over 13 years. Mary Matthews has been a volunteer on the back-to-school committee since 1996 and has chaired the event numerous times. Being such a long-term volunteer is remarkable enough, but what is even more impressive is that her son graduated from BHS in 2000 and nine years later she is still serving. Her son, Will Matthews, is a sergeant in the Marines and served in Iraq. He is now married, with a newborn son, and is stationed in California.
"People ask me why I still do it since Will has been long gone," said Matthews, "but truly I have a great time every year." Matthews enjoys the evening so much she has maintained a back-to-school night scrapbook over the years. The book is stuffed with photos of students and teachers, many of whom are no longer there, and flyers advertising past back-to-school nights. "This is my bible," declared Matthews. "Just about everything we have done since 1996 is in here."
Matthews said the goal, and the challenge, is to make sure people know where they need to go and what they need to do that night. "Most importantly, we want everyone to feel welcome and make sure they are comfortable." Matthews said there would be greeters outside the school with checklists, directing students and parents where they need to go. Volunteers with nametags will be available throughout the school to answer questions.
In addition to working back to school night, Matthews has served on the SAAC (School Advisory Accountability Committee) at BHS since 1996. She also at one time served on the Turner Middle School SAAC and the DAAC, the district level accountability committee.
"Serving on the committee is so important. You stay in touch with the changing times," said Matthew. "The elementary and middle schools always have so many volunteers. The high school always needs people. That is what is so challenging — letting parents and community members know that they are needed."
Matthews said she is currently the only community member serving on the SAAC and wishes there were more. "High school students have a huge impact on our community. Having a representative from the Chamber or the Town would be a real asset to the committee."
Matthews said one of the most rewarding parts of serving on the SAAC is the interaction with the students who participate in the meetings. "They have great ideas if you just listen to them. Students always know what the rest of the student body is feeling."
Matthews is self-employed in the healthcare field and has resided in Berthoud for over eighteen years. Because she is self-employed she has been able to schedule her time around her volunteer work. Matthews also visits the elderly or "shut-ins" bringing meals, flowers, snacks, or just visiting. Still, of all that Matthews does, back-to-school night is her favorite.
"I just love it," said Matthews. "The students are excited, visiting with their friends and everyone is having fun. It is thrilling to be there."
News Image: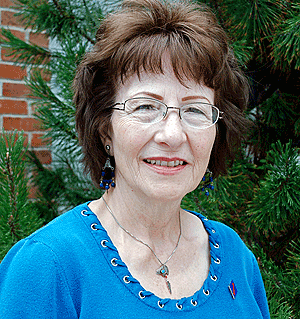 Long Description:
<p>Berthoud High School volunteer Mary Matthews sports the Marine pin of her son, Sgt. Will Matthews. Although her son graduated from BHS in 1996, Matthews has continued to serve at BHS on the accountability committee and the back-to-school nights.</p>
Category Lead:
Category Primary Featured Story

Print This Post