By Laurie Hindman
Berthoud Recorder
Berthoud Floor Covering owners, Mike and Carol Grine, were recently honored at a banquet held in Denver by the Colorado Employer Support of the Guard and Reserve (ESGR). The banquet and award ceremony recognized Colorado employers for their support of their employees who are members of the National Guard and Reserve. The Grines received the Pro Patria Award, the highest-level employer award the ESGR can offer.
"Basically they recognize the individuals who aren't in Iraq, but are still serving the country in some way," said Mike Grine. "Some bigger companies may not miss one guy if he gets called up, but with a small shop like ours, it has a big impact."
"We didn't realize what a big honor it was until we got there," added Carol Grine. "We were just doing what we do, what we think anyone would do."
What the Grines have been doing is working 12-hour days, six days a week, for the past year while one of their employees, John Bart, is serving his second tour in Iraq. Bart is in the Army Reserve and was called up last August. Unbeknownst to the Grines, Bart nominated them for the award. Mike Grine served in the Army reserves, in the same unit as Bart's, for 21 years. "John and I went all over the world together," said Grine.
The American flag flying outside their shop was a gift from Bart, who sent to them in gratitude after it flew over a U.S. base in Iraq. "It arrived on the last day of the year. Shortly after we got it, Justin Bauer was killed," said Carol. "The flag was there to honor him when his body passed by. He made the real sacrifice."
Mike and Carol have been running Berthoud Floor Covering since June of 1999. They have a built a base of loyal customers who return again and again for the personalized, reliable service. The Grines did all the flooring for the recently opened Brookside Gardens spa and event center.
"Larry Bebo [owner of Brookside Gardens and L&M Garden Center] always uses local people," said Mike. "Bebo helped a lot of people—painters, plumbers, electricians — it's a prime example of local business helping local business. It would be great if more Berthoud residents kept their business in town."
Although their Mountain Avenue shop is small, they carry a huge inventory and, according to Mike, can get anything a customer wants for a better price. "Let us give you an estimate. We will put our prices against anybody's." Mike said a lot of people are lured in by advertising from the big box stores with misleading promises of great deals and huge savings. "What they don't tell you about is all the add-ons and installations fees," said Carol.
"We have a better selection and 10 times better service," said Mike. "We are less expensive because we don't have the overhead and you don't have to leave town." Mike said they are fast, too. "We usually get the carpet you want from Georgia to Berthoud in four to five days. Most big operations it's three to four weeks."
"We have better quality control in general," added Carol. "If there are any issues you can call us. You will not be getting some sales clerk. You will be talking to me or Mike."
Berthoud Floor Covering does all types of flooring including carpet, hardwood, laminates, vinyl and tile, as well as window treatments and countertops. They also provide carpet and upholstery cleaning by certified cleaning professionals, using environmentally friendly products, as well as water damage cleanup and mold removal.
The Grines have lived in Berthoud for 20 years and have three children who attended Berthoud schools. "We are committed to the community," said Carol. Berthoud Flooring is open Monday through Friday, from 9 a.m. to 5 p.m. and Saturday from 9 a.m. to 2 p.m. The company is located at 705 Mountain Ave.
Category:
News – Business
News Image: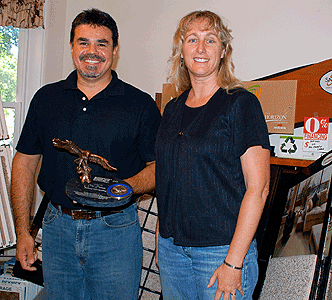 Long Description:
<p><span style="font-size: small;"><span style="font-family: arial,helvetica,sans-serif;">Mike and Carol Grine of Berthoud Floor Covering hold a plaque they received from the Colorado Employer Support of the Guard and Reserve. The Grines were honored for their support of employee John Bart, a member of the Army Reserve who was sent on his second tour in Iraq.<br /></span></span></p>
Category Lead:
Category Lead Story

Print This Post