By Michael Hicks
Berthoud Recorder
Life can come at 28-year-old Lyle Fenderson pretty fast. That's to be expected for someone who is not only a member of the Berthoud Fire Department, but also the father of a 14-month-old boy. But Sunday afternoons are his time. That's when the former high school wrestler can, albeit temporarily, rejuvenate those competitive juices.
Fenderson and his Berthoud Fire Department mates and spouses put on the gloves, swing the bats and get their weekend warrior fill as part of the Parks and Recreation coed softball league.
"It's a chance to get away for most family guys. To get out on the field and play and have a good time," Fenderson said prior to his team's game at Bein Park.
Seven teams make up the fall league, that's after one team dropped out a week before the season started. Each team must have at least eight players in order to start a game with half of them being female and all players 18 years old or older. Every other batter must be female in the 55-minute game, which can end early should a team be up by 15 runs in the third inning or 10 in the fifth.
But, no matter what the score is, this league is all about having fun. All adults are welcomed, no matter how big or small. Some are in it for the camaraderie. Some are in it to relive their high school athletic prowess. And some are in it, like Lori Kingsley, just because.
The 29-year-old Berthoud graduate played third base for Westwood Photography on Sunday. Though she played competitively with the Spartans while in high school, nowadays this is just for fun for the mother of two — a 5- and a 6-year-old.
"I haven't played for a while. This is a way to get out and get some exercise," Kingsley said. "I know it's not much, but it's something."
But don't be fooled; Kingsley isn't. This is more for the pure enjoyment than it is for the competition. Those days, like they were in high school, are long gone.
As for her children, they're at the games giving their support in their own way.
"They're being supportive because they're being good," Kingsley said. "That's all I ask."

They may not be hands-on in cheering mom on, but they're there. So are Mike Dick's children. But for this 49-year-old, his kids aren't cheering from the sideline. They're in the game. So is his wife. The Grace Place Sluggers' pitcher, who has been playing softball since he was 18, enjoys that camaraderie.
"It's fun to get out here, especially in Berthoud, because you know everybody," Dick said.
And though he's a little older than the rest, he's still out here playing.
"This gives you a chance to be competitive, to compete with everybody else, especially for me and a couple of people on team. We're pretty old," Dick said.
Nevertheless, at the end of the day, as Fenderson and the Berthoud Fire Department team can testify, this break in everyday life is nice, but when work or family comes a calling you've got to go.
"We've got a call before while we were playing," said Fenderson, whose team plays it games while two fire engines and another emergency vehicle sit in the adjacent parking lot in case a call comes in. "Usually we have enough people on the team that we can back up our team when we have a call, but there's been times in the past where they didn't.
"We just have to drop our bats is what it comes down to and yell on the way out that I guess we forfeit."
After all, family and the job come first. This is just for fun.
News Image: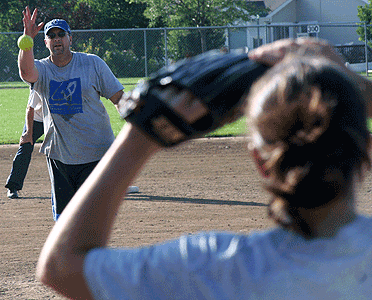 News Image: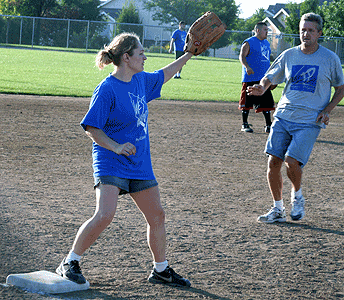 Long Description:
<p>Mike Dick pitches in the Berthoud coed league.</p>
Long Description:
<p><span style="font-size: small;"><span style="font-family: arial,helvetica,sans-serif;">Lori Kingsley played competitively for BHS, but now hits the diamond just for fun.<br /></span></span></p>
Category Lead:
Category Primary Featured Story

Print This Post