Larimer County commissioners Tom Donnelly, left, Kathay Rennels and Steve Johnson passed a proclamation in support of the 2010 census on Tuesday, Aug. 4 at their regular weekly meeting.
"An accurate census count is vital to our community and residents' well-being" read Donnelly, adding that census numbers help "planners determine where to locate schools, daycare centers, road and public transportation, hospitals and other facilities."

Per the U.S. Census Bureau, more than $400 billion overall, or approximately $826 per person, is distributed annually by the federal government to communities based on information gathered during the census.
The 2010 census will also bring some much need, although temporary, jobs to the area. The census bureau will be hiring local community members to help distribute census questionnaires and visit households that have not responded.
Recruitment for the temporary positions will begin later this fall with work beginning early in 2010 and lasting through that July.
For more information about the U.S. Census, how to volunteer or for information about applying for the temporary positions, visit their Web site at www.Census.gov.
Category:
News – Community
News Image: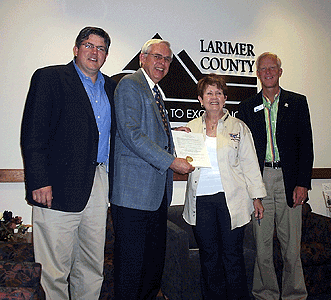 Long Description:
<p>Larimer County commissioners Tom Donnelly, left, Kathay Rennels and Steve Johnson passed a proclamation in support of the 2010 census on Tuesday, Aug. 4 at their regular weekly meeting.</p>
Category Lead:
Category Primary Featured Story

Print This Post