By Jamie Folsom
Berthoud Recorder
Larimer County Clerk and Recorder Scott Doyle has been selected for the County Courthouse Award for Innovative Governance by the National Association of Counties, the county announced Friday.
Doyle was recognized by peers for his work implementing voting centers, creating a citizen information center at the county courthouse, creative budget tracking methods and staff development.
His recent efforts have included regrouping with staff and creating a "roving" position that would move into different county records departments based on need. He hopes to make the office a place of survival in the economic downturn, and believes the rover pilot program "has a great future to it."

"I'm looking forward to implementing innovations so we can provide better services and run a better government," Doyle said. "I'm not afraid to step out there."
In the 2003 coordinated elections, Larimer County was the first in the nation to offer centralized voting centers, a change from voting precincts based on residence. Cities around the country called on Doyle and his staff to help them set up similar systems.

Voting centers proved to be a challenge, however, in the 2006 elections when Denver implemented the system for the first time. Technical difficulties accessing voter records and long lines had many voters outraged. In the aftermath, Denver Mayor John Hickenlooper asked Doyle to help with a post-election analysis and make recommendations for future improvements to the system.

Doyle, who was elected to his second four-year term in 2006, was also previously awarded the National Association of Clerks and Recorders Public Official of the Year in 2005.
Category:
News – Community
News Image: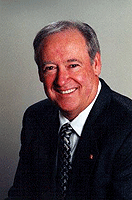 Long Description:
<p><span style="font-size: small;"><span style="font-family: arial,helvetica,sans-serif;">Larimer County Clerk and Recorder Scott Doyle</span></span></p>
Category Lead:
Category Secondary Featured Story

Print This Post