By Kelley Knight Heins
Earth Sky Communications
Saturday, Aug. 8, 2009
In the southeast about 10 p.m. or later, look for the waning gibbous moon in front of the constellation Pisces the Fishes. Just below the moon, near the horizon, will be the planet Uranus, also in the constellation Pisces.
Pisces is a faint constellation, and Uranus is a faint planet. But Pisces contains a noticeable pattern called "The Circlet" — a little circle of stars. If you can find The Circlet in Pisces, you might find Uranus, too, on a night that the moon drops out of the evening sky. Uranus is barley visible to the unaided eye as a tiny speck of light on a clear, dark night. Binoculars will make the hunt for this dim planet a little easier, as will a more detailed finder chart, which you will find here.
What can we tell you about Uranus that you don't already know? It's the seventh planet from the sun, a gas giant like Jupiter or Saturn or Neptune. Unlike these other planets, though, Uranus rotates on its side. Uranus takes 84 Earth years to orbit around the sun and its day is 17.9 hours long. There are at least 27 moons orbiting Uranus. In 1977, American astronomers discovered that Uranus has a ring system similar — but much less noticeable — than the rings of Saturn. You can't see the rings of Uranus in backyard telescopes. Recently it was discovered that the outermost ring is bright blue.
The discovery of Uranus was by the famed British astronomer William Herschel in 1781.
More at www.EarthSky.org.
News Image: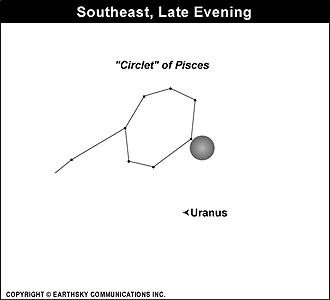 Category Lead:
Category Primary Featured Story

Print This Post