First-Time Brew Fest Features Education and Community
By Jamie Folsom
Berthoud Recorder

Straight on the heels of the season's booming barley and hops crops, 19 of Colorado's microbreweries got a chance to showcase their finest beers at the Larimer County Fair's inaugural Gnarly Barley Brew Fest on Saturday. Over 1,600 people came to The Ranch to watch brewing demonstrations, get schooled on beer/food combos, and sample everything from Irish ales to raspberry porters.

Director of The Ranch, Bob Herrfeldt, said they wanted to bring something more to fairgoers this year, and the "tie-in with beer and agriculture" was a perfect idea. "We wanted to show the brewing history of Colorado."

To do that, Herrfeldt said they included educational components open to families, especially geared towards connecting the state's agriculture with products in stores — brewing demonstrations from the Budweiser Ambassadors and presentations on pairing different beers with food that highlighted local products.

The clear message was the business of beer is important to Colorado. The Centennial State ranks fifth in the nation in barley production, and overall, the beer industry contributes an estimated $13.8 billion a year to the state's economy.
Community is Key
More than a good time and an ag showcase, the festival also benefited local nonprofit House of Neighborly Service. Joyce Scoggins, catering manager and chair of the brew fest committee, said they looked at a lot of nonprofit organizations to partner with. "We were so impressed with the whole nuts and bolts of HNS, and it's a great fit for the festival."

A portion of the proceeds from the festival itself and 100 percent of the proceeds from the Homebrew Contest will go to HNS, which provides emergency food, clothing and medical assistance for over 20,000 people in the Berthoud and Loveland area each year.

Going into their first brew fest, Scoggins remarked they had no idea how many to expect. "We started thinking we might get 500 and not having any idea where we would land. We couldn't be more pleased with the numbers and the overall success of the event!"
---
Berthoud Recorder Gnarly Picks
Gnarliest Brew: Rocky Mountain "Smoke Hefe" (Colorado Springs)
Smooth dark lightly smoky ale with a delayed aftertaste of bananas. Surprising little cookout in a glass. Rocky Mountain Brewer Duane Lujan says they focus on creativity, "This beer goes against all trends … Everyone told us we were crazy."
Best of the Fest: Durango "Dark Lager" (Durango)
Full-bodied, crisp and chuggable lager. At 5.7 percent ABV (alcohol by volume) this has all the smoothness of a stout and the brightness of a lager. Durango Brewery Distributor Nathan McGrath describes it as "the dark unsweetened chocolate of beers."
Trendiest Brew: Pump House "Watermelon Wheat" (Longmont)
Just what you'd think — the wine cooler beer that belongs at your next picnic.
Perfect for the summer — it's a spunky, light 4.3 percent ABV, and the sports bar/brewery is just down the road from Berthoud. More info: www.PumphouseBrewery.com
2009 Gnarly Barley Brew Fest People's Choice Winner: Durango Brewing Company
The state's third oldest brewing company was founded in 1886. Two years ago, they opened the Tap Room, which features tasting, carryout, history and local music on occasion. More info: www.DurangoBrewing.com
The Best of Show Award at the Homebrew Competition went to Aaron and Emily Heaton of Fort Collins for their "Peach Magic Brew."
News Image: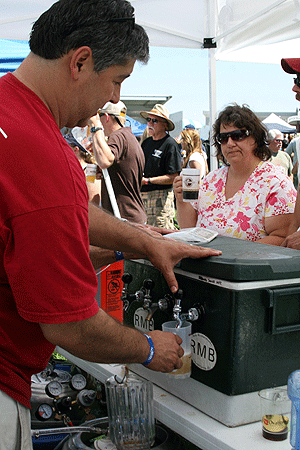 Long Description:
<p>Rocky Mountain Brewer Duane Lujan serves up a &ldquo;Brunette Ale&rdquo; at the Gnarly Barley Brew Fest Saturday. The brewery is a family affair &mdash; Lujan pulled his father Pete out of retirement from the liquor store business and brought him on board 10 years ago. &ldquo;He came home one day and saw me sitting on a recliner and said, &lsquo;Pops, I don&rsquo;t want to see you die young,&rdquo; Pete Lujan said with a grin.&nbsp;</p>
Category Lead:
Category Lead Story

Print This Post