By P.J. DiPentino
Special to The Berthoud Recorder
Last weekend, a group of dedicated athletes traveled for a three-day national competition — the State Games of America.
The SGA is an Olympic precursor organization that holds competitions on the state level for all types of sports. Every two years a host city holds an event where the athletes traverse across the country to see who is the best at their respective sport.
This year, Colorado Springs hosted an outstanding event — the third consecutive time the Colorado city hosted the State Games.
The Olympic-type opening ceremonies were held on the first night. Athletes hailing from all over the country were cheered on by the 10,000 spectators at the World Arena. The opening ceremonies included a musical performance by American Idol alum Carly Smithson, a speech from Gov. Bill Ritter and a torch lighting ceremony from U.S. Olympic wrestling gold medalist Henry Cejudo, who lit the caldron. Eleven-year-old Colorado BMX racer Caitlyn Kelty brought the torch into the arena and passed it to Colorado swimmer Ryan Arata.
Berthoud was represented by a small group of skilled athletes. The Berthoud BMX team — Rocky Mountain Racing — sent its best racers Gabriella DiPentino and Phillip "The Flyin' Meatball" DiPentino to compete. Twenty-four-year-old Jen Foster competed in the 100- and 200-meter events in track and field. Archers LeAnn and Gary Thompson competed in the 3D and target senior archery divisions. Harry Hilgers rode his bike in the Omnium division road race.
Results varied and the Berthoud residents held their own on the award podium. Leading the medal count was 15-year-old BMX racer Gabriella DiPentino. A Colorado district and five-time state champ, DiPentino dominated her age group by winning two gold medals, a silver and a bronze. She also won her age division as the 2009 state games series champion.
Her younger brother, 8-year-old Phillip, raced in six races and brought home five medals — a silver and four bronze. Like his sister, Phillip raced on two types of bikes and found himself on the podium for the first time in his four-year BMX racing career.
Berthoud 5-year-old Will Daigneault had only been racing a month when he was entered in the novice division at the State Games. Despite his inexperience, he raced his way to a silver medal. He smiled from ear to ear as he stepped to the podium with his medal.
Archer Gary Thompson also received a silver medal for his sharp-shooting skills in the male senior masters division. There's no doubt that Leann Thompson, Hilgers and Foster gave their all, proving that our little town can compete on any level with success.
The next State Games of America will be held in San Diego in 2011, and I'm sure Berthoud will have a few athletes mixing it up for the gold.
---
WANT MORE?
For results from this year's State Games, go to www.StateGames.org.
News Image: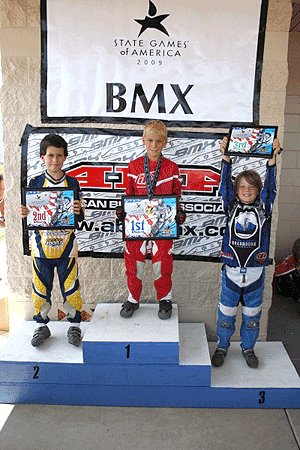 Category Lead:
Category Secondary Featured Story

Print This Post