By Laurie Hindman
Berthoud Recorder

There's a trend afoot nationwide emphasizing the benefits of eating locally-grown produce. When you do so, not only are you supporting a nearby farm, but you make less of an environmental "footprint" — locally grown produce doesn't have to be shipped from Florida, California or even South America and thus uses less natural resources to bring food to your table. Best of all the produce is fresher and tastes great.

To get your delicious, fresh produce, visit the Little House Gardens' booth at the Berthoud Farmers Market. Little House Gardens, owned by the DeMoss family of Loveland, has a wide variety of produce picked that same day. Little House Gardens is a small family farm on an acre and a half of land. "That's why we call it little house," laughed Doris DeMoss. "Everything is very little — our house, our garden. But we grow everything ourselves and take it from the field to the farmers market. You can't get any fresher than that. And we don't use any chemicals," DeMoss added. She said they plant everything by hand, "seed by seed" and plant in stages so they will have several crops of the same vegetable throughout the summer.

Little House offers turnips, peppers, green beans, squash and zucchini, garlic, chard, onions, cilantro, cucumbers — the list is long and the prices are better than your average supermarket. They also sell pinto beans, homemade jellies and jams, fresh eggs — even baby peach trees. This past Saturday they began selling their sweet corn. "It's so good you don't need butter or anything," declared DeMoss. Sun-ripened tomatoes are on their way.

In a couple of weeks they will begin roasting peppers in a big rotating barrel over an open flame; purchase the mild, medium or hot peppers by the baggie or by the bushel and take the smoky, flavorful chilies home for peeling and freezing. Use them all winter long for chile verde, spicing up eggs, sliced on burgers or deepening the flavor of soups and stews.

Support your local farmers and feed your family the freshest produce possible. Come to the Berthoud Farmers Market Thursdays from 3 to 7 p.m. and Saturdays from 9 a.m. to 1 p.m.
Category:
News – Business
News Image: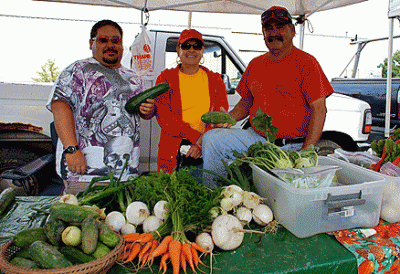 Long Description:
<p><span style="font-size: small;"><span style="font-family: arial,helvetica,sans-serif;">Jerry, Doris and Gino DeMoss own Little House Gardens, a small, local family-run farm that brings fresh picked produce to the Berthoud Farmers Market each Thursday and Saturday.</span></span></p>
Category Lead:
Category Primary Featured Story

Print This Post