By Dani White
Berthoud Recorder
In the perfect late afternoon sun of the 2009 Larimer County Fair, throngs of fair-goers began to wind down with their food and drink, rooting themselves in the shade of convenient tents, benches or their own make-shift seating provisions to enjoy the concluding line-up of live music.
The vivacious Fort Collins-based band Motorhome played their set to an appreciative and energized audience. Motorhome is an eclectic group of musicians each bringing their own technique and energy to complete the rich and vibrant tone of their music style. The bass player Ben Prytherch describes the artistic blend as a "musical potpourri." The band is also self-proclaimed "rock and roll with a country soul," a befitting description.
There is a fascinating fire and ice combination of vocalist/guitar players both respectively named Matt. The discernable Matt Thorton was a standout with a strong, cavernous voice and a very large white cowboy hat. Matt Mahern crooned with a light and natural sound, the perfect counterbalance to Thorton. The miscellany of musicians also includes mandolin extraordinaire Darren Radach and a jamming new drummer Dave Nezat. The energetic ensemble will be having a CD Release party Aug. 29 at Road 34 in Fort Collins for their second album "Almost Vegas."
While Motorhome is tough act to follow, the fellow Fort Collins-based (Greeley originated) band The Northern Way brought a thoroughly unique vibe to soundstage. Like our distinguished local brews, the two bands celebrate very distinct qualities. Motorhome is of the ground-stomping, mountain music variety, whereas TNW appeals to our sensibilities with a catchy, easy listening approach.
With the final heat of the day descending in full force, TNW took the stage to rejuvenate the drowsy, sun-drained evening audience. The band of four dedicated musicians engaged the crowd with their upbeat, yet serious, songs and zealous performance. Along the same vein of Maroon Five or The Fray, the band consists of a powerful piano-playing vocalist Steve Melton, flanked by equally talented guitarist Ryan Buller, bassist Jeff Bostic and drummer Marc Teets.
This skilled set of artists recently brought the same finesse to the 2009 Mile High Music Festival. The young band has a self-titled EP and has continued to catalyze a growing fan base with their popular songs, including the hit "Crazy" and their new song "The Starting Line." The Northern Way has hit the ground running and I predict a long road ahead. Overall, the local bands were the shining highlight of the Larimer County Fair.
News Image: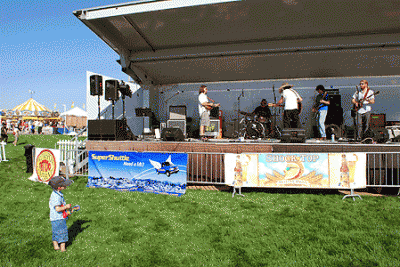 News Image: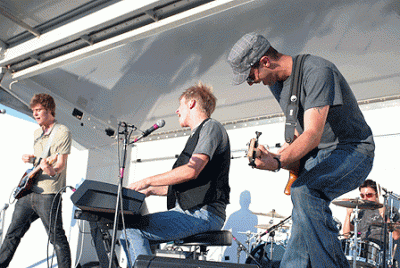 Long Description:
<p><span style="font-size: small;"><span style="font-family: arial,helvetica,sans-serif;">The Guitar heroes of Motorhome ripped for their No. 1 fan, 3-year-old Eli Hult, who donned his own plastic guitar and played along with his idols.&nbsp; <br /> </span></span></p>
Long Description:
<p><span style="font-size: small;"><span style="font-family: arial,helvetica,sans-serif;">The tuneful quartet The Northern Way rocks another venue at this year&rsquo;s Larimer County Fair.&nbsp; </span></span></p>
Category Lead:
Category Lead Story
Home Lead:
Home Page Secondary Featured Story

Print This Post