Role Model: Brian Barnes
By Michael Hicks
Berthoud Recorder
When Brian Barnes went looking for a career after graduating from Mayville State in North Dakota with a sports management degree there were few positions that would be a better fit than the one he ended up with.
The Loveland native and Thompson Valley High graduate became the recreation coordinator for Berthoud's Parks & Rec Department in January 2004. He's been there ever since and he couldn't be much happier about it.
"It definitely fit the tee," said Barnes, who was drawn to Berthoud by its small-town community and atmosphere. It was, after all, as he said, a fit for his personality. "I basically was applying for rec coordinator and rec supervisor jobs. It's what I wanted to do after college. It's just a perfect fit."
From setting up schedules and working the phones one day to cleaning gutters, mowing the grass and chalking the ball field the next, Barnes' job is nothing if it's not diverse. Maybe it has to be that way when you're dealing with four sports seasons and hundreds of kids and adults.
"It varies. We've got four sessions for sports — fall, winter, spring and summer," said Barnes, who played football and wrestled in high school. "Once we get off the ground our volunteer coaches do a great job of taking care of the program. I just have to facilitate their needs and make sure the umpires are doing their jobs and working well."
But everything's not as rosy as it would seem. There are the occasional hiccups of dealing with an unhappy parent, but those are few and far between, Barnes said. The community, in general, is supportive of the recreation program. It's the hours that can wear on him.
"We definitely have a real busy season. The worst part I'd say is April to August. I run the (Berthoud town) pool as well. That takes a lot of time and energy. There's definitely times of the year that I work a lot of overtime. But there's times that are slower that I'm only putting in 40 hours a week," Barnes said.
It's during those busy times that he relies on the volunteer coaches and his rec staff to help the department run sufficiently. When the Parks and Recreation department overtook the Berthoud pool four years ago, besides his staff, he relied on his background while working for the City of Loveland prior to coming to Berthoud to help with the added duty. But it was his passion for sports that has helped him the most when adapting to his job.
When Barnes came on board he was given the leeway to run the department as he saw fit. What he saw was a need to make changes to give more kids the opportunity to play. One of those changes was bringing flag football, a staple to youth athletics, back into the fold.
"That's probably the biggest thing we did for youth sports. Flag football is one of our best programs now. We run a 5-on-5 NFL style-type football. We had 80 kids last fall, 60-something in the spring," Barnes said.
"Kids love football. I don't know if it's the different style we run that makes it successful. The first year we had just three teams. But word spread and it took off. Now it's huge."
From there it was the adult volleyball program. Then it was the department's sports equipment. Under Barnes' guidance, Berthoud Parks & Rec revamped its outdated equipment to catch up with the times.
"We pretty much went through every sport and got updated equipment," Barnes said.
That took two years, but, when you love what you're doing like Barnes does, time isn't that important. It's the enjoyment on the kids' faces on a Saturday morning when the season opens up that rewards him for the job that he's done.
"I guess it's just seeing all the fruit of your labor. I love going to the first game. It takes so much effort to schedule the game, to coordinate everything that you kind of forget how much fun the kids are having. But this allows me to remember what you're doing the job for," Barnes said.
And he is loving every bit of it.
---
Name: Brian Barnes
Age: 28
Education: Sports Management Degree, Mayville State University (North Dakota)
Career: Recreation Coordinator for Berthoud Parks & Recreation
Family: Single; Child, Peyton, 2
Quotable: "It takes so much effort to schedule the game, to coordinate everything that you kind of forget how much fun the kids are having. But this allows me to remember what you're doing the job for."
News Image: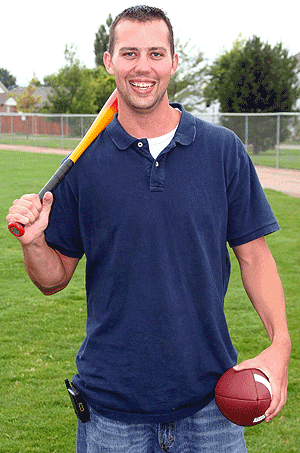 Long Description:
<p><span style="font-size: small;"><span style="font-family: arial,helvetica,sans-serif;">Loveland native and Thompson Valley High graduate Brian Barnes became the recreation coordinator for Berthoud&rsquo;s Parks &amp; Rec Department in January 2004.</span></span></p>
Category Lead:
Category Primary Featured Story

Print This Post