By Sandy Barnes
Berthoud Recorder
Dewey Poe works on a still life painting while sitting at his easel in a sunny corner of the Berthoud Living Center. Carefully blending oil paints with his brush, Poe applies colors onto the canvas with steady concentration.
After working for a while, Poe pauses briefly to give his eyes a rest. The gentleman in his mid-80s is nearly blind and is coping with Parkinson's disease. But his aliments no longer keep Poe from continuing his love of art. Since moving to the living center a few months ago, he has resumed painting, which he had given up several years ago because of his failing eyesight.
Poe began painting in 1974 when he was temporarily out of work, according to his wife Twila. "He sat down and begin to paint and draw," she said. The Poes went shopping together at the grocery store to get fruit for his first effort, a still life that one of his daughters now has in her home. His favorite subjects soon became landscapes depicting wildlife, which reflected Poe's love of the outdoors.
Using photos and cards and the work of artist Thomas Kincaid as inspiration, Poe created his own unique paintings for his family and friends to enjoy. A self-taught artist, Poe took lessons briefly. But all he learned was that mixing yellow and black hues created a beautiful shade of green, he said.
Kristin Fields, a speech therapist who has been working with Poe since he came to the center, said that a few weeks after he arrived she asked him what his passion was. After learning about his love of art, Fields said she encouraged him to try painting again. Now he spends hours each day at his easel. Other residents come by to watch him work, Fields, said. And Poe has been teaching another resident who enjoys painting how to mix colors. "Dewey would paint all day without stopping," said Fields. However, she and other staff members remind him to take breaks, especially for meals.
A Boulder native who married in July 1946, Poe worked at Rocky Flats for many years after serving as a medic in the Army during World War II. The couple has three daughters and 13 grandchildren.
In a memoir he wrote about his years of service in the war, Poe describes seeing President Franklin Roosevelt while attending to a Chinese major as a medic at Fort Logan near Denver. "I was told to put the major in a wheel chair at a certain time and take him over to one of the roads in the area to see if we might see the president," he wrote.
"The probability seemed slight, but after a while, here came the cars, and the one that the president was in stopped right in front of us, up close … Since I really liked President Roosevelt, I was real happy to see him."
During World War II, Poe served on an Army Hospital ship and traveled to many places throughout the world, including North Africa, Italy, France and the Canary Islands. "All together, I crossed the Atlantic 26 times, plus the Pacific twice," he wrote.
News Image: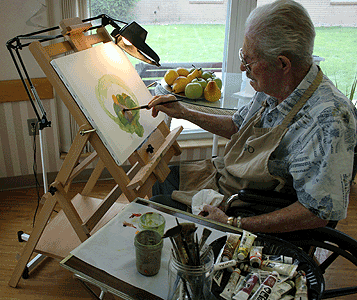 News Image: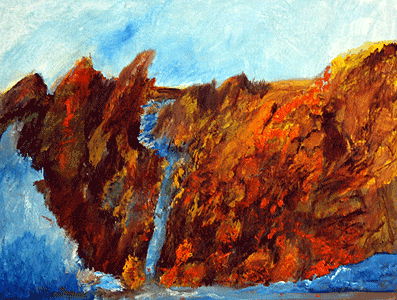 Long Description:
<p>Dewey Poe works on a still life painting at the Berthoud Living Center, where he has been a resident for the past few months.</p>
Long Description:
<p>This painting of a river reflects Dewey Poe&rsquo;s love of the outdoors.</p>
Category Lead:
Category Primary Featured Story
Home Lead:
Home Page Secondary Featured Story

Print This Post