The Larimer and Boulder county fairs are great examples of the "town and country" legacy of the Front Range. Among the galloping horses and beribboned pigs are first-rate photographers, rocketeers, rib-chomping lutadors and a stunning sampling of Colorado microbrews and music.
And even before the dust settles on the local fairs, many participants have already set their sights on the big show at the state fair, coming to Pueblo in September.
The Boulder County Fair, which officially opened on July 31, will be running through Saturday, and there is still plenty of time to catch all of the attractions.
Celebrating its 140th anniversary, the Boulder County Fair is hoping to break its record attendance numbers last year which saw more than 100,000 visitor come through the gates over 10 days.
Gates are open daily from 10 a.m. to 10 p.m., and admission remains free for the second year in a row. Parking and admission into the Crabtree Carnival is also free, although purchase of tokens or a $20 unlimited ride wristband is necessary for carnival rides. Tickets for grandstand events are also additional, generally around $10.
Remaining events include several 4-H exhibitions and judging, the Keep it Clean and Simple Science hands-on activities for kids, the highland cattle show, truck and tractor pull, pro rodeo mutton bustin', Steve Manshel, and Chris Daniels and the Kings on the fair garden stage, among the many activities and exhibits.
The fair is located at the Boulder County Fairgrounds at the intersection of Hover Street and Nelson Road in Longmont. For more information, visit their Web site at www.BoulderCountyFair.org.
---
Larimer County Fair 2009 Results
Dogs
Dog Obedience – Sub-Novice A
Blue – Mikaela Harrigfeld
Red – Sarah Morali
Red – Abigail Franke
Red – Cassidy Olivo
Red – Haley Fischer
White – Sam Sakowicz
Dog Obedience – Sub-Novice B
Blue – Danielle Pickert
Dog Obedience – Sub-Novice C
White – Savanna Seat
Dog Showmanship – Sr Novice
Red – Jesalyn Emerson
Dog Showmanship – Int Open
Blue – Reserve – Mikaela Harrigfeld
Blue – Savanna Seat
Blue – Cheyenne Miller
Blue – Sarah Morali
Blue – Abigail Franke
Blue – Cassidy Olivo
Blue – Elissa Emerson
Blue – Haley Fischer
Dog Showmanship – Jr Open
Blue – Stephen Lockard
Dog Agility Course – Level 1 – 20″ Dog
Blue – Champion – Jesalyn Emerson
Blue – Sam Sakowicz
Dog Agility Course – Level 2 – 20″ Dog
Blue – Champion – Chelsie Johnson
Dog Agility Course – Level 3 – 20″ Dog
Blue – Arianna Buchanan
Cats
Cat Showmanship – Jr NoviceBlue – Reserve – Fallon Stockley
Cat Showmanship – Sr Open
Blue – Danielle Seat
Senior Cat – Over 8 Yrs
Blue – Danielle Seat
Blue – Champion – Fallon Stockley
Cats – Cage Decorating Contest – Junior
Blue – Reserve – Fallon Stockley
Cats – Cage Decorating Contest – Senior
Blue – Champion – Danielle Seat
Cat Written Test – Junior
Red – Fallon Stockley
Cat Written Test – Senior
Red – Danielle Seat
Animal Science
Animal Science – Veterinary Science – Unit 1 – JrRed – Kali Thoren
Animal Science – Veterinary Science – Unit 1 – Int
Blue – Champion – Madison Waggoner
Animal Science – Veterinary Science – Unit 2 – Int
Red – Lauren Mesikapp
Animal Science – Horseless Horse – Unit 4 – Int
Blue – Champion – Audrey Kouns
Shooting Sports/County Shoot
Shooting Sports-County Shoots – .22 Rifle – Hunt – JrBlue – Theo Coats
Shooting Sports-County Shoots – Archery – Recurve, Traditional – Jr
Blue – Champion – Sara Sterck
Shooting Sports-County Shoots – Archery – Recurve, Limited – Jr
Blue – Champion – Sara Sterck,
Shooting Sports-County Shoots – Archery – Recurve, Traditional – Sr
Blue – Reserve – Glenna Waite
Mechanical Sciences
Mechanical Sciences – Model Rocketry – Unit 1 – Unit 1 – IntBlue – Champion – Jonathan Schlagel
Mechanical Sciences – Model Rocketry – Unit 2 – Unit 2 – Int
Red – Jacob Sawdey
Mechanical Sciences – Model Rocketry Fly Day – Unit 1 – Level 1 – Jr
Blue – Reserve – Jonathan Schlagel
Mechanical Sciences – Model Rocketry Fly Day – Unit 2 – Level 2 – Jr
Blue – Reserve – Jacob Sawdey
Mechanical Sciences – Small Engines – Unit 1 – Int
Blue – Kade Thoren
Mechanical Sciences – Special Awards – Outstanding Record Book
Jonathan Schlagel
Department P – Natural Resources
Natural Resources – Shooting Sports-Archery – Display Board – SrRed – Glenna Waite
Natural Resources – Shooting Sports-Archery – Stand Alone – Int
Blue – Champion – Sara Sterck
Natural Resources – Shooting Sports-Miscellaneous – Display Board – Jr
Blue – Champion – Theo Coats
Natural Resources – Sportfishing – Unit 2 – Int
Blue – Champion – Kyle Cavey
Natural Resources – Special Awards – Ov Res OutstandingInt Shooting
Sara Sterck
Communication, Arts & Leisure Sciences
Communication, Arts & Leisure – Leathercraft – Unit 4 – Sr
Blue – Champion – Courtney Brown
Communication, Arts & Leisure – Photography – Unit 1 – Int
Blue – Reserve – Katlyn Baker
Communication, Arts & Leisure – Photography – Unit 1B – Jr
Blue – Champion – Matthew Mesikapp
Communication, Arts & Leisure – Photography – Best Photo – Jr
Blue – Matthew Mesikapp
Communication, Arts & Leisure – Woodworking – Unit 2 – Jr
Blue – Champion – Tyler Markell
Communication, Arts & Leisure – Special Awards – Outstanding Leathercraft
Courtney Brown
Communication, Arts & Leisure – Special Awards – Champion Leathercraft Unit 4
Courtney Brown
Communication, Arts & Leisure – Special Awards – Overall Champion Photography
Matthew Mesikapp
Communication, Arts & Leisure – Special Awards – Outstanding Photography
Katlyn Baker
Communication, Arts & Leisure – Special Awards – Outstanding Record Book
Matthew Mesikapp
Katlyn Baker
County Projects
County Projects – Self Determined – IntBlue – Sydney Kouns
Red – Kade Thoren
County Projects – Special Awards – Outstanding Record Book
Hollie Isakson
Fashion Revue
Fashion Revue – Units 1-4 – Unit 1 – JrBlue – Reserve – Mia Roberts
Fashion Revue – Units 21-28 – Sportswear – Sr
Blue – Champion – Katie Kouns
Fashion Revue – Units 21-28 – Daytime Dress – Sr
Blue – Champion – Katie Kouns
Fashion Revue – Recycled Clothing – Sr
Blue – Champion – Katie Kouns
Fashion Revue – Decorate Your Duds – Sr
Blue – Elizabeth Potter
Blue – Reserve – Hannah Potter
Fashion Revue – Special Awards – Grand Champion Sr Model
Katie Kouns
Clothing
Clothing – Units 1-4 – Unit 1 – JrBlue – Mia Roberts
Clothing – Recycled Clothing – Unit 8 – Sr
Blue – Champion – Katie Kouns
Clothing – Cotton or Cotton Blend – Unit 21 – Sr
Blue – Reserve – Katie Kouns
Clothing – Wool or Wool Blend – Unit 23 – Sr
Blue – Reserve – Katie Kouns
Clothing – Silk or Silk-Like – Unit 24 – Sr
Blue – Champion – Jyl Hutchins
Clothing – Creative Clothing – Stitched – Sr
Blue – Reserve – Elizabeth Potter
Blue – Hannah Potter
Clothing – Creative Clothing – Combination – Int
Blue – Hollie Isakson
Clothing – Creative Sewing – Unit 5 – All Other – Int
Blue – Champion – Kyla Markell
Clothing – Special Awards – Res Grand Champ Jr Exhibitor
Mia Roberts
Clothing – Special Awards – Res Gr Champ Creative Sewing
Kyla Markell
Clothing – Special Awards – Champion Unit 1 Clothing
Mia Roberts
Clothing – Special Awards – Outstanding Clothing-50% Wool
Katie Kouns
Clothing – Special Awards – Decorate Your Duds Sr Rec Bk
Hannah Potter
Clothing – Special Awards – Outstanding Jr Record Book
Mia Roberts
Clothing – Special Awards – Outstanding Sr Record Book
Katie Kouns
Heritage Arts
Heritage Arts – Crochet – IntBlue – Reserve – Jessica Lott
He
ritage Arts – Quilting – Sr
Blue – Champion – Heather Spaur
Heritage Arts – Special Awards – Overall Champion Quilting
Heather Spaur
Foods & Nutrition
Foods & Nutrition – Riddles Rhymes/Fun Food Times – Unit 1 – JrBlue – Samantha Mulder
Foods & Nutrition – On the Road to Fun & Fitness – Unit 2 – Int
Blue – Champion – Kristina Cavey
Foods & Nutrition – Baking – Unit 21 – Jr
Blue – Champion – Ryan Baker
Foods & Nutrition – Baking – Unit 21 – Int
Blue – Champion – Payton Stroh
Foods & Nutrition – Baking – Unit 24 – Sr
Blue – Reserve – Heather Spaur
Blue – Jacob Lott
Foods & Nutrition – Passport to Foreign Cookery – Unit 35 – Int
Blue – Champion – Hollie Isakson
Foods & Nutrition – Passport to Foreign Cookery – Unit 35 – Sr
Blue – Luke Isakson
Blue – Chad Schlagel
Blue – Elizabeth Potter
Blue – Reserve – Joshua Potter
Foods & Nutrition – Cake Decorating – Unit 1 – Jr
Blue – Ryan Baker
Blue – Tyler Markell
Blue – Reserve – Rebecca Pennock
Blue – Kali Thoren
Foods & Nutrition – Cake Decorating – Unit 1 – Int
Blue – Savanna Seat
Blue – Olivia Phillips
Foods & Nutrition – Cake Decorating – Unit 2 – Jr
Red – Audrey Nankervis
Foods & Nutrition – Cake Decorating – Unit 2 – Int
Red – Jacob Sawdey
Foods & Nutrition – Cake Decorating – Unit 2 – Sr
Red – Shayla Coats
Foods & Nutrition – Cake Decorating – Unit 3 – Int
Blue – Katlyn Baker
Red – Kyla Markell
Foods & Nutrition – Special Awards – Best Sr Foods Exhibit
Joshua Potter
Foods & Nutrition – Special Awards – Outstanding Int Foods Rec Book
Kristina Cavey
Hollie Isakson
Foods & Nutrition – Special Awards – Outstanding Sr Foods Rec Book
Luke Isakson
Child Development
Child Development – Intermediate (Ages 11 to 13) – Arts & CraftsBlue – Champion – Gerri Roberts
Child Development – Senior (Ages 14 & older) – Parties
Blue – Reserve – Katie Kouns
Home Environment
Home Environment – Units 1-6 – Unit 2 – IntBlue – Hollie Isakson
Home Environment – Units 1-6 – Unit 2 – Sr
Blue – Champion – Katie Kouns
Home Environment – Units 1-6 – Unit 3 – Sr
Blue – Katie Kouns
Home Environment – Special Awards – Overall Champion Exhibit
Katie Kouns
Home Environment – Special Awards – Outstanding Int Record Book
Hollie Isakson
Ceramics
Ceramics – Hand-Constructed in Stoneware – Unit 6 – IntBlue – Champion – Payton Stroh
Ceramics – Special Awards – Overall Champion Exhibit
Payton Stroh
Creative Arts
Creative Arts – Junior & Senior Classes – Jewelry – IntBlue – Sami Kouns
Blue – Reserve – Gerri Roberts
Blue – Patricia Roberts
Creative Arts – Junior & Senior Classes – Miscellaneous Kit – Int
Blue – Champion – Hollie Isakson
Creative Arts – Junior & Senior Classes – Misc-Original Work – Int
Red – Hollie Isakson
Creative Arts – Special Awards – Res Grand Champion Inter Exhib
Gerri Roberts
Creative Arts – Special Awards – Best Flower Arrangement Award
Hollie Isakson
Creative Arts – Special Awards – Outstanding Int Record Book
Hollie Isakson
Creative Arts – Special Awards – Creative Arts – Special Effort
Patricia Roberts
Visual Arts
Visual Arts – Sketchbook Crossroads – Unit 2 – IntBlue – Jessica Lott
Visual Arts – Sketchbook Crossroads – Unit 2 – Sr
Blue – Timothy Potter
Visual Arts – Special Awards – Outstanding Int Record Book
Jessica Lott
Financial Champions
Financial Champions – Money Moves – Unit 2 – IntBlue – Champion – Hollie Isakson
Financial Champions – Money Moves – Unit 2 – Sr
Blue – Champion – Katie Kouns
Financial Champions – Champions – Outstanding Int. Record Book
Hollie Isakson
Financial Champions – Champions – Outstanding Sen. Record Book
Katie Kouns
Department Z6 – Leadership
Leadership – Skills Leading Groups – Unit 4 – SrBlue – Champion – Katie Kouns

Beef
Beef – Market Steers – Category 1 – 1,045# – 1,095#4th – Cole Young
Beef – Market Steers – Category 2 – 1,153# – 1,158#
1st – Cody Hart
Beef – Market Steers – Category 3 – 1,227# – 1244#
4th – Levi Sellmer
Beef – Market Steers – Category 4 – 1,310# – 1,332#
5th – Sophia Phillips
Beef – Market Steers – Category 4 – 1,338# – 1,371#
6th – Sophia Phillips
Beef – Market Steers – Category 4 – 1,405# – 1,451#
1st – Cory Ellis
Beef – Catch-It-Calf Contest – Beef Production
5th – Danielle Pickert
7th – Matthew Holliday
Beef – Catch-It-Calf Contest – Showmanship
1st – Matthew Holliday
5th – Danielle Pickert
Beef – Breeding Beef – Junior Heifer Calf
3rd – Matthew Holliday
Beef – Breeding Beef – Late Spring Yearling Heifer
1st – Chad Ellis
2nd – Cody Hart
Beef – Breeding Beef – Early Spring Yearling Heifer
7th – Levi Sellmer
Beef – Breeding Beef – Cow with Calf at Side
5th – Matthew Holliday
Beef – Breeding Beef – Junior Bull Calf
4th – Matthew Holliday
Beef – Beef Production Class – Phase 2
3rd – Matthew Holliday
Beef – Preliminary Beef Showmanship – Int (Ages 11)
2nd – Chad Ellis
Beef – Preliminary Beef Showmanship – Int (Ages 12)
3rd – Danielle Pickert
4th – Matthew Holliday
Beef – Preliminary Beef Showmanship – Sr (Ages 14)
2nd – Sophia Phillips
4th – Levi Sellmer
5th – Cory Ellis
Dairy
Dairy – Summer Yearling Heifer Other Breed2nd – Sophia Phillips
Dairy – Spring Yearling Heifer Other Breed
1st – Kelsey Falasco
Dairy – Preliminary Dairy Showmanship – Int (Ages 11 to 13)
3rd – Kelsey Falasco
Dairy – Preliminary Dairy Showmanship – Sr (Ages 14 & 15)
1st – Sophia Phillips
Dairy – Champions – Champion Sr Showman
Sophia Phillips
Goats
Goats – Pygmy Goats – Sr Wethers, over 1 yr3rd – Matthew Holliday
4th – Mitchell Leach, Fort Collins, CO
5th – Paul Garrett, Fort Collins, CO
Goats – Breeding Meat Goats – Sr Does, 1 – 3 yrs old
9th – Meghan Conlon
Goats – Market Goats – Light – 59# – 66#
3rd – Meghan Conlon
4th – Brenna Conlon
6th – Meghan Conlon
Goats – Market Goats – Light – 68# – 70#
4th – Brenna Conlon
6th – Cara Conlon
Goats – Market Goats – Medium – 80# – 81#
5th – Olivia Phillips
Goats – Market Goats – Medium Heavy – 82# – 84#
2nd – Sarah P
hillips
Goats – Market Goats – Medium Heavy – 85# – 89#
1st – RaeLynn Richter, Loveland, CO
7th – Meghan Conlon
Goats – Feeders and Overweights – Feeders – 41# – 54#
3rd – Austin Brown
5th – Austin Brown
Goats – Preliminary Goat Showmanship – Meat, Int (Ages 11 to 13)
9th – Olivia Phillips
Goats – Preliminary Goat Showmanship – Meat, Sr (Ages 14 to 18)
6th – Austin Brown
Goats – Preliminary Goat Showmanship – Pygmy, Int (Ages 11 to 13)
5th – Matthew Holliday
Alpacas/Llamas
Alpacas/Llamas – Showmanship – Intermediate1st – Champion – Matthew Holliday
Alpacas/Llamas – Performance – Intermediate
6th – Matthew Holliday
Alpacas/Llamas – Costume – Intermediate
1st – Champion – Matthew Holliday
Alpacas/Llamas – Champions – Overall Grand Champion Showman
Matthew Holliday
Open Classes
Department OG – Open Horticulture
Open Horticulture – Vegetables – Beans, green, snap, 24 podsWhite – Agnes Juhasz
Open Horticulture – Vegetables – Carrots, 6
White – Kevin Juhasz.
Open Horticulture – Vegetables – Peas, 12 pods
Blue – Martin Juhasz,
Red – Kevin Juhasz,
Open Horticulture – Vegetables – Potatoes, red, 6
Blue – Kevin Juhasz,
White – Agnes Juhasz
Open Horticulture – Vegetables – Potatoes, other variety, 6
Blue – Scott Cavey, Berthoud, CO
Open Horticultur – Herbs – Dill, with seeds, 6 stalks
White – Martin Juhasz
Open Horticulture – Field Crops – Corn, silage, 6 stalks
Red – Elizabeth Markham
Open Horticulture – Field Crops – Corn, grain attached, 6 stalks
Blue – Susan Pennock
Open Horticulture – Field Crops – Sugar Beets, 6
Red – Elizabeth Markham
White – Catherine Schlagel
Open Horticulture – Field Crops – Sunflower, 1 head
Blue – Elizabeth Markham
Open Horticulture – Champions – Champion Field Crops
Elizabeth Markham
Department OJ – Open Garden Flowers
Open Garden Flowers – Garden Flowers – Rudbeckia, 5 stemsWhite – Eden Welker
Open Garden Flowers – Garden Flowers – Echinacea, 5 stems
White – Eden Welker
Open Garden Flowers – Children Classes – Mug Arrangement
White – Kyla Markell
Open Garden Flowers – Children Classes – Holiday Arrangement
Red – Tyler Markell
Open Garden Flowers – Children Classes – Plant, grown from seed
Blue – Kyla Markell
Open Garden Flowers – Special Awards – Champ Outstanding Children Ex
Kyla Markell
Department OK – Open Baked Products
Open Baked Products – Yeast Breads – White (bread machine), loafBlue – Agnes Juhasz
Open Baked Products – Yeast Breads – Loaf, any other, identify
Red – Elizabeth Markham
Open Baked Products – Yeast Breads – Dinner Rolls, 4
Blue – Christina Markham
Red – Renee Nankervis
Open Baked Products – Yeast Breads – Sweet or Fancy Rolls, 4
Blue – Jennifer Schlagel
Open Baked Products – Yeast Breads – Coffee Cake
Red – Elizabeth Markham
Open Baked Products – Yeast Breads – Batter Bread
Blue – Elizabeth Markham
Open Baked Products – Yeast Breads – Loaf, any other(bread machine)
Blue – Agnes Juhasz
Open Baked Products – Quick Breads – Banana, loaf
White – Jennifer Schlagel
Open Baked Products – Quick Breads – Coffee Cake, no yeast
Blue – Jennifer Schlagel
Open Baked Products – Quick Breads – Batter Bread, no yeast
Blue – Christina Markham
Red – Elizabeth Markham
White – Jennifer Schlagel
Open Baked Products – Quick Breads – Biscuits, no yeast, 4
White – Elizabeth Markham
Open Baked Products – Quick Breads – Fruit Muffins, 4
Red – Nicole Silvers
Open Baked Products – Quick Breads – Muffins, any other, 4
Blue – Elizabeth Markham
White – Jennifer Schlagel
Open Baked Products – Cakes-Whole Cakes – Cake, any other, 2 layers/more
Blue – Michelle Kouns
Open Baked Products – Cakes-Whole Cakes – Novelty, identify, no icing
Red – Elizabeth Markham
Open Baked Products – Cakes-Whole Cakes – Bundt, identify variety
Red – Elizabeth Markham
White – Jennifer Schlagel
Open Baked Products – Cakes-Whole Cakes – Pound, identify variety
Red – Elizabeth Markham
Open Baked Products – Cakes-Whole Cakes – Cupcakes, iced, 4
Red – Kevin Juhasz
Open Baked Products – Decorated Cakes – Junior (13 & under)
White – Sarah Kouns
Open Baked Products – Pies – Cherry
Blue – Elizabeth Markham
Open Baked Products – Pies – Apple
White – Jennifer Schlagel
Open Baked Products – Cookies – Oatmeal, drop
Blue – Elizabeth Markham
Open Baked Products – Cookies – Oatmeal, drop (Jr)
Red – Anna Schlagel
White – Catherine Schlagel
Open Baked Products – Cookies – Chocolate Chip, drop (Jr)
Blue – Catherine Schlagel
White – Anna Schlagel
Open Baked Products – Cookies – Brownies, no icing
Red – Christina Markham
Open Baked Products – Cookies – Brownies, no icing (Jr)
Blue – Anna Schlagel
Open Baked Products – Cookie Jar or Gift Baskets – Cookie Jar or Gift Basket
Blue – Elizabeth Markham
Open Baked Products – Cookie Jar or Gift Baskets – Scone Gift Basket
Blue – Elizabeth Markham
Open Baked Products – Cookie Jar or Gift Baskets – Muffin Gift Basket
Blue – Elizabeth Markham
Open Baked Products – Baked Food Specialties – Baked Goods Sweetened w/Honey
Blue – Elizabeth Markham
Open Baked Products – Gingerbread House – Gingerbread House
Red – Krista Markell
Open Baked Products – Champions – Overall Reserve Grand Champion
Michelle Kouns
Open Baked Products – Champions – Champion Quick Breads
Jennifer Schlagel
Open Baked Products – Champions – Res Champion Quick Breads
Elizabeth Markham
Open Baked Products – Champions – Champion Cakes-Whole Cakes
Michelle Kouns
Open Baked Products – Champions – Champion Cookie Jar/GB
Elizabeth Markham
Open Baked Products – Champions – Res Champion Cookie Jar/GB
Elizabeth Markham
Open Baked Products – Champions – Res Champion Food Specialties
Elizabeth Markham
Open Baked Products – Champions – Res Champ Gingerbread House
Krista Markell
Open Baked Products – Special Awards – Best of Show
Krista Markell
Open Baked Products – Special Awards – Exhibitor with Most Entries
Elizabeth Markham
Open Baked Products – Special Awards – Outstanding Exhibit
Elizabeth Markham
Open Baked Products – Special Awards – Outstanding Junior Exhibit
Kevin Juhasz
Jennifer Schlagel
Department OL – Open Canned & Dried Products
Open Canned & Dried Products – Canned Fruits – Peaches
/>Red – Carolyn Wilkins
Open Canned & Dried Products – Canned Fruits – Pears
Blue – Carolyn Wilkins
Open Canned & Dried Products – Canned Fruits – Tomatoes, whole, or stewed
Red – Carolyn Wilkins
Open Canned & Dried Products – Canned Fruits – Tomato Juice
Blue – Carolyn Wilkins
Open Canned & Dried Products – Canned Vegetables – Beans, green & yellow
Red – Carolyn Wilkins
Open Canned & Dried Products – Canned Vegetables – Any other vegetables
Red – Carolyn Wilkins
Open Canned & Dried Products – Pickled, Sauces & Condiments – Dill Pickles
Red – Scott Cavey
White – Carolyn Wilkins
Open Canned & Dried Products – Pickled, Sauces & Condiments – Sweet Pickles
Blue – Carolyn Wilkins
Open Canned & Dried Products – Pickled, Sauces & Condiments – Bread & Butter Pickles
Red – Carolyn Wilkins
Open Canned & Dried Products – Pickled, Sauces & Condiments – Any other pickled Vegetable
Red – Carolyn Wilkins
Open Canned & Dried Products – Pickled, Sauces & Condiments – Any other Vegetable Relish
Blue – Carolyn Wilkins
Open Canned & Dried Products – Pickled, Sauces & Condiments – Chutney
Red – Carolyn Wilkins
Open Canned & Dried Products – Jellies, Jams & Preserves – Peach or Aprico t
Red – Carolyn Wilkins
Open Canned & Dried Products – Champions – Res Champion Canned Fruits
Carolyn Wilkins
Department OM – Open Needlework
Open Needlework – Individuals 7 Yrs & under – Crochet or Hand Knitted Item
Blue – Samuel Pickard
Open Needlework – Individuals 7 Yrs & under – Item, any other not listed
Red – Samuel Pickard
Open Needlework – Individuals 8 to 13 Yrs – Crochet or Hand Knitted Item
Blue – Xander Pickard
Department ON – Open Quilting
Open Quilting – Hand Quilted 72″x90″ & over – Hand Pieced QuiltBlue – Carolyn Wilkins
Open Quilting – Machine Quilted 72″x90″ & over – Machine Pieced Quilt, longarm
White – Sofia Pulver
Open Quilting – Machine Quilted 72″x90″ & over – Made by Senior 65 +
Blue – Sharon Townsend
Open Quilting – Machine Quilted under 72″x90″ – Machine Pieced Quilt, long arm
Red – Sofia Pulver
Open Quilting – Machine Quilted under 72″x90″ – Made by Senior 65+
Blue – Sharon Townsend
Open Quilting – Machine Quilted under 72″x90″ – Other
Red – Sofia Pulver
Open Quilting – Professional Design/Designer – Any Item Quilter Designed
Red – Sofia Pulver
Open Quilting – Special Awards – Outstanding Quilt Exhibit
Carolyn Wilkins
Department OR – Open Machine Work
Open Machine Work – Youth (8 to 13 Yrs) – Any Other Novelty ItemRed – Mia Roberts
Open Machine Work – Youth (8 to 13 Yrs) – Accessories (tie, belt, etc)
White – Mia Roberts
Department OS – Open Fine Arts
Open Fine Arts – Children (7 Yrs & under) – Drawing, any mediaBlue – Natalie Fischer
Open Fine Arts – Youth (8 to 13 Yrs) – Drawing, any media
White – Gerri Roberts
Open Fine Arts – Youth (8 to 13 Yrs) – Collage
Red – Kevin Juhasz
Open Fine Arts – Senior (60 Yrs & over) – Painting, any media
Blue – Carol Glover
Red – Carol Glover
Open Fine Arts – Champions – Overall Grand Champion
Carol Glover
Open Fine Arts – Champions – Champion Senior
Carol Glover
Open Fine Arts – Special Awards – Grand Champion
Carol Glover
Department OT – Open Photography
Open Photography – Youth (8 to 13 Yrs) – Scenic, color photoBlue – Tyler Markell
Open Photography – Youth (8 to 13 Yrs) – Nature: animals, wildlife
Blue – Tyler Markell
Open Photography – Youth (8 to 13 Yrs) – Nature: animals, domestic
Red – Audrey Nankervis
Open Photography – Youth (8 to 13 Yrs) – Nature: plants, flwrs, insects
Red – Tyler Markell
Open Photography – Youth (8 to 13 Yrs) – Humor, color photo
Blue – Reserve – Kyla Markell
Open Photography – Youth (8 to 13 Yrs) – Digital Enhanced Photo
Blue – Audrey Nankervis
Open Photography – Amateur (19 Yrs & over) – Nature: animals, wildlife
Red – Krista Markell
Open Photography – Amateur (19 Yrs & over) – Sports Action
Blue – Renee Nankervis
Open Photography – Amateur (19 Yrs & over) – Any Subject, black/white photo
Red – Tye Duncan
Open Photography – Senior (60 Yrs & over) – People, color photo
Blue – Janice Gibb
Open Photography – Champions – Res Champion Youth
Kyla Markell
Department OU – Open Creative Crafts
Open Creative Crafts – Children (7 Yrs & under) – PotteryBlue – Samuel Pickard
Open Creative Crafts – Children (7 Yrs & under) – Any Other Craft
Blue – Natalie Fischer
Open Creative Crafts – Youth (8 to 13 Yrs) – Handcrafted Item
Blue – Tyler Markell
Open Creative Crafts – Youth (8 to 13 Yrs) – Item of Paper or Stone
Blue – Patricia Roberts
Open Creative Crafts – Youth (8 to 13 Yrs) – Pottery
Blue – Xander Pickard
Open Creative Crafts – Youth (8 to 13 Yrs) – Ceramics
Blue – Patricia Roberts
White – Gerri Roberts
Open Creative Crafts – Youth (8 to 13 Yrs) – Any Other Craft
Red – Patricia Roberts
Open Creative Crafts – Miscellaneous – Painting on Fabric
Red – Gerri Roberts
Open Creative Crafts – Miscellaneous – Holiday Crafts
Red – Gerri Roberts
Open Creative Crafts – Miscellaneous – Woodcarving, by machine
Blue – Wally Birkley
Open Creative Crafts – Miscellaneous – Metal Work
Blue – Jim Hensel
Open Creative Crafts – Miscellaneous – Any Item, Ages 60 to 70
Blue – Wally Birkley
Red – Terry Nichols
Open Creative Crafts – Champions – Champion Children
Samuel Pickard
Open Creative Crafts – Champions – Champion Youth
Xander Pickard
Open Creative Crafts – Champions – Reserve Champion Youth
Patricia Roberts
Open Creative Crafts – Special Awards – First Place – Class 72
Jim Hensel
Department D – Horses (146)
Horses – English Written/Performance – Int – Level 1
2nd – Alisha Golson
3rd – Savanna Seat
4th -
Lauren Mesikapp
Horses – English Written/Performance – Sr – Level 1
3rd – Courtney Brown
4th – Jesalyn Emerson
Horses – English Written/Performance – Sr – Level 2
5th – Arianna Buchanan
6th – Kaylee Dougherty
Horses – Preliminary EnglishShowmanship – Jr – Level 1
5th – Stephen Lockard
Horses – Preliminary EnglishShowmanship – Int – Level 1
3rd – Lauren Mesikapp
6th – Alisha Golson
7th – Savanna Seat
Horses – Preliminary EnglishShowmanship – Sr – Level 1
1st – Jesalyn Emerson
2nd – Courtney Brown
Horses – Preliminary EnglishShowmanship – Sr – Level 2
2nd – Kaylee Dougherty
3rd – Arianna Buchanan
6th – Morgan Woodruff
Horses – English Equitation – Int – Level 1
3rd – Alisha Golson
4th – Lauren Mesikapp
10th – Savanna Seat
Horses – English Equitation – Sr – Level 1
1st – Amy Fisher, Loveland, CO
2nd – Rachel Simonds, Fort Collins, CO
3rd – Sarah Hofkamp, Loveland, CO
4th – Jesalyn Emerson
5th – Courtney Brown
Horses – English Equitation – Sr – Level 2
3rd – Kaylee Dougherty
6th – Morgan Woodruff
8th – Arianna Buchanan
Horses – English Show Hack – Int – Level 1
2nd – Alisha Golson
3rd – Savanna Seat
4th – Lauren Mesikapp
Horses – English Show Hack – Sr – Level 1
3rd – Jesalyn Emerson
4th – Courtney Brown
Horses – English Show Hack – Sr – Level 2
2nd – Arianna Buchanan
3rd – Kaylee Dougherty
7th – Morgan Woodruff
Horses – English Controlled Riding – Int – Level 1
3rd – Savanna Seat
5th – Lauren Mesikapp
8th – Alisha Golson
Horses – English Controlled Riding – Sr – Level 1
4th – Courtney Brown
Horses – English Controlled Riding – Sr – Level 2
2nd – Arianna Buchanan
3rd – Kaylee Dougherty
6th – Morgan Woodruff
Horses – English-All Around – Int – Level 1
3rd – Lauren Mesikapp
4th – Alisha Golson
7th – Savanna Seat
Horses – English-All Around – Sr – Level 1
3rd – Jesalyn Emerson
3rd – Courtney Brown
Horses – English-All Around – Sr – Level 2
1st – Arianna Buchanan
3rd – Kaylee Dougherty
8th – Morgan Woodruff
Horses – Western Written/Performance – Jr – Walk/Trot
6th – Haley Fischer
Horses – Western Written/Performance – Jr – Level 1
1st – Stephen Lockard
Horses – Western Written/Performance – Int – Walk/Trot
1st – Katelyn Rice
Horses – Western Written/Performance – Int – Level 1
3rd – Lauren Mesikapp
4th – Alisha Golson
5th – Savanna Seat
Horses – Western Written/Performance – Sr – Level 1
1st – Austin Brown
7th – Danielle Seat
Horses – Western Written/Performance – Sr – Level 2
4th – Arianna Buchanan
5th – Courtney Brown
9th – Kaylee Dougherty
Horses – Preliminary WesternShowmanship – Jr – Walk/Trot
5th – Caisey Ellis
9th – Haley Fischer
Horses – Preliminary WesternShowmanship – Jr – Level 1
3rd – Stephen Lockard
Horses – Preliminary WesternShowmanship – Int – Walk/Trot
1st – Katelyn Rice
Horses – Preliminary WesternShowmanship – Int – Level 1
3rd – Lauren Mesikapp
7th – Savanna Seat
9th – Alisha Golson
10th – Casey Eisenberg
Horses – Preliminary WesternShowmanship – Sr – Level 1
2nd – Jesalyn Emerson
10th – Danielle Seat
Horses – Preliminary WesternShowmanship – Sr – Level 2
2nd – Kaylee Dougherty
3rd – Arianna Buchanan
10th – Morgan Woodruff
Horses – Western Equitation – Jr – Walk/Trot
10th – Caisey Ellis
Horses – Western Equitation – Jr – Level 1
7th – Stephen Lockard
Horses – Western Equitation – Int – Walk/Trot
2nd – Katelyn Rice
Horses – Western Equitation – Int – Level 1
1st – Alisha Golson
3rd – Savanna Seat
4th – Casey Eisenberg
Horses – Western Equitation – Sr – Level 1
2nd – Austin Brown
10th – Danielle Seat
Horses – Western Equitation – Sr – Level 2
2nd – Kaylee Dougherty
3rd – Arianna Buchanan
4th – Morgan Woodruff
Horses – Western Riding – Int. Level 1
2nd – Savanna Seat
3rd – Alisha Golson
Horses – Western Riding – Sr. Level 1
3rd – Danielle Seat
5th – Austin Brown
Horses – Western Riding – Sr – Level 2
2nd – Arianna Buchanan
3rd – Courtney Brown
4th – Morgan Woodruff
Horses – Western Reining – Jr – Level 1
8th – Stephen Lockard
Horses – Western Reining – Int – Level 1
1st – Lauren Mesikapp
2nd – Alisha Golson
Horses – Western Reining – Sr – Level 2
3rd – Kaylee Dougherty
8th – Courtney Brown
Horses – Trail – Jr – Level 1
3rd – Stephen Lockard
Horses – Trail – Int – Level 1
1st – Savanna Seat
3rd – Lauren Mesikapp
Horses – Trail – Sr – Level 1
2nd – Danielle Seat
Horses – Trail – Sr – Level 2
5th – Kaylee Dougherty
9th – Arianna Buchanan
Horses – Western-All Around – Jr – Level 1
3rd – Stephen Lockard
Horses – Western-All Around – Int – Level 1
1st – Lauren Mesikapp
3rd – Savanna Seat
4th – Alisha Golson
10th – Casey Eisenberg
Horses – Western-All Around – Sr – Level 1
5th – Danielle Seat
Horses – Western-All Around – Sr – Level 2
3rd – Kaylee Dougherty
4th – Arianna Buchanan
6th – Courtney Brown
10th – Morgan Woodruff
Horses – Working Ranch Horse – Junior Ranch Cattle Sorting
2nd – Savanna Seat
Horses – Gymkhana Written/Performance – Int – Level 1
3rd – Alisha Golson
8th – Savanna Seat
Horses – Gymkhana Written/Performance – Sr – Level 1
5th – Danielle Seat
Horses – Gymkhana Written/Performance – Sr – Level 2
2nd – Paige Lockard
Horses – Barrels – Jr – Walk/Trot
3rd – Jessica Tuxhorn
Horses – Barrels – Jr – Level 1
9th – Jennifer Tuxhorn
10th – Stephen Lockard
Horses – Barrels – Int – Level 1
4th – Savanna Seat
9th – Casey Eisenberg
Horses – Barrels – Sr – Level 1
3rd – Danielle Seat
6th – Austin Brown
Horses – Barrels – Sr – Level 2
6th – Paige Lockard
Horses – Poles – Jr – Level 1
5th – Jennifer Tuxhorn
Horses – Poles – Int – Level 1
3rd – Savanna Seat
Horses – Poles – Sr – Level 1
1st – Tiffany Johnson, Loveland, CO
2nd – Danielle Seat
4th – John Gray, Laporte, CO
5th – Kyle Moncrief, Wellington, CO
6th – Sarah Murch, Wellington, CO
7th – Stephanie Coronado, Wellington, CO
8th – Rachel Simonds, Fort Collins, CO
Horses – Poles – Sr – Level 2
2nd – Paige Lockard
Horses – Pole-Keyhole – Jr – Walk/Trot
4th – Jessica Tuxhorn
6th – Haley Fischer
Horses – Pole-Keyhole – Jr – Level 1
2nd – Jennifer Tuxhorn
7th – Stephen Lockard
Horses – Pole-Keyhole – Int – Level 1
4th – Savanna Seat
Horses – Pole-Keyhole – Sr – Level 1<
/strong>
3rd – Danielle SeatHorses – Pole-Keyhole – Sr – Level 2
1st – Paige Lockard
Horses – Flags – Jr – Level 1
4th – Jennifer Tuxhorn
Horses – Flags – Int – Level 1
2nd – Savanna Seat
6th – Alisha Golson
Horses – Flags – Sr – Level 1
5th – Danielle Seat
Horses – Flags – Sr – Level 2
3rd – Paige Lockard
Horses – High Point Gymkhana – Int – Level 1
2nd – Savanna Seat
7th – Alisha Golson
Horses – High Point Gymkhana – Sr – Level 1
2nd – Danielle Seat
Horses – High Point Gymkhana – Sr – Level 2
1st – Paige Lockard
Horses – Musical Freestyle – Intermediates
6th – Savanna Seat
7th – Lauren Mesikapp
Horses – Champions – Champion Sr Showman
Kaylee Dougherty
Department E – Sheep (33)
Sheep – Breeding-Hampshire – Ewe Lamb, born after 02/011st – Kaylee Dougherty
Sheep – Breeding-Suffolk – Ram Lamb, after 02/01
2nd – Kaylee Dougherty
Sheep – Breeding-Suffolk – Ewe, born by 12/15
2nd – Kaylee Dougherty
Sheep – Breeding-Suffolk – Ewe Lamb, born after 02/01
2nd – Shannan Sellmer
3rd – Shannan Sellmer
Sheep – Market-Hampshire – 120 -133 lbs
1st – Kaylee Dougherty
Sheep – Market-Suffolk – 102 -117 lbs
1st – Kaylee Dougherty
Sheep – Market-Suffolk – 120 – 127 lbs
1st – Kaylee Dougherty
4th – Daryl Baker
Sheep – Market-Suffolk – 131 – 138 lbs
6th – Kristina Cavey
Sheep – Market-Crossbreds – 99 -109 lbs
1st – Cassidy Hiatt
Sheep – Market-Crossbreds – 110 -119 lbs
2nd – Blair Baker
Sheep – Market-Crossbreds – 123 -133 lbs
1st – Blair Baker
Sheep – Market-Crossbreds – 139 -146 lbs
1st – Kyle Cavey
Sheep – Market-Dorset,Southdown,Shrop – 99 – 101 lbs
2nd – Cassidy Hiatt
Sheep – Market-Speckled Faces – 126 – 134 lbs
1st – Kyle Cavey
Sheep – Rate of Gain Contest – Market Lamb, Rate of Gain
1st – Kyle Cavey
10th – Kristina Cavey
Sheep – Preliminary Sheep Showmanship – Jr (Ages 8)
2nd – Shannan Sellmer
Sheep – Preliminary Sheep Showmanship – Jr (Ages 10)
7th – Cassidy Hiatt
Sheep – Preliminary Sheep Showmanship – Int (Ages 11)
1st – Kristina Cavey
Sheep – Preliminary Sheep Showmanship – Int (Ages 12)
1st – Blair Baker
Sheep – Preliminary Sheep Showmanship – Int (Ages 13)
1st – Kyle Cavey
Sheep – Preliminary Sheep Showmanship – Sr (Ages 14)
2nd – Daryl Baker
Sheep – Preliminary Sheep Showmanship – Sr (Ages 15)
1st – Kaylee Dougherty
Sheep – Champions – Grand Champion Market Lamb
Kaylee Dougherty
Sheep – Champions – Champion Hampshire
Kaylee Dougherty
Sheep – Champions – Champion Med Wool Crossbred
Kyle Cavey
Sheep – Champions – Res Champion Dorset,Sodn,Shrop
Cassidy Hiatt
Sheep – Champions – Champion Speckled Face
Kyle Cavey
Sheep – Champions – Champion Int Showman
Kyle Cavey
Sheep – Champions – Champion Sr Showman
Kaylee Dougherty
Sheep – Champions – High Gaining Market Lamb
Kyle Cavey
Department F – Swine (34 Berthoud)
Swine – Breeding Swine – February Gilt
6th – Levi Sellmer
Swine – Market Swine – Light – 228# – 231#
6th – Sarah Morali
Swine – Market Swine – Light – 240# – 241#
1st – Kyle Cavey
Swine – Market Swine – Medium – 250# – 252#
1st – Heather Spaur
3rd – Brooklyn Young
7th – Ty Beaman
Swine – Market Swine – Medium – 253# – 254#
8th – Jonathan Schlagel
Swine – Market Swine – Medium – 257# – 259#
3rd – Kyle Cavey
Swine – Market Swine – Medium Heavy – 260# – 261#
1st – Derrick Brown, Fort Collins, CO
8th – Jonathan Schlagel
Swine – Market Swine – Medium Heavy – 262# – 263#
5th – Sam Sakowicz
6th – Cate Lee, Fort Collins, CO
8th – Sarah Morali
Swine – Market Swine – Medium Heavy – 264# – 267#
7th – Brooklyn Young
Swine – Market Swine – Medium Heavy – 268# – 271#
2nd – Abigail Rockwell
Swine – Market Swine – Medium Heavy – 273# – 275#
2nd – Colton Hart
Swine – Feeders and Overweights – Feeder – 181# – 193#
1st – Sam Sakowicz
Swine – Feeders and Overweights – Feeder – 208# – 215#
1st – Sam Sakowicz
Swine – Feeders and Overweights – Overweight – 289# – 302#
1st – Colton Hart
4th – Levi Sellmer
Swine – Bred and Owned Market Swine – Bred & Owned
1st – Sam Sakowicz
Swine – Preliminary Swine Showmanship – Jr (Ages 8)
1st – Ty Beaman
4th – Sarah Morali
5th – Abigail Rockwell
Swine – Preliminary Swine Showmanship – Int (Ages 11)
1st – Jonathan Schlagel
10th – Sam Sakowicz
Swine – Preliminary Swine Showmanship – Int (Ages 12)
5th – Brooklyn Young
Swine – Preliminary Swine Showmanship – Int (Ages 13)
3rd – Kyle Cavey
Swine – Preliminary Swine Showmanship – Sr (Ages 14)
6th – Levi Sellmer
Swine – Preliminary Swine Showmanship – Sr (Ages 17)
1st – Heather Spaur
Swine – Champions – Reserve Grand Champion Market
Kyle Cavey
Swine – Champions – Res Gr Champ Market Exhibitor
Kyle Cavey
Swine – Champions – Champion Light Market
Kyle Cavey
Swine – Champions – Res Champion Med Market
Heather Spaur
Swine – Champions – Champion Jr Showman
Ty Beaman
Department J – Rabbits
Rabbits – Holland Lop – Jr Buck, under 6 mos3rd – Cheyenne Miller
Rabbits – Holland Lop – Sr Doe, 6 mos & over
3rd – Cheyenne Miller
6th – Cheyenne Miller
8th – Cheyenne Miller
10th – Cheyenne Miller
Rabbits – Holland Lop – Sr Buck, 6 mos & over
3rd – Cheyenne Miller
4th – Annelise Stockley
7th – Rebecca Pennock
8th – Cheyenne Miller
Rabbits – Mini Rex – Sr Doe, 6 mos & over
2nd – Cassidy Hiatt
3rd – Cassidy Hiatt
Rabbits – Mini Rex – Sr Buck, 6 mos & over
2nd – Cassidy Hiatt
Rabbits – Netherland Dwarf – Sr Doe, 6 mos & over
4th – Matthew Holliday
Rabbits – Netherland Dwarf – Sr Buck, 6 mos & over
1st – Cheyenne Miller
2nd – Cheyenne Miller
4th – Cheyenne Miller
5th – Matthew Holliday
6th – Matthew Holliday
Rabbits – All Other Breeds, 6 Class – Jr Doe
1st – Matthew Holliday
Rabbits – All Other Breeds, 6 Class – Jr Buck,
1st – Matthew Holliday
3rd – Matthew Holliday
Rabbits – All Other Breeds, 6 Class – Sr Buck
2nd – Matthew Holliday
Rabbits – Non-Purebred Pet Class – Non-Purebred Pet Class
4th – Hannah Langer
5th – Samantha Mulder
8th – Shannan Sellmer
Rabbits – Rabbit Meat Pen – Meat Pen
7th – Matthew Holliday
Rabbits – Rabbit Showmanship – Jr. 8, 9 & 10
3rd – Samantha Mulder
5th – Cassidy Hiatt
Rabbits – Rabbit Showmanship – Int. 11, 12 & 13
2nd – Reserve – Cheyenne Miller
9th – Annelise Stockley
Rabbits – Rabbit Poster Contest – Jr. 8 – 10 years
6th – Hannah Langer
Rabbits – Dress a Bunny Contest – Jr. 8 – 10 years
2nd – Hannah Langer
2nd – Samantha Mulder
Rabbits – Champions – Best of Breed-Netherland Dwarf
Cheyenne Miller
Rabbits – Champions – Best of Breed-Other, 6-Class
Matthew Holliday
Department H – Poultry
Poultry – Turkeys – Any Variety Meat-Yng Tom1st – Jacob Sawdey
Poultry – Turkeys – Any Variety Meat-Yng Hen
4th – Jacob Sawdey
9th – Jacob Sawdey
Poultry – Turkeys – Any Variety Breeder-Yng Tom
1st – Jacob Sawdey
Poultry – Turkeys – Any Variety Breeder-Yng Hen
1st – Jacob Sawdey
Poultry – Turkeys – Any Variety Breeder-Yng Pair
1st – Jacob Sawdey
Poultry – Ducks – White Pekin-Yng Pair
1st – Cara Conlon
2nd – Brenna Conlon
3rd – Meghan Conlon
Poultry – Ducks – Any Other Variety-Yng Drake
2nd – Cara Conlon
Poultry – Ducks – Bantam-Yng Pair
2nd – Cara Conlon
Poultry – Ducks – Any Variety Meat-Yng Drake
2nd – Brenna Conlon
6th – Cara Conlon
8th – Meghan Conlon
Poultry – Ducks – Any Variety Meat-Yng Hen
3rd – Brenna Conlon
6th – Cara Conlon
7th – Meghan Conlon
Poultry – Geese – Any Variety Breeder-Yng Gander
1st – Meghan Conlon
Poultry – Geese – Any Variety Breeder-Yng Goose
1st – Brenna Conlon
Poultry – Geese – Any Variety Meat-Yng Gander
3rd – Meghan Conlon
5th – Cara Conlon
7th – Brenna Conlon
Poultry – Geese – Any Variety Meat-Yng Goose
1st – Meghan Conlon
4th – Cara Conlon
5th – Meghan Conlon
9th – Brenna Conlon
Poultry – Pigeons/Doves – Pigeons-Old Cock
2nd – Luke Isakson
Poultry – Pigeons/Doves – Pigeons-Old Cock
7th – Luke Isakson
Poultry – Pigeons/Doves – Pigeons-Old Hen
1st – Cole Greenwalt, Fort Collins, CO
2nd – Luke Isakson
Poultry – Pigeons/Doves – Pigeons-Old Hen
10th – Luke Isakson
Poultry – Champions – Champion Breeder Turkey
Jacob Sawdey
Poultry – Champions – Res Champion Breeder Turkey
Jacob Sawdey
Poultry – Champions – Res Champion Meat Turkey
Jacob Sawdey
Poultry – Champions – Res Champion Any Other Duck
Cara Conlon
Cara Conlon
Poultry – Champions – Res Champion Meat Duck
Brenna Conlon
Poultry – Champions – Res Champion Breeder Goose
Brenna Conlon
Poultry – Special Awards – Poultry Sportsmanship Award
Luke Isakson
News Image: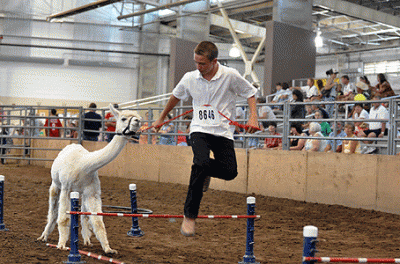 Long Description:
<p>Alpaca Overall Grand Champion Showman Matthew Holliday</p>

Print This Post