By Michael Hicks
Berthoud Recorder
A 57-year-old Littleton man died Saturday afternoon after he was thrown from his motorbike while riding at the Valley Dirt Riders track just off Interstate 25. Jerry Penney was pronounced dead at the scene. He was wearing a helmet at the time of the crash.
Weld County Coroner Mark Ward said Monday morning that Penney suffered multiple neck fractures.
"He's a rider that's probably ridden for 30 years," track co-owner Terry Frydendall said Monday. "There were some ruts in the track because of some rain. He may or may not have got into one of those ruts. He had been here for three hours riding. He was real familiar with the track."
Frydendall said he believed that Penney was dead upon impact. He said he couldn't find a pulse upon arriving on the scene. He started CPR after it took another rider approximately two minutes to remove Penney's helmet strap. A fellow rider and registered nurse continued CPR for 14 minutes, said Frydendall, as paramedics arrived but they weren't able to revive him.
Penney's death was the second fatality at the track in a week. On July 27, 25-year-old Anthony Hayes of Evans died from injuries he suffered at the track two days earlier.
Corinna Pina-Belmarez, a Weld County Coroner, told The Greeley Tribune that Hayes died from blunt force trauma to the head. Track officials said though they weren't able to confirm that Hayes had suffered a concussion one week prior while racing in Craig.
"We always encourage and tell everybody that when you go out that on your first one or two laps to take it slowly and look at the track. See what the obstacles are and get familiar with it," Frydendall said. "So Anthony, and I hate to discredit Anthony one way or the other, he went out and it was his second lap. He was riding as hard as he could. He hit some whoops (a bump) out there in the northwest corner of the track and he just took it too fast and fell off."
Thompson Valley paramedics arrived on the scene within five to 10 minutes before transporting Hayes to the Medical Center of the Rockies in Loveland. He was unconscious but breathing after the crash, Karen Diener, a spokesperson for the Berthoud Fire Protection District said Monday. Hayes was taken off life support and died two days later.
"It's just heartbreaking to have two deaths in one week," Frydendall said. "I'm not sure what the odds of that would be. Sure there are plenty of injuries and there always will be. It's a dangerous sport. There's nobody that doesn't get on a motorcycle that doesn't understand that."
The deaths were the third and fourth at the facility, which has five tracks, in its 41-year history. It was the first fatality at Valley Dirt Riders since 1998, the year that Frydendall and two partners purchased the track.
Valley Dirt Riders, which has hosted three American Motorcycle Association events this season, is covered under spectator liability insurance through AMA, but that doesn't cover the rider in case of injury or death, Frydendall said. AMA Communication Director Pete TerHorst said that AMA requires that an ambulance be on site for all sanctioned races and practices involving those races and that flaggers be stationed throughout the track in case something happens. But these two accidents happened during regular practice schedules and an ambulance on site was not required, Frydendall said.
Co-owner Glade Hill, whose son Aaron was paralyzed from the chest down while riding at the track last September, said that Frydendall spends about 30 hours a week working on maintenance at the track, including checking jumps, fixing ruts and slopes.
"It's not like it's not maintained," Hill said. "He's up there every day of the week."
The track is open 365 days a year, seven days a week, said Frydendall. Fellow co-owner Pete Edmonston spends about three days a week at the track.
Frydendall said that all riders — unless they are under 18 then their legal guardian has to — must sign a waiver on a daily basis before they can ride that releases the track from any wrongdoing in the case of an accident or death. Approximately 150 cyclists ride at Valley Dirt Riders daily, said Frydendall.
"Motocross is supposed to be about rough tracks. That is the sport. The guys in Berthoud have raced forever. They know what they're doing," said a spokesperson for Thunder Valley MX Park in Lakewood, who wouldn't identify himself. "They are very aware of what it takes to have a safe track. Those guys have been around longer than all of us.
"I feel sorry for everybody involved. It's a tragedy."
News Image: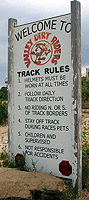 Long Description:
<p>Sign at the Valley Dirt Riders facility.</p>

Print This Post