By Michael Hicks
Berthoud Recorder
The heat emanating from the lights overhead of the six-sided caged ring made for a sizzling atmosphere Saturday night at the Broomfield Event Center. So it's rather appropriate that the madness that brought more than 4,000 vociferous fans to the arena was Ring of Fire's 35th event.
And, let it be known, Ring of Fire is definitely hot.
Twelve matches and 24 fighters had the lively, knowledgeable crowd, most of them consuming beer, on the edge of their seats — when they weren't standing in appreciation — for more than three hours for the taped-for-television event.
Big screens, smoke, strobe lights and tattoos everywhere and on everybody. Ring of Fire is a big-time production. That's a far cry from the unceremonious debut that Ring of Fire owner Sven Bean planned in 1999. It was then that the 42-year-old promoter planned to run the 9,000-seat World Arena in Colorado Springs. But a week before the card only 100 tickets had been sold. Bean canceled the event and, in turn, he was in the hole $17,000.
"It was a stinker," Bean said. "Six months later, in 2000, I had my first actual show. It was booked in a venue (Sheridan's Red & Jerry's) that could hold 500 and we stuffed 900 people in there. We turned away 300 at the door."
From there, Bean has booked hotel ballrooms, rodeo halls and fairgrounds before finding a home in Broomfield, where Ring of Fire has been running shows since 2006.
It is here where he is giving Colorado's top mixed martial arts fighters their chance to crack through to the next level, to compete with the likes of Brock Lesnar, Fedor Emelianenko and Quinton Jackson. Two of those competitors Saturday night were Loveland's Rory O'Farrell and Larry Williams, both of whom are hopeful to make it to the next level.
"Definitely, UFC is the big dog in the sport. But we've been doing it here for 10 years. We've also done some shows out of state. We're just known for creating the stars of tomorrow. That's our big thing," Bean said.
O'Farrell, a 205-pound light heavyweight, flexed his muscle with an armlock submission of Bogie Ison in the night's third match. But whereas O'Farrell electrified the crowd, Williams felt their wrath when his match against Ramico Blackmon was stopped by the referee after just 56 seconds.
The result left a lot to be desired unlike the proceeding fight and the only one that pitted females. Boulder's Dana Rael and Westminster's Jennifer Borg had the crowd on its feet in a show of respect after a back-and-forth first round.
But, just like was the case in a couple of the men's fights, these women spilled their own blood in their quest for victory. Some of that blood even found its way on my notepad as I sat at ringside snapping photos. That just shows how tough and rough this sport is. It's not for the weak of heart.
The matches don't last long — eight of Saturday's 12 bouts were over in the first round. But the staying power of Ring of Fire has reached 10 years now with no signs of slowing down.
"I'm very proud of Ring of Fire where we've come as a company and where we come as promotion. I'm most proud of the brand I created in this market. When people think about football they think about the Broncos. When they think about hockey they think about the Avalanche. When people think about MMA, sure they think UFC, but they think about Ring of Fire in the same breath," Bean said.
Sure, the more successful fighters of Ring of Fire move up the ladder to bigger and better things, but as long as there are trained, qualified fighters and an interest in the sport, MMA will be there to cater to its audience.
Ring of Fire's next show is scheduled for October, according to Bean, but where it will be is left to be decided. He'd hope to have it in Broomfield, but the city and the arena's operating company need to come to an arrangement before that can become a reality. Nevertheless, ROF has a date held to hold the event at Magness Arena on the campus of the University of Denver.
The show will go on, one way or another, and if for no other reason because the crowd craves it. But why do they crave it?
"It's pretty simple. You take four street corners. On one side of it you've got two kids playing basketball. This side you got pee wee football. Right here two guys are playing street hockey. Then this side two guys get into a fight. All these people are going to watch that. It's just in us. It's just in our nature. It's just a compelling sport. It fills a void and fills a need for people out there," Bean said.
News Image: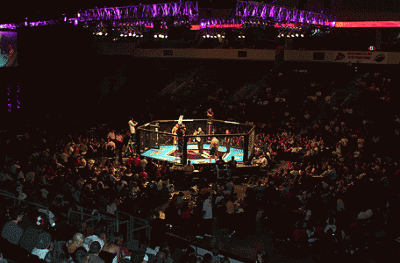 News Image: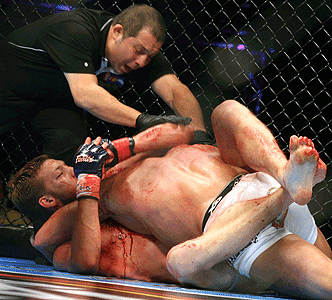 Category Lead:
Category Lead Story

Print This Post