By P.J. DiPentino
Berthoud Recorder
The mark of a champion is measured by his success. I recently witnessed a true champion that will be measured by the success of life. Twelve-year-old Alex Sabados, who races for the Berthoud BMX race team Rocky Mountain Racing, spent a weekend in Utah not too long ago racing at an American Bicycle Association national BMX event. While racing Alex came down with a migraine headache and just didn't feel well over all. Thinking he may have been overheated or just coming down with a bug, his mom scheduled Alex for a checkup as soon as they returned home to Berthoud.
After visits to a few doctors and a chiropractor, the Sabados family ended up at The Children's Hospital in Denver. A CT scan revealed the cause of Alex's headaches. A golf ball-sized tumor located in his brain was causing the pain and, even worse, was likely to be cancerous. This has to be the one of the hardest things a parent can hear. Truly our worst nightmare has to be when our child is ill. We plan on our parents' demise, we may even prepare for the loss of a spouse, but a child is an entirely different story.
Maybe it's because of their amazing resolve or the ability to get up after a fall. It could be their uncanny ability to overcome the most difficult challenges life can through them. We just don't think of how precious life is until we are faced with an incredible situation like the Sabados family's current ordeal.
The Sabados' then had to make a very difficult decision of proceeding with surgery immediately. The process in itself was amazing. Alex would have to have his head opened up, the tumor removed, a titanium plate would then be put in place and then everything put back together by a very talented Children's Hospital brain surgeon. Alex would then have to follow up with a series of chemotherapy treatments to make sure all was well.
The family held strong and the very next day Alex was rolled into surgery wearing his yellow Tour De France Lance Armstrong jersey given to him by family friend of Armstrong's. Six hours later the BMX racer was in the recovery room after a successful ride through his surgery. Almost instantly after returning from recovery, the typical teenager was complaining about being hungry.
"Judging by his appetite he is well on to recovery,'' beamed his dad. Alex and his family went on a ride that will last a lifetime. The family will be going through some very difficult days ahead as he recovers from his treatments but they will do it together — that's just how they roll.
To help the family through these difficult times, the Alex Sabados Foundation Fund is being set up at Guaranty Bank in Berthoud. For more information go to www.Berthoudtownforum.com and click on the Sabados donation link.
News Image: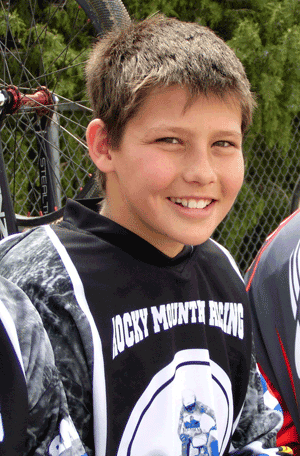 Category Lead:
Category Primary Featured Story
Home Lead:
Home Page Secondary Featured Story

Print This Post