By Gerri Roberts
Berthoud Recorder
When you work really hard on a project, do you like to share it? The people who participate at the fair do. They enter their projects in either Open Class or 4-H. Many families do both 4-H and Open Class. Now that the Fair is just over you may think that it is old news — but it is not. Now just before school time is the time where families decide on what activities that are going to happen next year. For many families the exhibits at the fair were important, because it gave ideas on what projects to do next year. Tyler Markell's favorite part of the fair is looking through all of the projects to see what others did. It helps Tyler and his sister, Kyla, pick their projects for next year.
4-H is for kids aged five to 18. For children ages five to seven it is very different then it is for the older kids. They just submit and work that the have done and receive a Cloverbud ribbon. For ages eight to 18 they also must submit a final project, but along with it they must have a record book showing all that they have done. As the kids grow older, the record books have more requirements. In a record book you show all of what you learned that year through your project. My mom always says, those record books are the closest things to college applications she knows; I say it is the hardest part of 4-H.
Open Class is for anybody and everybody. You make some artwork and send it in and sometimes you need to include a note card explaining how and what you did to make it. There are no age limits in Open Class. Open Class projects include sewing, needlepoint, quilting, gardening, baking, canning, photography, drawing, painting, and any other creative crafts. In Open Class you can watch the judging take place, and as Kyla Markell said, "listening to the judging is how she learned about flower arrangements, how to balance it and what flowers to use." She and Tyler both placed with several flower arrangements this year.
Tyler Markell, a nine-year old fourth-grader in Berthoud Elementary School, did two 4-H projects, woodworking and cake decorating. Tyler loves woodworking and his Unit 2 project this year got him a blue ribbon and a purple champion. His goal is to learn how to use all the power tools through woodworking. He does most of his project with his grandpa. With the skills he learned in 4-H he made a painted wooden piano that was entered in Open Class. He also does flower arrangements and photos and placed in both categories in Open Class.
Kyla Markell is going to be a seventh grader at Turner Middle School. She, like her brother, did two projects in 4-H so that they only have two record books to complete. She also did many projects in Open Class. She loves cake decorating in 4-H and has been doing it for four years. Last year she was asked to help instruct the students of Units 3. She also did creative sewing this year where she made a duck that was Reserve Grand Champion. "The darts were the hardest part," Kyla had said. Kyla also does photography and flower arrangements in Open Class. Her favorite picture was of her cat Meisha and it received Reserve Champion in Open Class.
Their mom, Krista Markell is also an accomplished photographer, and her beautiful photos, also were on display at the fair. She too won several ribbons both in photography and in baked goods. However, when talking to the Markell family, they emphasized that they enjoy making these projects, and take great pride in their work. Some of their favorite pieces did not always win ribbons. The Markell kids did get help of some of the projects at home, but also involve grandparents and the many project opportunities within 4-H.
Many families besides the Markells participate in both Open Class and 4-H. If you were at the fair you might have enjoyed some work by members of the Browns, Emersons, Fischers, Mesikapps, Nankervis, Waggoners, and even by my family. I am sad I cannot share photos of all their work, but perhaps next year you can see them first hand at the fair. Most of these families have projects going to State Fair through 4-H so if you are in Pueblo in the period Aug. 27 through Sept. 6 you can see their work there.
Category:
News – Community
News Image: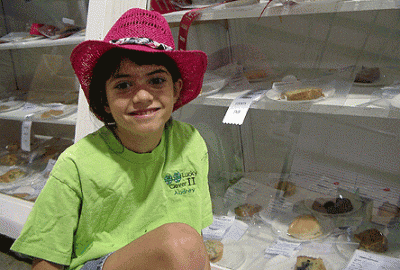 News Image: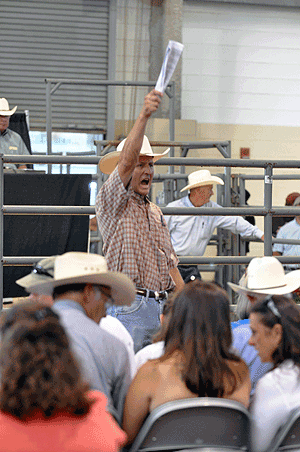 Long Description:
<p>Audrey Nankervis competed in cake decorating and home environment.</p>
Long Description:
<p>Randy Hammann spots another bid at the Larimer County Fair Junior Livestock Sale. Hammann is a member of the sale committee and always helps the bidding process with his enthusiasm.</p>

Print This Post