By Jamie Folsom
Berthoud Recorder
A fresh face takes the reins in House District 51, as the county Republican vacancy committee chose Loveland Domino's Pizza franchise owner Brian DelGrosso from the slate of five candidates Thursday.
The 37-year-old DelGrosso won with 29 votes — two more than the 50 percent-plus-one majority required by party selection rules. After the initial round of voting, none of the candidates had a clear majority, and two hopefuls — Kevan McNaught and Kari Koppes — bowed out.
DelGrosso felt his conservative moral values and lack of political experience worked to his advantage. He said, "I feel as a fresh face, as somebody who can bring energy to the party, I feel that might have appealed to people."
He also noted his business experience helped his campaign, which also included meeting with most of the voting members of the selection committee since announcing his candidacy in July. "If people feel that government is a business and should be run accordingly, then I think that helped in their decision as well," he said.
DelGrosso stated he will firmly support TABOR and is "definitely more conservative" with spending than Don Marostica had been during his tenure, in which the moderate Republican was criticized heavily for crossing the aisle in support of lifting the 6 percent spending limit under TABOR. "I'm a Republican for a reason," DelGrosso explained, "because I feel lower taxes are better than higher taxes."
DelGrosso will serve out the remaining year of the Loveland area seat, which was recently vacated by Marostica on his appointment to Ritter's cabinet as state director of economic development and international trade. DelGrosso says he "definitely" plans to run again in 2010.
News Image: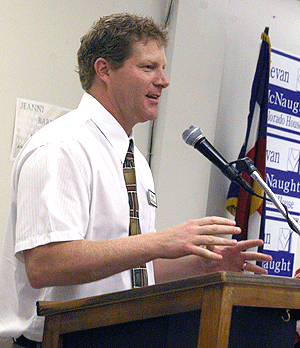 Long Description:
<p>Newly selected State House District 51 Rep. Brian DelGrosso emphasized a return to conservative values and spending during his nomination speech Thursday in Loveland.</p>
Category Lead:
Category Secondary Featured Story
Home Lead:
Home Page Lead Story

Print This Post