By Kyle Lee
Berthoud Recorder
This is one of the most interesting, original pieces of work done in a very long time. There aren't any stars in this movie … yet. But I believe that once this movie is massively consumed, careers will blossom.
And that is due largely in part to the amazing acting on display in "District 9," creating a very real world for us to live in for the near two-hour running time.
Most of this film is made to look like a documentary about aliens coming to Earth and the people who have been dealing with them. This is the most realistic faux-documentary I have ever seen and that's frankly amazing considering the crazy subject matter.
How do you create an effective documentary feel with a fictional story though? Director Blomkamp has filled his movie with unknowns to keep the illusion of the characters being real people. I am so glad he made this decision because it would have ruined everything in this movie to have Will Smith or Brad Pitt running around trying to say "No, No! This is a real documentary set in Johannesburg. I just look and sound like that other guy."
This is a real world he has created, and you are sucked in. But not because it's bashing you over the head with action set pieces that are created just to say how big their budget was. This is a slow boil of a movie. It takes it's build up seriously and doesn't take any shortcuts on character development. Even the aliens have tremendous personality and depth.

But that's not to say this isn't a beautiful movie. It is quite striking how realistic the aliens look and how well they interact with their human counterparts. And the alien weapons are exciting, creative, and make a pretty gory mess of the scenery. This is an exercise in making a movie that doesn't skimp on drama, while still having a little fun with big guns.
"District 9" was worth every penny, and I'd love to see it again.
---
"District 9"
Director: Neill Blomkamp
Cast: Sharlto Copley, Jason Cope, and Vanessa Haywood
Runtime: 1 hour, 52 minutes
MPAA rating: R
Reviewer rating: 4.5 out of 5 stars


---
Kyle Lee is an unabashed nerd who has loved movies for a very long time.

Category:
Variety – Price of Admission
News Image: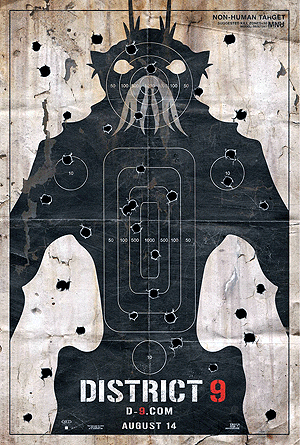 Category Lead:
Category Lead Story
Home Lead:
Home Page Primary Featured Story