By Jamie Folsom
Berthoud Recorder
Bohemian Nights at New West Fest is a hot item as nationally known headliners keep getting bigger each year. This weekend "Alive and Alone" Melissa Etheridge and the crazy fun Ozomatli from East L.A. brought in record crowds —12,000 and 7,000 respectively — to the streets of Fort Collins. You'd expect that from a Grammy award winner and one of the hottest Latin hip-hop groups in the world, but how about the 500-plus who packed a side street for an all-teen AC/DC tribute band?
Funny how that works. Add to that the fact most of them are 13 years old.
A talented five-piece band, High Voltage boasts lead guitar and vocal solos that got the crowd rockin' hard on a Sunday morning. Mostly families with kids — those moms and dads who just couldn't help but "throw a goat" for the group now and then — danced and stood agape at the power riffs, as the real life School of Rock took us all down the "Highway to Hell" with a truckload of heavy metal "TNT."
Bassist Tiger Kaufman said having that kind of crowd was great. "We were stoked! There were people waiting for us to come on." Kaufman is heading into her senior year in high school, and she will be leaving the group to concentrate on that and competing in karate. But, she says, "I'll still be their biggest fan."
They should have no problem gaining fans with their crowd-pleasing moves — lead guitarist Kyle Janes, 13, decked out in his best Angus Young school-boy attire, ran the crowd crazy with his athleticism and charm. He did a classic disappearing act, raising the excitement as he jumped out on street level from the side stage, made a run down the front row of fans, and threw himself on the ground for a dramatic riff or two before disappearing again.
"We like to freak out the crowd," lead singer Jake Johnson, 13, said with a grin. And they've been dropping jaws for 18 months now, since starting out as a school talent show entry featuring Trevor Brown, now 14, on drums, Janes and Kaufman. They've been playing steadily, even appearing at the Aggie Theater in Fort Collins, even trying to get a gig opening for another unique AC/DC tribute band — the all female Hell's Belles.
But they were too young to get into the venue when HB played in Loveland last year. That doesn't stop them from following their aspirations in music.
Brown said everyone in the group watches videos to pick up ideas for rockin' out. "We want to get bigger and do it better," he said. "Yeah, we watch other bands, and we want to take it up a notch," added Janes.
And although AC/DC is their thing right now, they have a big book of lyrics Janes and Brown have written, with influences from Motley Crue and Guns 'n' Roses, among others. Maybe a CD of originals is on the horizon, who knows?
And when new bassist Zoe Metropolis, 13, joins the group, replacing Kaufman, the dream can only grow. "When Zoe comes on, it could be something completely different … don't know," Kaufman said wistfully.
---
High Voltage performance dates
Aug. 28, 8 p.m. — The Roadhouse, Dacono
Sept. 4, 1 p.m. — TBA, Thunder in the Rockies, Loveland
Sept. 5, noon — Snowy Range Music Festival, Laramie, Wyo.
Sept. 13, 11 a.m. — Spotlight Music Grand Opening, Fort Collins
More info: www.MySpace.com/HighVoltageRocksOut [1]
News Image: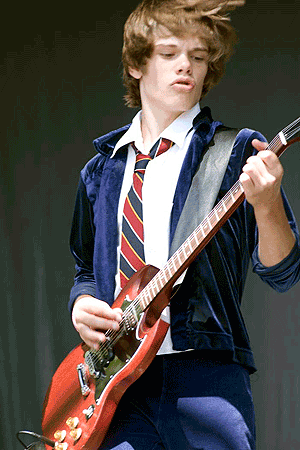 News Image: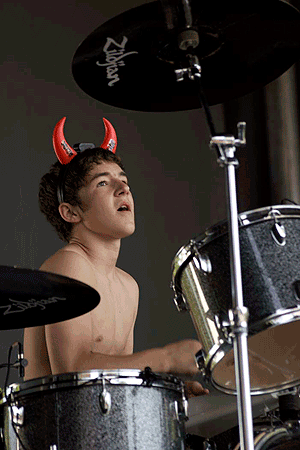 Long Description:
<p><span style="font-size: small;"><span style="font-family: arial,helvetica,sans-serif;"></span></span> <!–[if gte mso 9]><xml> <o:DocumentProperties> <o:Template>Normal</o:Template> <o:Revision>0</o:Revision> <o:TotalTime>0</o:TotalTime> <o:Pages>1</o:Pages> <o:Words>9</o:Words> <o:Characters>52</o:Characters> <o:Company>Berthoud Newspaper Agency</o:Company> <o:Lines>1</o:Lines> <o:Paragraphs>1</o:Paragraphs> <o:CharactersWithSpaces>63</o:CharactersWithSpaces> <o:Version>11.1282</o:Version> </o:DocumentProperties> <o:OfficeDocumentSettings> <o:AllowPNG /> </o:OfficeDocumentSettings> </xml><![endif]–><!–[if gte mso 9]><xml> <w:WordDocument> <w:Zoom>0</w:Zoom> <w:DoNotShowRevisions /> <w:DoNotPrintRevisions /> <w:AutoHyphenation /> <w:DisplayHorizontalDrawingGridEvery>0</w:DisplayHorizontalDrawingGridEvery> <w:DisplayVerticalDrawingGridEvery>0</w:DisplayVerticalDrawingGridEvery> <w:UseMarginsForDrawingGridOrigin /> </w:WordDocument> </xml><![endif]–> <!–StartFragment–><span style="font-size: small;"><span style="font-family: arial,helvetica,sans-serif;">Lead guitar: Kyle Janes, 13, Kinard Middle School, Fort Collins</span></span><!–EndFragment–> <!–EndFragment–></p>
<!–EndFragment–>
Long Description:
<p><span style="font-size: small;"><span style="font-family: arial,helvetica,sans-serif;">Drums: Trevor Brown, 14, Fossil Ridge High School, Fort Collins</span></span><!–EndFragment–></p>
Category Lead:
Category Lead Story
Home Lead:
Home Page Primary Featured Story