By Shari Phiel
Berthoud Recorder
In just a few days an extraordinary and remarkable program will come to Berthoud. On Saturday, Aug. 29, graduating ceremonies for four Iraq war veterans with Post Traumatic Stress Disorder or Traumatic Brain Injury will receive their "Dog Tags" service dogs through the Puppies Behind Bars program at the Berthoud Area Community Center.
The Puppies Behind Bars program, which has been featured on the Oprah Winfrey Show and NPR radio, teams inmates from six New York maximum- and medium-security correctional facilities with puppies to train them to become service dogs for the disabled, and as explosive detection canines — bomb sniffing dogs — for law enforcement. Dog Tags is part of the PBB program and places dogs with veterans with PTSD and TBI.
Inmates receive the puppies at around 8 weeks old. They will spend the next 16 to 18 months working with the puppies 24 hours a day while the dogs live in the cells with their trainers and attend training classes. Upon graduation, many service dogs are sent to Colorado to be paired with veterans.
Connecting in Berthoud
Berthoud resident Janet Bayless has been training service dogs since 1996 but began working with the PBB program last year after the trainer in Lafayette moved out of the area.

"They called me this past December and said would you mind taking over. She said 'Will you do 10 dogs this year?' and I said, 'Wow. I'll do two and then we'll talk,' but I did those two, and now I cannot imagine doing anything else for the rest of my life."
Why do service dogs seem to have an ability to reach veterans with PTSD and TSI in ways that traditional methods don't? "It's control. They feel in control of something. And the dogs offer total, unconditional acceptance — love, companionship and non-judgmental," said Bayless.
She noted the dogs are also taught special commands specifically for veterans with PTSD and TSI. This can include commands to physically block others from approaching the person or even watching the owner's back while standing in line at the grocery store or post office.
Bayless also described how Samba, a black Labrador teamed with Marine Cpl. Paul Bang-Knudsen, learned to go through the door and check out the room before the handler entered the room, or to "pop a corner," which is a "combat term to check out a room before they go in." The command has since been added to training curriculum for all of the dogs who will be paired with veterans.
She Wanted to Help
Puppies Behind Bars was begun in 1997 by Gloria Gilbert Stoga after adopting a Labrador retriever named Arrow, who was trained to be a guide dog but was let go from the program because of medical reasons. After researching the amount of time, money and effort — not to mention love — that went into training just one guide dog, Stoga left her job in New York Mayor Rudy Giuliani's office to found "a non-profit organization dedicated to training prison inmates to raise puppies to be guide dogs for the blind," says the group's Web site.
"About two or three years ago she saw these kids coming back so damaged that she wanted to help. We all do. We want to do something for these guys," added Bayless.
Dogs from the Puppies Behind Bars program not only help injured veterans regain control of their lives, they make a huge impact on the inmates who train them. "There's no special privileges, they don't get paid, they don't get time off their sentence or anything else. It's very elite," added Bayless.
How they Connect
But what the prisoners take away from the program is in many ways equal to what those receiving the dogs get from the program.
"These guys open up and talk about how much the dogs have changed their lives," said Bayless. "They learn to give love, to receive love, and learn structure and are able to turn their lives around a give something back."
She goes on to add that the veterans and the inmates are actually similar in some ways. "Gloria talks about the meetings with the veterans with the inmates and how similar they are, how fragile — emotionally fragile — both groups are; how they speak the same language, how they connect," Bayless said. "The inmates are prisoners of the prison, but the PTSD veterans are prisoners of their emotional state in their homes."
The four veterans who arrived last Saturday will spend a total of two weeks with Bayless learning how to work with their new dogs before their graduation at the end of the month. Joining them at the BACC will be representative from the Puppies Behind Bars program along with actor Jon Huertas of the ABC television program "Castle." Huertas is a U.S. Air Force veteran and supporter of the Dog Tags program.
For more information about the PBB program, visit their Web site at www.PuppiesBehindBars.com.
News Image: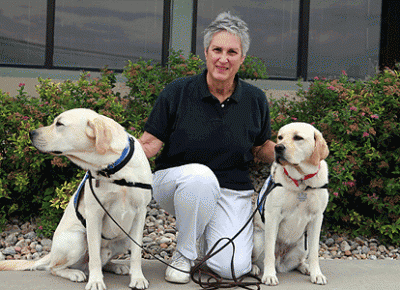 News Image: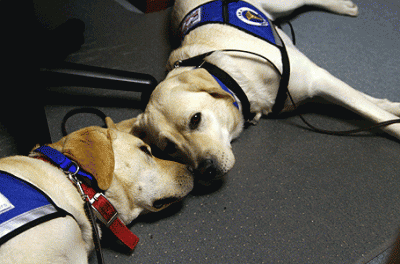 Long Description:
<p>Puppies Behind Bars trainer Janet Bayless with Dale, left, and Athena. Athena will join her new owner, one of four war veterans to receive service dogs through the Puppies Behind Bars program, later this month. Top, litter mates Dale and Athena savor some down time.</p>
Long Description:
<p>The Puppies Behind Bars program works with inmates to train service dogs for war veterans and explosive device canines.</p>
Category Lead:
Category Secondary Featured Story

Print This Post