Meal Deal: Farmers Market
By Laurie Hindman
Berthoud Recorder
Kristin and Larry Ramey moved to Berthoud from Michigan three years ago to join family. Within a month of moving into their farmhouse on Bothun Road, they bought 100 or so laying hens and 15 ewes. When asked whether the two had ever raised livestock before, Kristin laughed.
"The closest thing I did in Michigan was raise tulips. That was my passion." Kristin said her husband is a voracious reader who read stacks of books on farming. "That's how we have been able to do what we do," she explained.
Their self-education and pioneering spirits have proved successful. They regularly harvest plump, juicy fryers and turkeys, fresh brown eggs by the dozens, and tender, pasture-raised lamb; everything is available at the Saturday morning Berthoud Farmer's Market. Kristin said their livestock are free range and chemical, antibiotic and hormone free. "They even get kissed on the head. I don't know many people who hug chickens, but we do."
In addition to raising chickens, turkey, lamb and fresh produce, the Rameys both work full-time, Kristin as a supplier quality engineer and Larry as a software programmer. Larry's father, Colorado native, Ron Ramey, helps at the farm while they are at work. To guard against predators, they have an electric fence and two ever-vigilant Great Pyrenees dogs.
The Rameys also recently added a new member to the family, their daughter, Shannon, age four and a half months, who also receives hugs and kisses on the head. "Yes, it is busy," admitted Kristin. "But the animals mostly take care of themselves. We work with them in the evenings. And we don't own a TV—that helps a lot."
To order chicken, turkey or lamb or to pay a visit to the farm, call (970) 232-8424 or visit their Web site LongShadow.Farm@yahoo.com.
Category:
News – Business
News Image: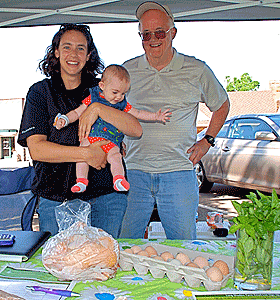 Long Description:
<p>Kristin Ramey with her daughter Shannon and father-in-law, Ron Ramey. Kristin and her husband Larry own Long Shadow Farm, just west of Berthoud. They offer pasture-raised chicken, turkey and lamb, as well as organic produce.</p>

Print This Post