By Jamie Folsom
Berthoud Recorder
The tone was civil, and the questions direct, but Rep. Betsy Markey's Congress on Your Corner on health care showed just how torn citizens are, including Markey herself.
Bob Thilmont, a business development consultant, talked with others waiting in line outside the Lory Student Center on the CSU campus. He says he's seen first hand the effects health care costs have had on small business owners. His question — "Why is business paying for a public program?" For Thilmont the answer lies in the single payer option, "Medicare for everybody."
Arlene Schiffman of Wellington went into the first session with questions on the high costs of medical care. However, she came away disappointed Markey didn't address tort reform or the single payer option. "She didn't answer anyone's questions," Schiffman said.
Susan Bowman of Berthoud was also frustrated by the lack of direct answers, especially concerning where funding would come from. "How do we know who and what to support if they're not specific?"
One thing was clear however — Markey's serious concerns about HR3200. "If we had voted on this bill two months ago, I would have voted against it," she said. Markey said she would like to see quality of care, keeping costs down and access addressed in addition to coverage.
Public Forums, Markey Style
More than 200 people attended the first of these listening sessions, organized in groups of 20 to 70 at a time. Reactions to Markey's message and the style of the forums were mixed.
Martin Carcasson, director of CSU's Center for Public Deliberation, has led many public forums on affordable health care and program options. As both a participant and an observer, Carcasson liked the individual conversations in the waiting area. "You see groups of people in twos and fives, talking very respectfully, but they're debating the issues."
"The typical 'town hall' meeting with one microphone and a lot of people is a bad design," he said. "There is no incentive to think differently about an issue. You preach to your own side and use tactics that simplify and demonize the other side."
Carcasson, who specializes in facilitating group decision making processes, sees the smaller format as an opportunity to cut past "hijackers" and move toward the goals of the forum.
"Why is she [Markey] doing this?" he asked. "Is she polling for specific issues, or is she here to defend policy, or hear her constituents? And, is this the best way to do it?"
Markey has several more listening sessions scheduled in northern Colorado. Besides health care forums, Markey will also meet with small business owners and hold a senior day event during the congressional break.
Category:
News – Community
News Image: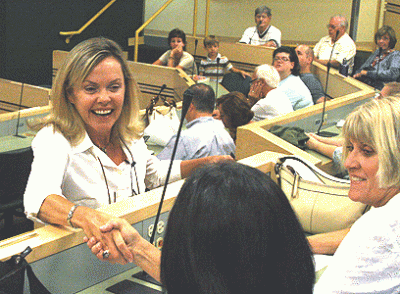 Long Description:
<p>Rep. Betsy Markey shakes hands at the recent CSU session.</p>
Category Lead:
Category Secondary Featured Story
Home Lead:
Home Page Lead Story

Print This Post