ROLE MODEL: DAN MCGINN
By Michael Hicks
Berthoud Recorder
The decision wasn't as hard as one might've thought. Dan McGinn has been the head coach at Berthoud High School since 2000 and for the past few years his only son, Danny, has been a key part of that team. But with the younger McGinn having graduated to college and Colorado State, Coach McGinn's immediate future at BHS was clouded.
No, it didn't have anything to do with his team's performance on the playing field. Under McGinn, the Spartans have been to the 3A playoffs five times in the past six seasons, including a state championship in 2007. It had more to do with what he had left to offer the program. As it turns out, he has a lot.
"You have to look at it and I did look at it," McGinn said "I thought to myself there were a bunch of pros after I looked at the pros and cons. The pros were that we have wonderful kids, I loved coaching and I love football. The pros just totally outweighed the cons."
The 45-year-old Philadelphia native moved to Berthoud in time for his senior year in 1981 before going to college at the University of Northern Colorado. In 1982 he became an assistant coach at Berthoud where he was offensive coordinator for more than a decade before stepping up to head coach at the start of this decade, replacing Rusty Mathena.
Some questioned if McGinn was the right person for the job. Others who applied had a higher pedigree in the sport having played at Division I schools and in the NFL, but there was no question that with McGinn, Berthoud was getting not just a familiar face but someone who cared about the program.
He had a vision for how to run things and put the school on the map as a perennial state powerhouse, but it was implementing his plan that turned out to be the problem early on.
"The learning curve was significantly higher than I thought it was going to be. Having been an assistant and coordinator for several years you always think you can step right in and do this. I wouldn't say it was difficult, but there were a lot of things I didn't know about when I got into head job," McGinn said.
There was taken care of the players to the assistant coaches to the uniforms, equipment and so forth. Not to mention the public relation work that goes into being a head coach. McGinn was now the go-to person for the football program. It was a little overwhelming.
"The first two years we tried to do those things and didn't have a lot of success. It was a struggle the first couple of years," McGinn said.
But thanks to the support of his players, McGinn was able to establish that option offense he prefers to run. And because of those players and their commitment to the program the first two years, while tough, were the stepping-stone to what was to come next.
In 2003, McGinn got Berthoud into the playoffs for the first time in his tenure. Even though the team lost 25-0 to Moffat County, the Spartans were headed in the right direction. Two years later, Berthoud lost 42-0 to Florence and the next year, after a 10-0 regular season, the Spartans were once again bounced by Florence. But this time a heartbreaking 21-19 loss, while a bitter pill to swallow, was the catalyst to McGinn's best coaching job to date.
The Spartans didn't repeat as Tri-Valley Conference champs in 2007, but what they learned over the years helped BHS run the table to its first and, as of now, only 3A state football championship. It was implementing his beloved option offense that keyed the way.
"We run option now. We did then, too," McGinn said of his early years. "Just doing some of the things we were trying to do back then I don't think, personally, we did a great job of doing it. We leaned from it and figured out what we needed to change. We did that."
Boy, did they ever. The stones that weren't overturned early in McGinn's tenure have now been overturned. Because of that he is as much a staple of the Berthoud football program as there's ever been.
Youth coaches were concerned that McGinn wouldn't hang around after his son graduated because of the job he has done in turning the program into a perennial contender. But all of those young players coming up has McGinn excited about staying where he is.
"We had a really good summer. We had a lot of interacting with the kids this summer. In certain ways I almost feel rejuvenated with some of the kids we have and the passion they are bringing," McGinn said. "It's hard when you see your relation leave like that, and it was hard. I'm going to miss having him around. But I enjoy coaching and doing everything I possibly can to see the program succeed."
---
Name: Dan McGinn
Age/birth date: 45; Dec. 29, 1963
Education: Bachelor's Degree in Education, University of Northern Colorado
Career: Operation Supervisor, Kodak; Berthoud High football coach
Family: Married, Molly; Children: Danny, 19; Megan, 17
Quotable: "In certain ways I almost feel rejuvenated with some of the kids we have and the passion they are bringing,"
News Image: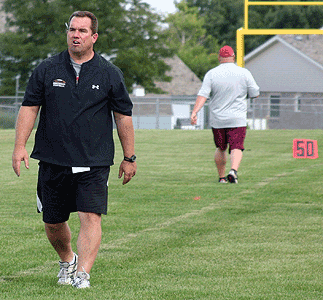 Category Lead:
Category Lead Story

Print This Post