By Laurie Hindman
Berthoud Recorder
Outside the Turner Middle School gym, sixth graders gathered on the green lawn in the cool morning air, clustered in small groups chatting and giggling nervously. A few anxious parents remained in cars, watching the back of their new middle school student retreat down the sidewalk to join the crowd.
Inside the gym, about 20 eighth-graders sporting fluorescent green T-shirts that read "Where Everybody Belongs" (known as WEB) milled about school counselor, Ryan Smith, for last minute instructions. "This isn't about you," said Smith. "This isn't about me. This isn't about being cool. This is about making all those sixth-graders who are standing outside feel welcome."
A few minutes later, with upbeat rock music blaring, the gym doors opened; the somewhat wide-eyed sixth-graders walked through a gauntlet of smiles and high-fives as WEB leaders and teachers lined up on either side of the doors to greet the newcomers.
"I just love the first day when the sixth-graders arrive," said Principal Bill Siebers, as the new students filed past for nametags. "It's such an exciting day. The kids are nervous, but there is a good energy in the air."
According to assistant principal Christine Smith, the eighth-grade WEB leaders play a big part in creating that good energy. Smith said they have used the WEB program for about eight years now and have found it to be very successful. "The WEB students will be active with sixth-graders throughout the school year. They work sixth grade dances, check in with students at lunch, and go into to the classroom and give mini lessons on how to be successful at school, how to handle rumors or teasing — all kinds of stuff."
Smith said it is not just the new students who benefit. "It helps build good relationships for the sixth-graders, but it also empowers the eighth-graders to look out after younger students instead of getting caught up in being king of the hill."
Eighth grade WEB volunteer, Nate Ryken, said he remember what it's like being a sixth-grader. "Sometimes they have struggles getting used to middle school. I wanted to help."
Tadiwa Gutherie was also inspired to volunteer by his experience in sixth grade. "My WEB leader was a good leader who helped me with the transition. I thought I could do the same." "My WEB leader was terrible," piped up Chris Conrey. "I never saw her again for the rest of the year. That's why I decided to help. I want to do a better job."
After the sixth-graders got their nametags they took seats in the bleachers. Staff members and WEB leaders soon had the gym rocking with cheers and shouts. Christine Smith led them in a series of hand clapping challenges that had everyone laughing. The audience now warmed up, Smith introduced Siebers as, "the best principal EVER!"
"How many of you are from Ivy Stockwell?" asked Siebers. "How many from Berthoud Elementary? Well, that's the last time I will ask you that question. Now you are all Turner Middle School Dragons," he yelled pointing to a mural of a large blue dragon on the back of the gym. The new dragons erupted with cheers and applause.
News Image: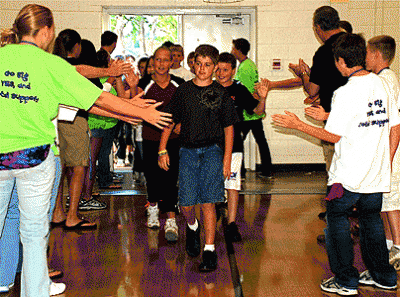 Long Description:
<p>New sixth grade students enter the gym through a gauntlet of smiles and high fives from staff and eighth-grade WEB (Where Everybody Belongs) leaders.</p>
Category Lead:
Category Secondary Featured Story

Print This Post