By Michael Hicks
Berthoud Recorder

It doesn't take one long to find out just how Dick Klocek felt about last season.
"Last year we were a bunch of underachievers in my opinion," said the Berthoud High varsity softball coach Tuesday afternoon. "The team itself was as good as the year before."
The year before Berthoud won 16 games, but last year the Spartans were just 13-9, barely made it into the 32-team playoff field before nearly upsetting Mullen for the rights to make it to the eight-team state tournament for the first time since 2006.
The Spartans lost to Mullen twice at regionals, the final time 12-11 after surrendering three runs in the seventh inning. The loss ended Berthoud's season and sent four seniors out wondering what if. But with six returning varsity players, led by senior battery mates Amy Ekart and Amy Krause, Klocek is expecting a resurgence to earlier this decade.
"I think we'll be in the top three (in the 16-team Northern Conference), at least that's what I'm hoping for," said Klocek, whose team also returns Lindsey Ludwig, Kaitlyn Bending, Danielle Wikre and Megan McGinn. McGinn returns to the field after suffering a torn ACL in her left knee during basketball season.
Despite the losses of the likes of Rose Heaphy, Courtney Bezanson, Hallie Groenewald and Polly Poirier, Klocek feels this year's team just as athletic as last year's squad and, maybe, might be a just little better in the hitting department.
"I think our hitting is better than last year. We have more big hitters, but I'm trying to stress the hard base hit not the home run. It's hard to ignore that fence out there," Klocek said.
If the Spartans can play small ball and manufacture runs, an issue that plagued Berthoud last season, and play solid defense, something Klocek has been impressed with early in practice, then he sees no reason why BHS can't compete with the likes of Windsor, Frederick, Mountain View and Silver Creek for conference honors. Three of those four teams — Northridge was the other — qualified for state last year. That's where Berthoud hopes to get back to this time around.
Varsity Roster
Name, Grade, Position
Amy Ekart, Senior, C
Amy Krause, Senior, P
Lindsey Ludwig, Senior, CF
Kaitlyn Bending, Junior, CF/OF
Megan McGinn, Junior, RF/OF
Danielle Wikre, Junior, 3B
Mara Gwin, Junior, IF
Rachael Carter, Sophomore, IF
Victoria Puchino, Freshman, P/1B
Morgan Thonhoff, Freshman, P/SS
Shelby Miller, Freshman, OF
Head coach: Dick Klocek
Assistant coaches: Anthony Heronema, Teresa Alba
Schedule
Date Opponent Time
Aug. 25 at Greeley West 4 p.m.
Aug. 27 at Broomfield 4 p.m.
Aug. 29 Sterling 10 a.m.
Sept. 1 at Skyline 4 p.m.
Sept. 3 Niwot 4 p.m.
Sept. 5 Thompson Valley 10 a.m.
Sept. 8 at Mountain View 4 p.m.
Sept. 11-12 Berthoud Invitational 9 a.m.
at Barnes Softball Complex, Loveland
Sept. 15 Northridge 4 p.m.
Sept. 17 at Frederick 4 p.m.
Sept. 22 at Longmont 4 p.m.
Sept. 24 at Windsor 4 p.m.
Sept. 29 Silver Creek 4 p.m.
Oct. 1 Fossil Ridge 4 p.m.
Oct. 6 at Roosevelt 4 p.m.
Oct. 8 Greeley Central 4 p.m.
Oct. 17 Regional tournament TBA
Site to be determined
Oct. 23-24 State tournament TBA
Aurora Sports Park
News Image: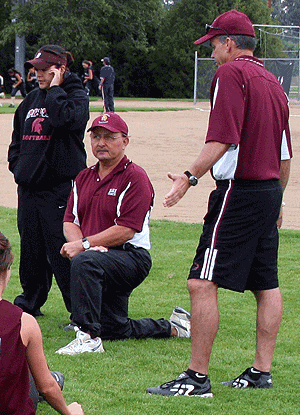 Long Description:
<p>Berthoud High head coach Dick Klocek, middle, surrounded by assistants Anthony Heronema and Teresa Alba, is hopeful his team can bounce back from a 13-9 season.</p>
Category Lead:
Category Lead Story

Print This Post