By Michael Hicks
Berthoud Recorder
Magnus Hohmann will tell you that the altitude in Colorado didn't bother him in the least, and maybe it didn't. That could be because the German native and Berthoud High foreign-exchange student prepared to run marathons while back home — sea level or not. But I bet he never experienced quite what he and 11 other Berthoud students did earlier this month.
Two weeks ago, a group captained by Nick Divine, mostly cross country runners with some other athletes sprinkled in, joined forces to run in the Wild West Relay. The 24-hour team relay race started in Fort Collins scurried into Wyoming and then back toward Steamboat Springs. So, to put it bluntly, the 36-leg, 200-mile race went on and on and on and on. It lasted all night, but it was for a good cause.
More than $26,000 was raised for volunteers with a purpose and community organizations. A total of 142 teams entered the race, including six high school teams.
The Berthoud Freedom Runners, which featured the likes of David French, Courtney Dunn, Emma Otto, Julia Leonard and others, started their journey at 7 a.m. on Aug. 7. Running at a 9-minute, 29-second pace, the high school runners — one of two teams representing Berthoud — finished the race at 2:27 p.m. on Aug. 8 — or, more precisely, 31 hours, 27 minutes and three seconds after they started. It was good enough for an 84th-place finish.
It wasn't nearly enough to win the relay — the winning time was 19:37.03, almost three-and-a-half hours ahead of the second-place team. Berthoud's time was also more than six hours off the winning high school time But this wasn't about winning. This was more about just getting out and running. After all, that's what most of these kids do. As Divine said, each of the 12 members ran on average 5.5 miles during a leg with each running three times. They ran during the day and throughout the evening.
"Running in the night was really good. It was a lot cooler," Divine said. "It was a better atmosphere, full moon. There were lights and reflectors, but you hardly needed them."
As for Hohmann, he's staying with the Von Seggern family while residing in Berthoud. He had only been here a week when he took part in the relays. He's the sixth foreign exchange student they've hosted, but the first male. The 17-year-old has struck up a quick accord with Alice and Brad Von Seggern's son, Brian, also 17 and also a cross country runner.
When Hohmann wasn't at soccer practice, held twice a day from 6 to 8 a.m. and then again from 6 to 8 p.m., or at band practice in the interim, he'd get home and go on a four-mile jaunt with Brian, who first approached the nightly runs as a way to prepare for cross country season but later saw it as a way to get ready for the Wild West Relay as well. And as if all this wasn't enough, some nights Hohmann would come home and ride an exercise bike.
So when did he sleep?
"After running," he said laughing.
What about eating? Not only is there Brian, but the Von Seggern's also have a 14-year-old tennis playing son in Trevor. So you know food won't last long with three teenage boys around, and it didn't. Alice Von Seggern said she bought 15 bananas one day. Two days later, they were gone.
But, hey, when you're a part of a group running 200 miles you're bound to work up an appetite.
News Image: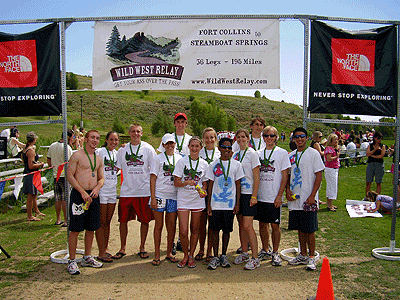 News Image: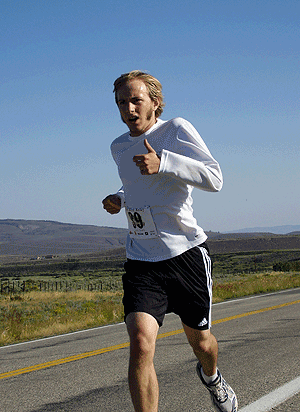 Category Lead:
Category Primary Featured Story

Print This Post