By Laurie Hindman
Berthoud Recorder
There were a lot of new faces in the hallways of Berthoud High School during the first week of school. One of them was large, green, scaly, yellow-eyed and, well, prehistoric. On the first day of school, newly hired principal, Chris Garcia, found a 5-foot tall plastic dinosaur in his office wearing a sign around its neck saying "HELLO MY NAME IS BERT," as well as a yellow "Staff Member of the Week" ribbon.
Bert came with a notebook explaining that the raptor was recognizing Garcia for the efforts he has made to create a smooth transition as the new principal. The notebook instructed the recipient to keep Bert for a week before secretly moving him to the office or classroom of another staff member who deserves recognition.
"I was quite surprised Monday morning," said Garcia. "I went around asking, does anyone have any guidance as to why I have a 5-foot dinosaur in my office?"
Garcia said he was really appreciative of the gesture. "We have been trying to make this transition seamless. I don't want learning to suffer because of change." He pointed that because of the previous principal's, Leonard Sherman, 31 years at the helm, some staff members have never worked for another principal. "The staff is great. They have been very supportive and made me feel very welcome."
The dino makes a great conversation piece, according to Garcia. "It's a nice way to start a conversation with the students. They walk by and go, whoa, you've got a dinosaur in your office!"
Garcia said the hard part is to decide who gets the dinosaur next. "Who do you pick? It is a tough choice — everybody is working hard with school starting up, but you can't have a bunch of dinosaurs running around the school." Garcia said he has come up with a candidate and will be sneaking the raptor into the classroom after everyone leaves, with the enthusiastic help of his 9-year-old.
News Image: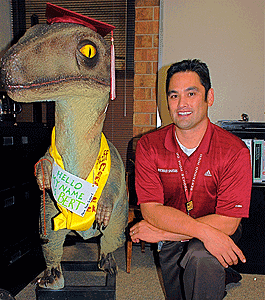 Long Description:
<p>BHS principal Chris Garcia kneels beside &ldquo;Bert,&rdquo; a 5-foot raptor that was waiting for him in his office the first day of school. Bert came with a note thanking Garcia for his efforts to make a smooth transition as the new principal. After a week, Garcia is to pass on the dinosaur to another unsuspecting staff member in recognition of some special effort or project.</p>
Category Lead:
Category Primary Featured Story

Print This Post