By Laurie Hindman
Berthoud Recorder
The start of a new school year is often a stressful time for high school students as they sort out schedules, lockers and class syllabi, as well as adjust to the alarm clock ringing at 6 a.m., long days spent in classrooms, and of course, homework. Now imagine doing all that in a foreign country, in a completely different culture, usually with different religions and customs, with no one who speaks your native language, while living with a family of strangers.
This year Berthoud High School has five foreign exchange students doing just that. One of them is Narongrit Kongthong, who goes by the nickname, "Pop." Eighteen year-old Pop is from Thailand and is spending a year in the U. S. as a part of the Youth for Understanding student exchange program. While here, he is living with the Hawkins family of Berthoud. This is the second time the Hawkins have opened their home to a foreign exchange student; in 2001 they had a girl from Germany live with them. Bryce and Nancy Hawkins have seven children of their own, five of whom are currently living at home. While Pop has his own room to which he can retreat, Nancy Hawkins said there is rarely a quiet moment.

"There is always a lot of activity, with kids coming and going, dogs barking, phone ringing. Someone is always talking. Pop will be up to speed in no time," she laughed. Pop's American brothers and sisters include, Alayna, age 20, Hunter, age 18, NataLee, age 15, McKenna, age 13 and London, age 9. The Hawkins also have two sons, Weston and Russell, who no longer live at home. Coincidentally, Weston lived in Thailand for a couple years, speaks fluent Thai, and is marrying a Thai woman.
Since Pop's arrival three weeks ago, the Hawkins have quickly integrated him into their family. He has "bagged a 14'er" (Mount Bierstadt), attended a church barn dance in Cheyenne, Wyo., enjoyed a day of fun at Water World and listened to music at the corn festival in Loveland. The Hawkins are planning a trip to Elitches, Yellowstone Park over Labor Day, Snowbird ski resort in Utah this winter and possibly a road trip to Florida and Disney World over spring break.
While climbing Mount Bierstadt, Pop experienced snow for the first time and took over 100 pictures with his digital camera. "I fear high places," said Pop in a soft voice. "But I feel really good I was on top. It is…" Pop hesitated, searching for a word…"impressive."
Pop is also experiencing American food. "Hamburgers, French fries, mashed potatoes, enchiladas," recounts Pop. "Good food and good people." Nancy Hawkins said she has been trying her hand at Thai cooking. When asked how she is doing, Pop pauses to compose his thoughts. "Not enough spicy," he said finally, to everybody's laughter. "He likes it REALLY hot," said Hawkins.
Although Pop has been here less than a month, he has quickly moved into the hearts of the Hawkins family. "Pop's awesome," declared Alayna Hawkins. Alayna has a special affinity for Pop's situation. In a month she will be heading to a foreign country herself, on a mission trip to South Korea. Young London seems happy to have another sibling in the house.
"I talk to Pop all the time. It is my habit to talk a lot," the nine-year-old said with a grin. Hunter, a recent BHS graduate, also said it was fun having Pop in the house. "It's like having a brother my own age."
Nancy Hawkins said it is a learning experience for all of them. "When you do something with someone that is a brand new experience for them, like taking Pop to Water World or the mountains, you see it through their eyes."
Pop said everyone here has been very friendly. "People talk to me and help me. It is like Thai people." He said that although he can speak English fairly well, it is difficult to understand it when teachers are talking. "People speak fast," he explained. "I am not very good at listening yet."
Jana Cline, BHS counselor, said that every foreign exchange student is matched up with a peer support counselor. "The first month sometimes they need more academic support and the peer support counselors will work with the student during their time release period. In Pop's case, he is lucky to have Hunter Hawkins, a recent BHS graduate, as his peer support." Cline said that they were thrilled to have Pop at BHS. "What a fantastic young man. I think with his personality and his ability he is going to thrive and really be a gift to our student body."
In Thailand, Pop's parents and two brothers stay connected to him through the Internet. Although his parents were nervous about sending him, Pop said they encouraged him to go. "They tell me not to worry about Thailand. They tell me to feel good. Be happy." Pop admits to a little homesickness, but said he doesn't allow himself to think about it too much. "It is not a good way to be. Actually, before I come here, I prepare my heart. I have to come here and learn and see something new."
Youth for Understanding (YFU) is one of the oldest foreign exchange student programs. It was established in 1951, after the end of World War II, by an American minister, John Eberly, who was shocked by the condition of war-devastated Germany. He founded the program to help establish peace and understanding between countries through the education of young people.
Berthoud resident AliceVon Seggern is the area coordinator for YFU. She and her husband Brad, and two sons, Brian and Trevor, have hosted six YFU students in their homes. Alice said the goal is for the student to completely integrate into the host family, participating in social activities, events, vacations, and daily household chores. Von Seggern said it can be overwhelming for the students at first, especially when school starts. "The very best thing they can do is to get involved in something — sports, band, track, yearbook. It is the key to having a good year."
"It is a brave thing that they do. Sometimes everything is totally strange, so new. Making one good friend at school can be a challenge," said Von Seggern. "Every year there is usually one student I worry about. I will see them a month later chatting and laughing with a group of students and I know they will be okay."
Pop is well on his way. He is in marching band, hopes to play basketball and is trying to find a band in which to play his electric guitar. He said he plays "indie" style or independent music. The Hawkins family say is a great guitarist with a wonderful voice. They would know; all of the Hawkins' older children, Weston, Russell, Alayna, Hunter and NataLee were in the BHS Bridge Between Show Choir and McKenna is in the middle school Fire Choir.
"We are so happy to have him here," said Nancy Hawkins. "He is fitting into our family just fine."
The Berthoud Recorder will check in with Pop in the spring and give an update on his experiences and impressions of life in Berthoud.
News Image: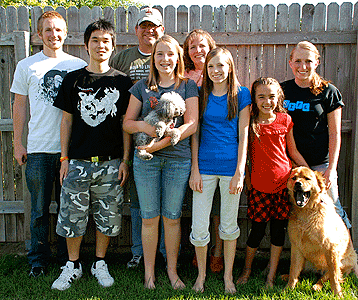 Long Description:
<p>Eighteen-year-old Narongrit Kongthong, known as &ldquo;Pop,&rdquo; is a foreign exchange student living with the Hawkins family and attending Berthoud High School. From left, Hunter, Pop, Bryce, NataLee (holding Bella), Nancy, McKenna, London and Alayna with Sunny.</p>
Category Lead:
Category Secondary Featured Story

Print This Post